This is one that I kept coming back to (see Michael Plishka's visceral wonder comment below). It's a Southwestern white pine (Pinus strobiformis) that belongs to Greg Brenden (an earlier smaller iteration in a different pot was shown at the 2010 U.S. National Bonsai Exhibition). The show booklet says the pot is by Ron Lang, but Ron told me that his wife Sharon made it and that he created the rough finish (see below). There were several trees in Lang pots at the exhibition. This photo and the close up below, are borrowed from Bonsai Penjing & More.
Yesterday's post on judging bonsai provoked some thoughtful comments. Rather than digging myself in any deeper, I'll let the commenters speak for themselves.
But first, I'd like to reiterate my view that the Artisans Cup was a major breakthrough in American and Western bonsai (here, here and here express this view). My hat if off to Ryan, the artists and everyone else involved, including the six judges, who are all highly accomplished bonsai artists and teachers, and key players in the propagation and development of the art of bonsai.
Colin Lewis' (and others' comments) are below the photo.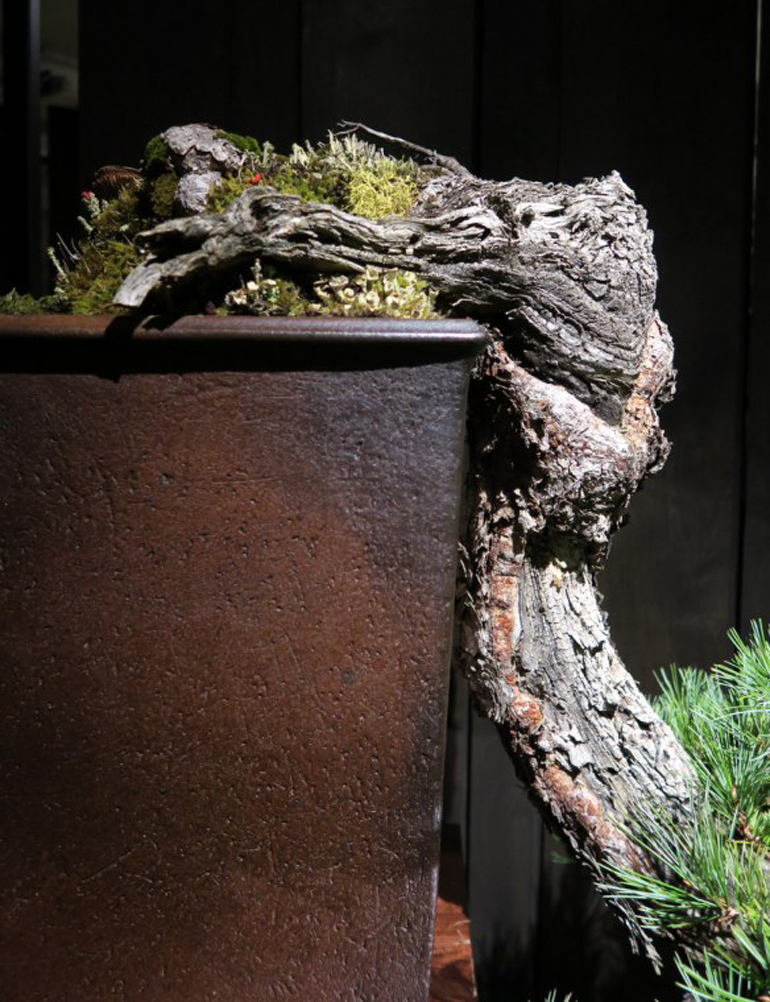 This close up of the pine above shows off the textures of the tree, the pot, the lichen and the moss.
We'll start with Colin Lewis who was one of the judges. BTW: I've had a long term business relationship with Colin and often rely on his knowledge and judgement:
"As a judge at scores of bonsai events and one honored to join the other judges at the Artisans Cup, I can assure you that all judges agree the rubric used was the most efficient, most equitable and most accurate system of multiple judging possible. Any "intuitive" system you refer to leads to subjectivity, whereas in the points system each exhibit must be assessed independently based entirely on its own merits. The disparity of scores reflects the diversity of the judges, which was intentional in order to have as broad a spectrum of opinion as possible. And it worked, right?"
More comments below the photo.
The other third place finisher. When I (and several others) posted the winners last week, no one knew that there was a tie for third. It's a Japanese white pine that belongs to Konnor Jensen. I borrowed the photo from Michael Hagedorn's Crataegus Bonsai.
Carolyn (no last name given) writes
"It would be like judging between a Picasso and a Rembrandt – Both are superb, so which is better? Personal choice……." I would go a little further and say that both stand on their own and I'm not sure much is gained by making that choice.

More comments below the photo.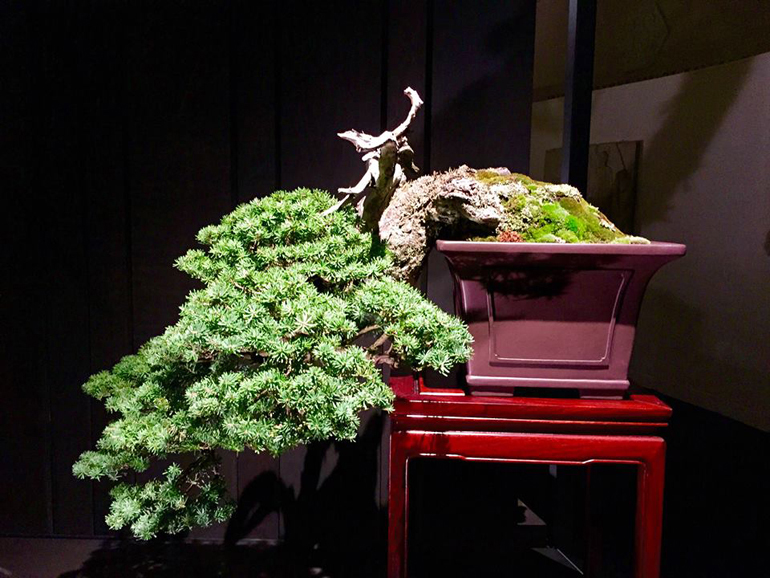 Here's another cascading bonsai that caught my attention. It's a Mountain Hemlock (Tsuga martebsiana) that belongs to Anthony Fajarillo. I borrowed the photo from Scott Lee.
Here's what Michael Plishka wrote:
"I've often wondered about scoring systems and how they may reward doing things "by the book", but may not reward evoked visceral wonder.
I am reminded of the work by Architect/Mathematician Christopher Alexander, especially, 'The Nature of Order: An Essay on the Art of Building and the Nature of the Universe, Book 1 – The Phenomenon of Life'.
He believes that there are certain designs that elevate people, make them feel more alive, and they have common traits that he elucidates in his book. He also bemoans the fact that structures showcasing the architectural trends du jour are the ones that get lauded and awarded, even though they are not very uplifting or inspiring…" (continued below the fold)

Continue reading Visceral Wonder & Other Comments on Judging Bonsai