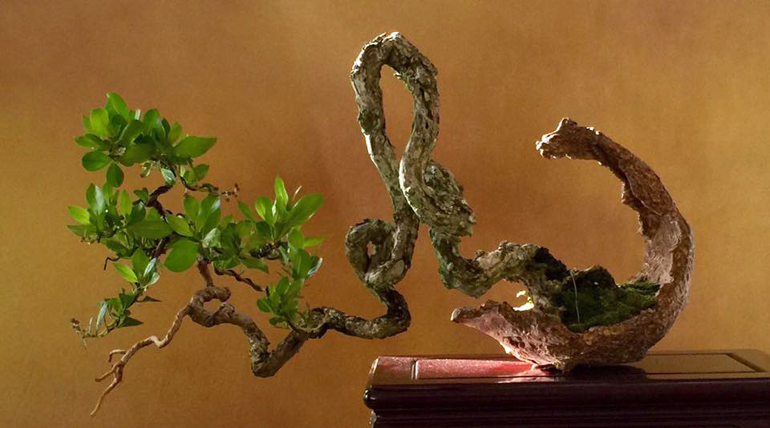 I couldn't pass on this contorted, writhing beast of a Buttonwood any longer. It belongs to Ed Trout, a long time, highly respected Florida bonsai artist and teacher.
Gonna take a break from the U.S. National Bonsai Exhibition bonsai today. The sun is shinning and I need to do something quick and easy so I can get outside and do some digging and transplanting before it's too late.
I love Ed Trout's Buttonwood and I also like the pot. It's easy to see how they share a wild untamed feeling. My only question is, does such a dramatic tree need such a dramatic pot? Does the pot distract from the tree or enhance it? I don't have an answer but maybe you do. You can comment on facebook if you'd like but don't bother with the comments below. I may never have the time to wade through the spam to find it.
Continued below…
20% off orders under 100.00
30% off orders 100.00+
FREE Shipping on U.S. orders 49.00 or more
reduced shipping on all other orders
Sale ends tomorrow, Sunday at 11:59pm EDT
*Sale does not include our Green T Turntable
or the book Gnarly Branches, Ancient Trees
Here's part of what Ed has to say about the remarkable tree above… "All of my bonsai creations over the years are special to me. Each has a meaning….as it should be. This tree is no different, maybe even more special. It's roots, though still holding strong, are starting to wither. It's trunk shows the ups and downs, ins and outs, back and forth of it's life journey. The many scars along the way show it's battles, and the terrible losses, and how difficult it must have been to continue that journey. But in the end there is still life….tenuous though it may be….life does go on……."

Visit Ed on facebook and in about a dozen Bonsai Bark posts