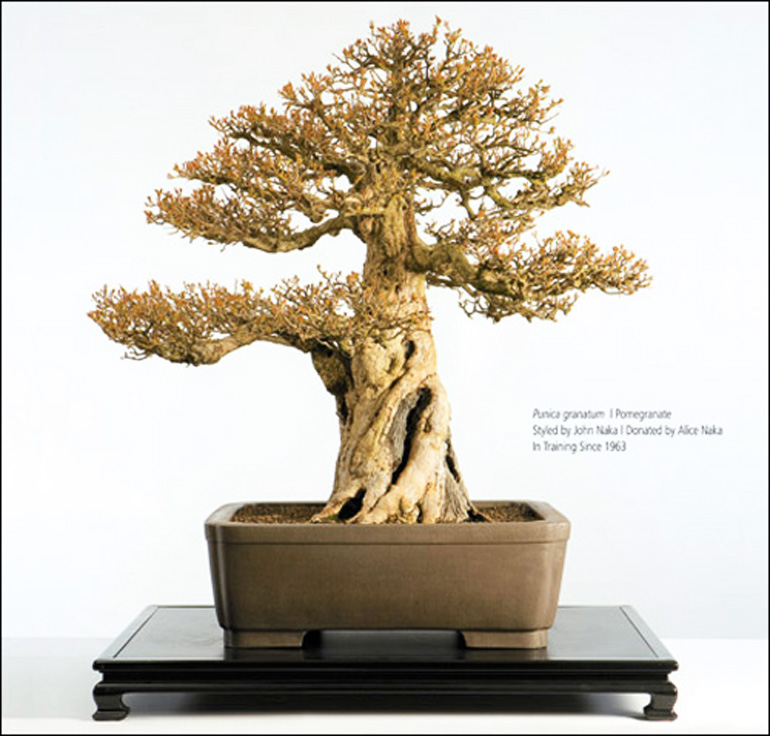 This majestic old pomegranate (Punica granatum) was styled by John Naka. After John died, his wife Alice donated it to the National Bonsai & Penjing Museum. Mr Naka was and is a major influence on Dave De Groot's view and practice of bonsai (more below on Dave).
Yesterday's post resurrected an old debate that has been running on and off for years here on Bark and elsewhere. We've been calling it highly refined bonsai versus naturalistic bonsai. If you check the comments to yesterday's post and earlier posts on the topic, you'll get an idea of just how high passions run with this topic.
Which brings us to this post. Dave De Groot (bonsai artist, teacher and author of Principles of Bonsai Design) joined the discussion yesterday in the comments to one of the original posts on the topic, so I thought it might be a good idea to keep the discussion going and to include what Dave has to say in this post. Which, by the way, is an excellent treatise on bonsai and the history of art as it pertains to bonsai.
In Dave De Groot's own words:
"I always enjoy the articles you post, and normally do so silently, as I rarely engage in online discussion. I do so this time only because you posted a subject comment from someone who shares my first name but not my point of view.
I am surprised and puzzled by the fact that the bonsai community is still chewing over a subject that the rest of the visual arts world put to rest almost a hundred years ago. The problem might be partially one of semantics, so I propose that instead of discussing whether a bonsai is "natural"  – whether produced in Japan, Taiwan, or the United States – we recognize that no bonsai is "natural", no bonsai hides "the hand of man". They are artificially dwarfed trees in pots, for Pete's sake! It might be more useful to use the terms "realism" and "abstraction." (continued below)…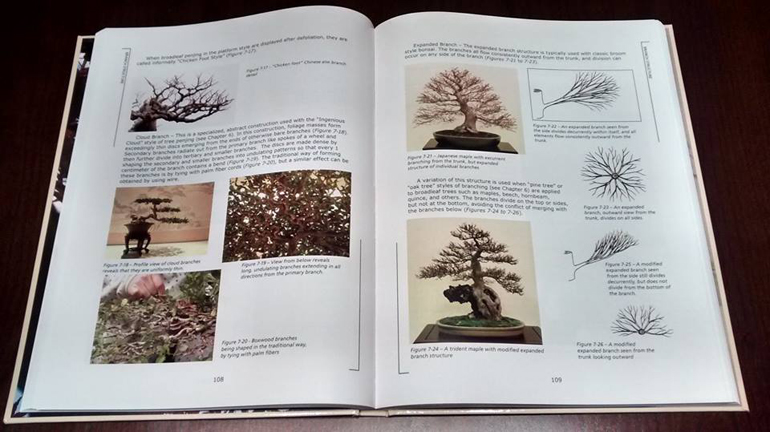 A spread from Dave De Groot's Principles of Bonsai Design.
"All bonsai are suggestions of trees in nature, or most usually, of other bonsai. They are not perfect scale models, they are not photo-realistic images, they are all to some degree, abstracted images.
Bonsai such as Dan Robinson produces are certainly closer in many cases to realism in terms of the ancient trees he chooses to portray. The very beautiful and elegant Taiwanese bonsai at the head of your post is of a school that is more abstractedly sculptural, and unabashedly displays the technical skill of the artist in the precisely arranged dome of lush foliage that rests serenely (if rather incongruously) on the wildly contorted, stripped trunk." (continued below)…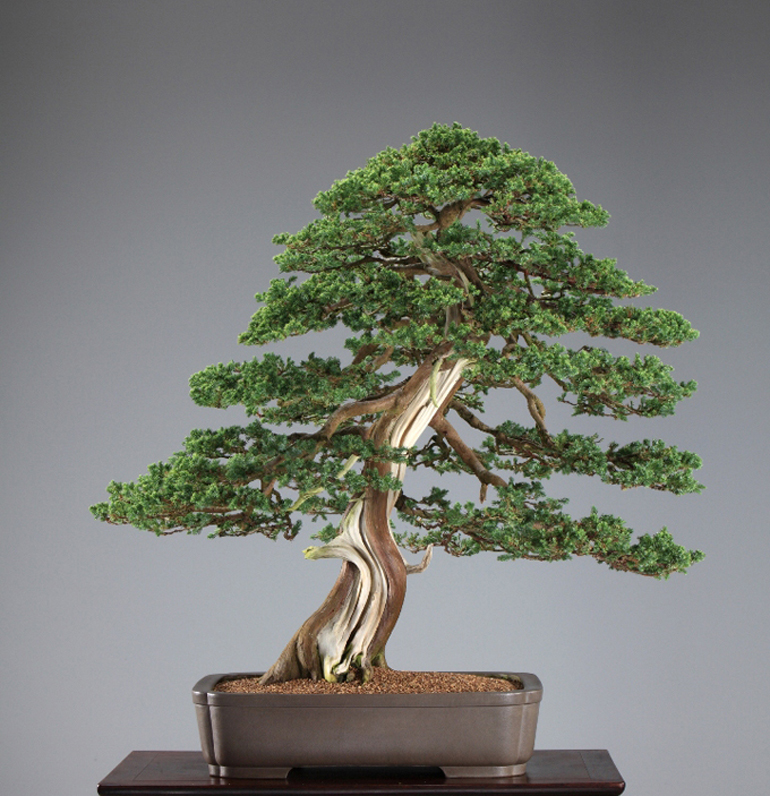 This is the Taiwanese juniper that Dave mentions above. It is one of many trees featured in his Principles of Bonsai Design. There's more on this tree here.
The point is that all bonsai are abstract, but they are abstract to different degrees, and in different ways. The degree or type of abstraction is not central to determining whether a given bonsai is effective as art; more to the point is whether it has something to say, whether it tells a story, whether it stirs emotions, whether it is admirable, whether it is beautiful.
The world of western painting moved from realism to impressionism in the 1870's and into pure abstraction in the early decades of the 20th century. The days are long gone when the legitimacy or value as art of any of those styles is questioned. It's about time we in the bonsai community caught up."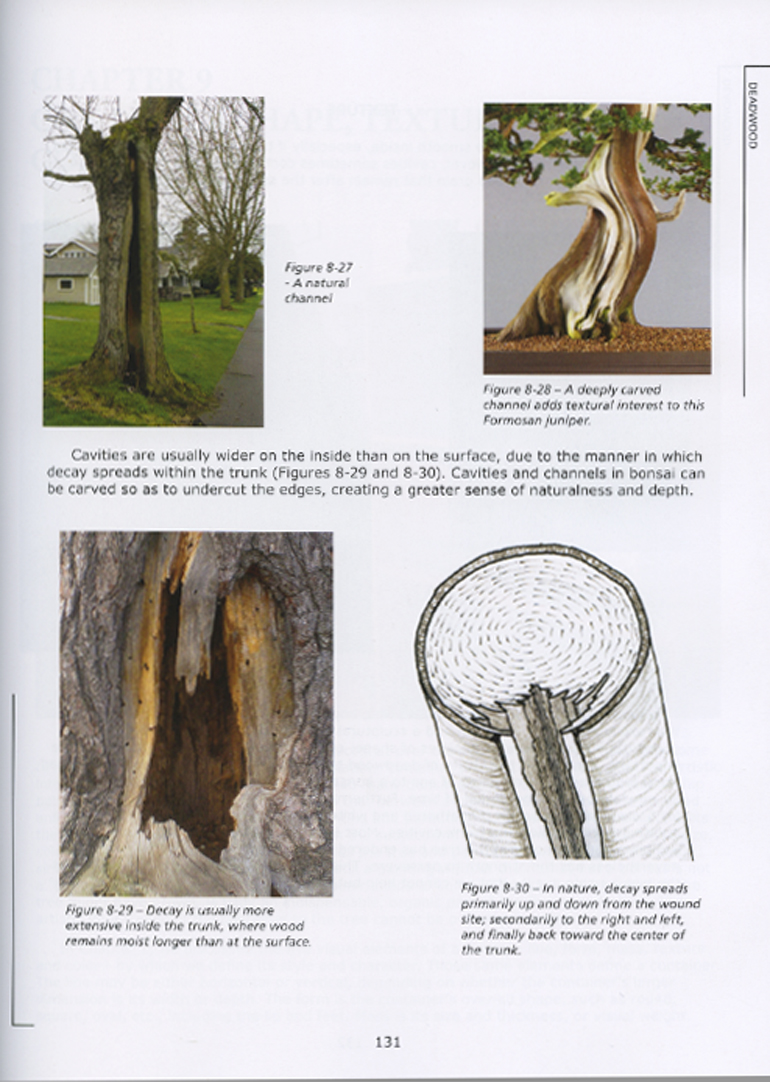 Another spread from Dave's book, Principles of Bonsai Design.