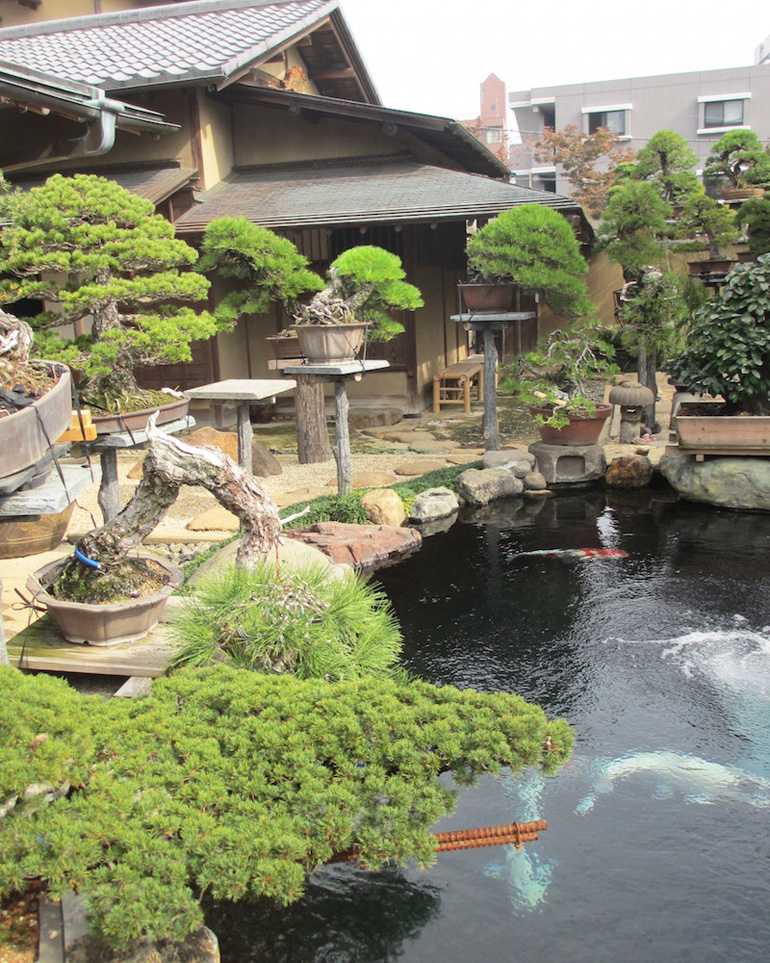 Bonsai with Koi. This is what could happen if you have the inspiration, space, time and money to build a pond in your garden. The shot is from Kunio Kobayashi's Shunkaen Bonsai Museum in Tokyo. The concrete display poles are made to look like tree trunks. This photo and all but one of the others in this post are borrowed from Bonsai Empire.
This is the fifthteenth post in our long-standing Backyard Bonsai series. However, if memory serves, this is the first time that we've shown commercial gardens that happen to be in backyards as part of the series. In this case, two large backyards that double as complete bonsai nurseries. There are other venues too, but you can see for yourself.
All the photos shown here, with the exception of the last one, are borrowed from Bonsai Empire. We've also borrowed some text (in quotes).
Here's another shot of the famous Shunkaen Bonsai Museum/Garden. Oscar of Bonsai Empire describes it this way: "The garden is quite spacious and this is the center patio; around it the masterpiece trees are displayed on poles made of wood. Most of these trees are pines."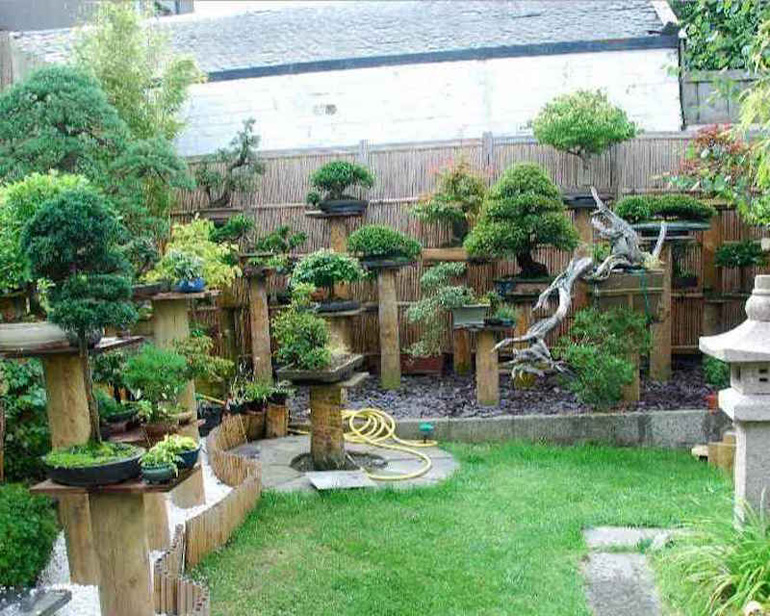 A little cluttered, but you do what you can with limited space. It looks like a classic (non-commercial) backyard with trees displayed around the edge of the yard.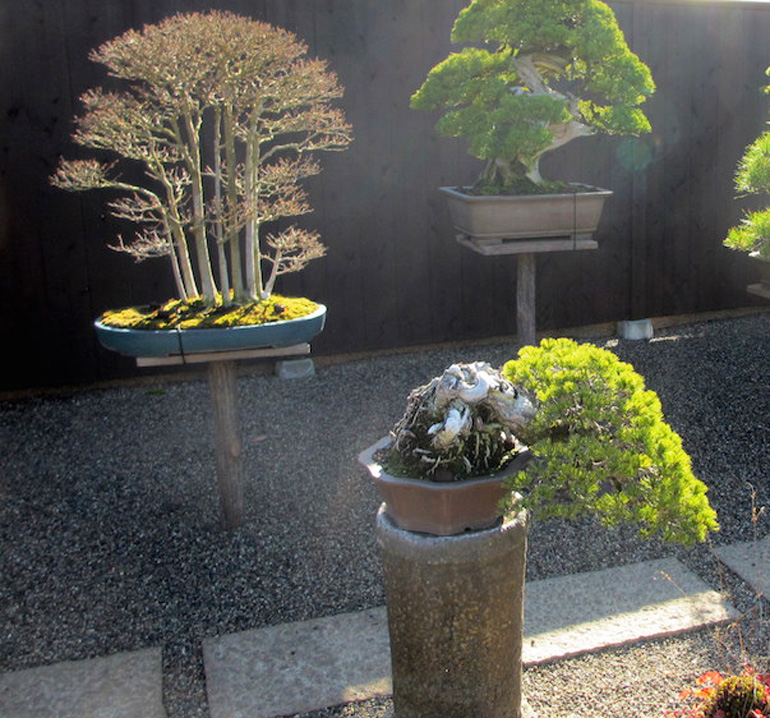 Here's what Oscar wrote about this one: "One of the most beautiful Bonsai gardens in Japan, Taikan is located in Obuse. The trees in the photo catch the eye, as the background and ground are plain. The owner of the garden, Mr. Suzuki, is known for his great skill displaying Bonsai, so this is a garden to look at for inspiration. The trees are fixed to the poles they stand on, mostly to protect them from storms and heavy snowfall." I cropped this photo because I thought the rest was distracting. Here's your link to the original.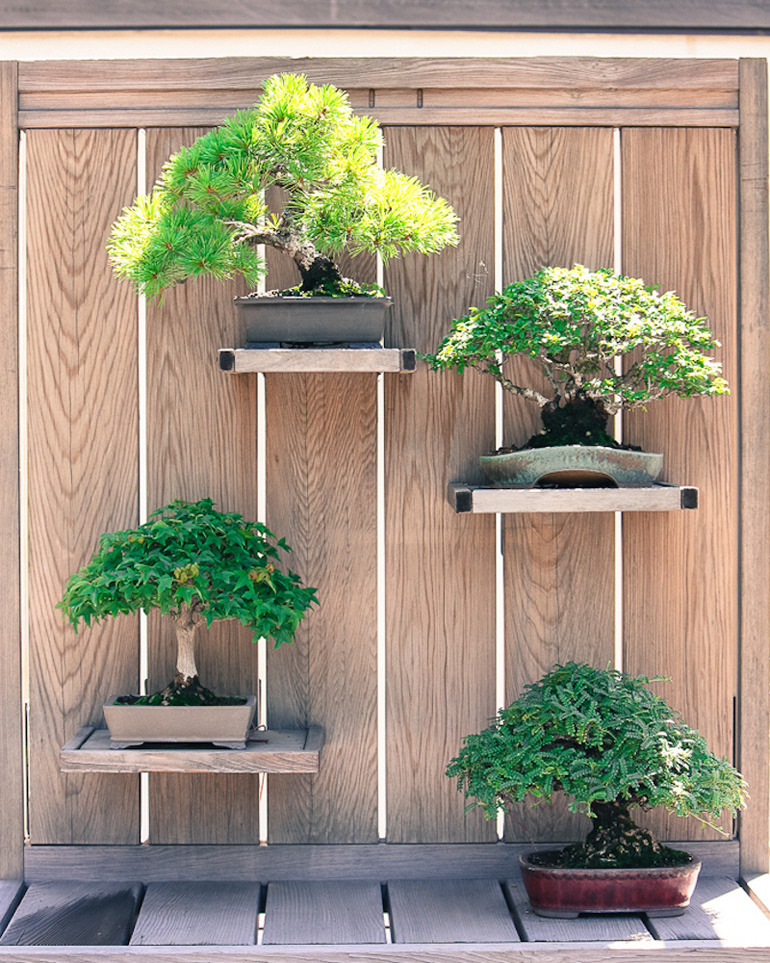 Here's a vertical display along a fence at the U.S. National Arboretum. You sometimes see them on walls as well (see below). The photo is by Aaron Karnofski.
Up against the wall! I borrowed this from Rosade Bonsai Studio website. We first showed it here on Bark in a 2010 post titled Backyard Bonsai #6: Un Patio Hermoso.
Our Masters' Series Juniper book is back in Print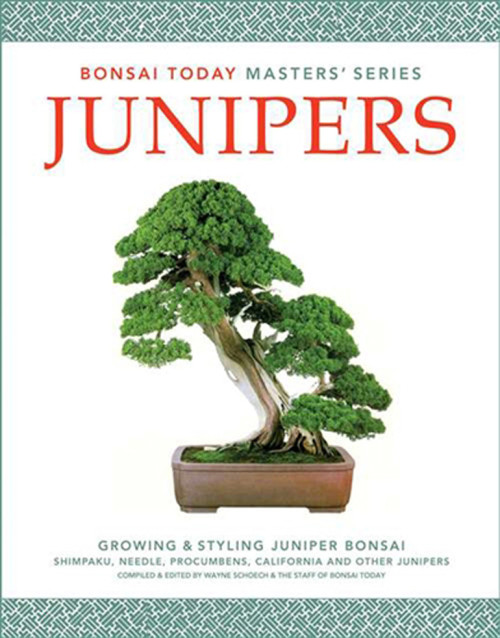 The only book you'll ever need
for styling, caring for and enjoying Juniper bonsai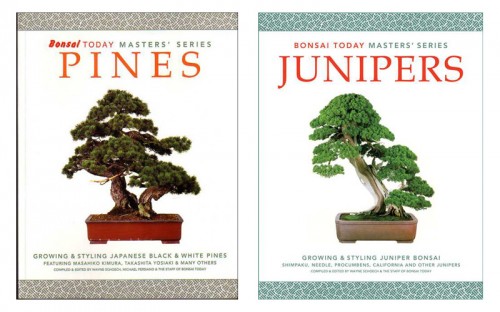 This set of our two most popular books
would be a great gift for any bonsai lover
Save when you buy
Bonsai Books by the Set