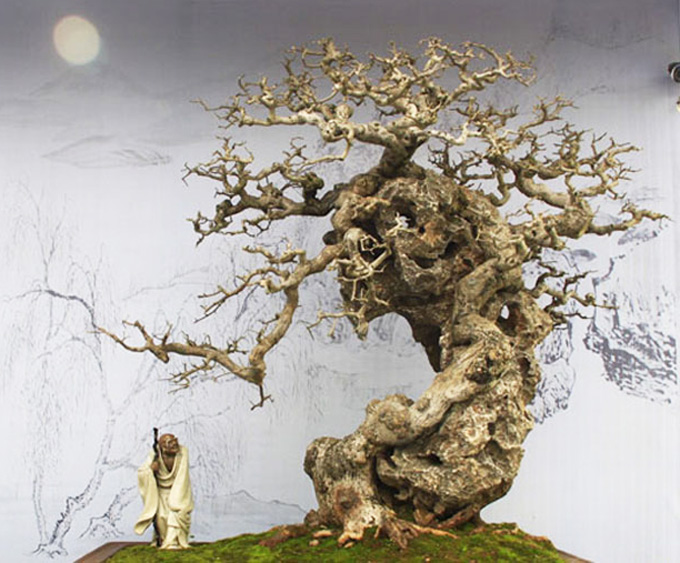 Root-over-rock bonsai. When we originally showed this photo, we (that's me) missed the rock part, even though it's obvious (especially once you know it's a rock). Here's the caption from last year: At the risk of getting carried away, how about 'wandering sage stops for a moment to contemplate an ancient tree by the light of the moon.' In any case, I don't blame him. You don't see trunks (or trees) like this one every day.
Our last two post have featured Penjing, so for continuity (and charm) we'll make it three in a row. This one is borrowed from last year (Dragon Ascending, May 2013). I rearranged the photos, added just a little text and changed the title to reflect something Robert Steven says (bold type just below). Everything else is the same.
This post, like the previous post (previous to the May 2013 original) titled BCI: Bonsai Strong, shows more of Robert Steven's photos from the recent BCI convention in China. As you may know, in addition to being a great bonsai artist, Robert is also an expert on bonsai and bonsai history, with a strong bent towards Chinese bonsai and penjing. Here's what he wrote about Chinese bonsai in the comments to the aforementioned post (squeezed into native speaker English by yours truly) "Chinese bonsai has seen amazing progress the last 15 years, but it wasn't very well exposed till the last few years (through aggressive international events). They are coming out with very creative and refreshing designs, and ideas present no limits for them. At the same time, I dare to say the Japanese are in stagnation. I anticipate a change in worldwide bonsai orientation that will turn to China…"
One thing I noticed about the pines in the previous BCI post, is how much they seemed to be influenced by Japanese bonsai while at the same time being quite unique, not to mention extraordinarily powerful. On the other hand, the broad leaf trees in this post seem much more Chinese to my eyes. That's not to say that they don't express new and exciting ideas (they do), just that they also reflect a very traditional Chinese style. This is especially true of the tree above and the last three trees below
Something else you might notice about the trees shown here is that every one of them has a figurine, while none of the pines shown in the previous BCI post have any.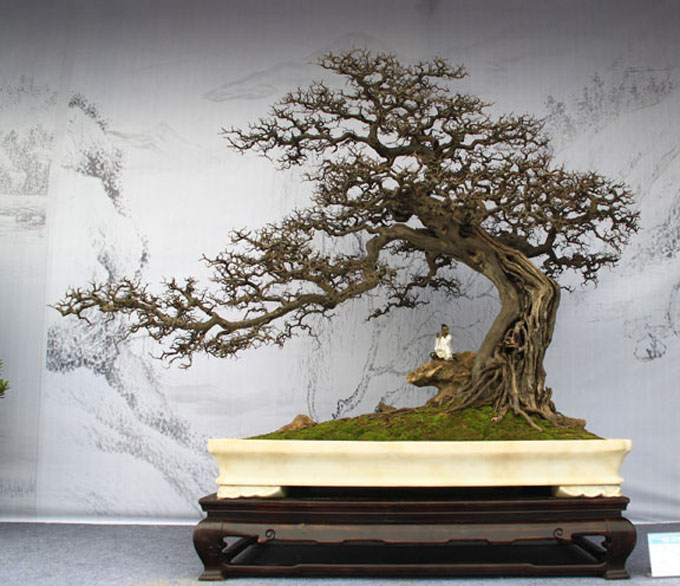 What appear to be roots growing out of a long hollow on the side of trunk, creates a very unusual and fascinating effect. The rest of the tree isn't half bad either and the flute player adds a playful human quality and contributes to a sense of vastness. The photo, which is courtesy of Robert Steven is from the recent BCI convention in China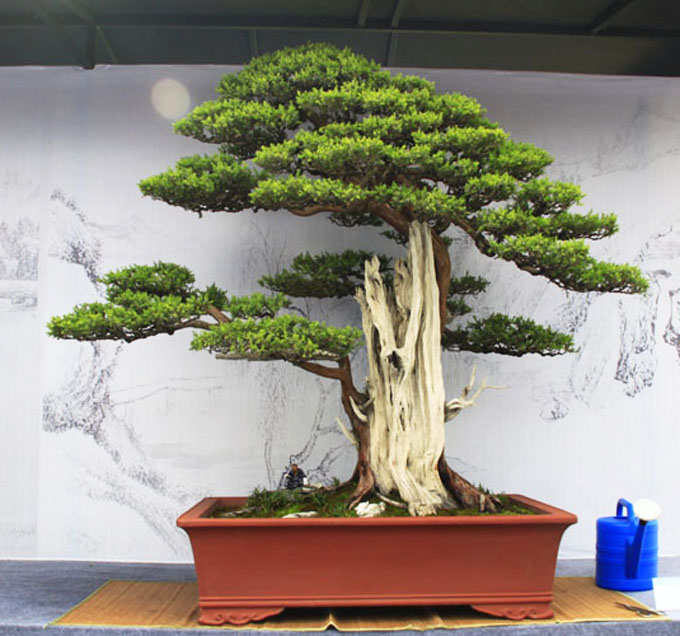 This large bonsai (with blue watering can) features another fascinating trunk. Though it's impossible to tell (for me at least) the leaves look like they might be azalea.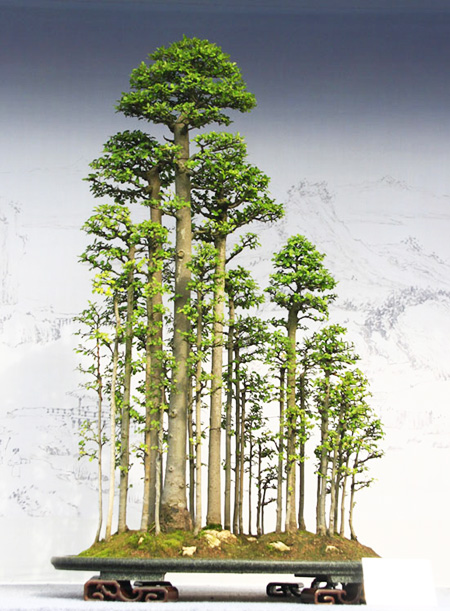 Even though they are broad-leaf trees, their towering vertical thrust is reminiscent of a conifer grove high in the mountains of the western U.S.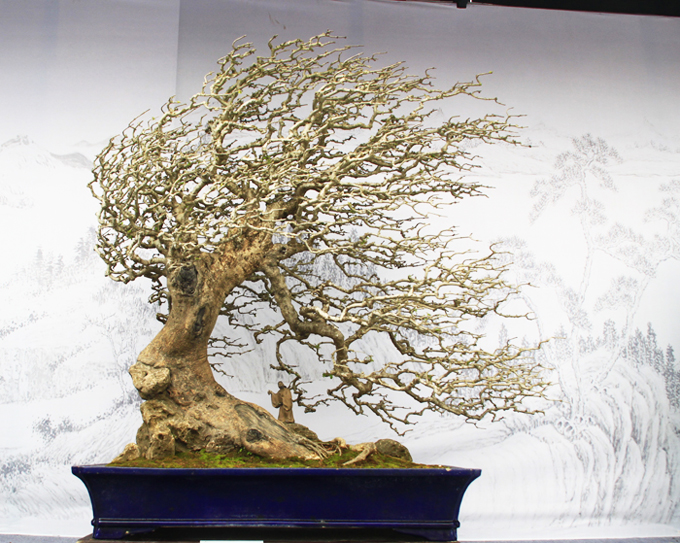 Windswept bonsai with hitchhiker. This one reminds of some of Robert's trees.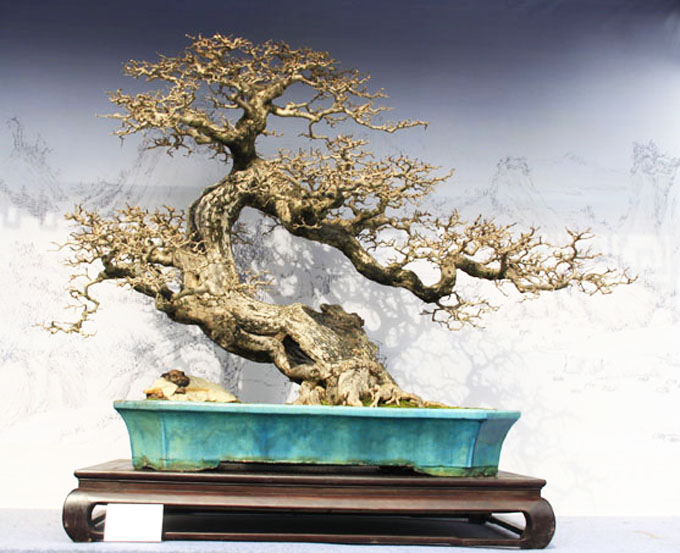 The big guy almost looks like a rock. Nice tree too.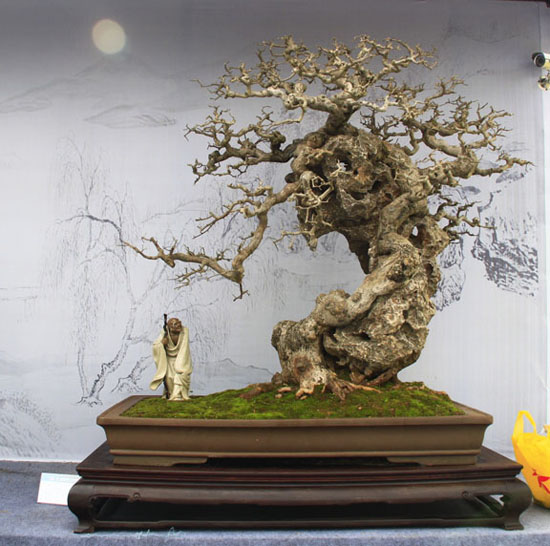 Here's the whole photo of the tree at the top of the post. Given my obsession with background distractions (noise), you can see why I cropped it.