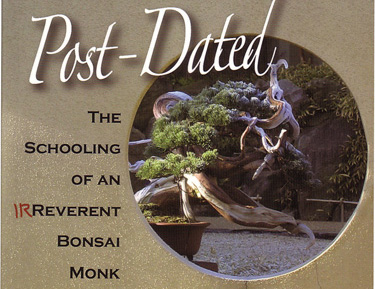 This cropped cover shot of Michael Hagedorn's Post Dated provides a powerful hint why the Publishers Association of the West choose it for a Gold Award in design.
If you been following this blog for a while, you know that we featured a review of Michael Hagedorn's ground breaking book and a two part interview with Michael in February. Since then, my enthusiasm for Michael's fascinating bonsai and life adventures in Japan, hasn't wavered a bit. It's still a great book and I still recommend it with the full confidence that you will enjoy it as much as I have.
The award in PubWest's own words
It is my great pleasure to inform you on behalf of the Publishers Association of the West that Post-Dated: The Schooling of an Irreverent Bonsai Monk received a Gold Award in the 2009 PubWest Book Design Awards Short Stories/ Poetry/Anthologies category. I want to thank you for entering our contest and congratulate you on your award-winning book!
The PubWest Design Awards were developed 25 years ago to recognize superior design and outstanding production quality of book. We feel this is an important program to the PubWest organization and the publishers who contribute to it, as well as to the larger publishing community. It allows all of us to see trends that are coming into the publishing world, and it gives those in the design and production areas an opportunity to see what our peers are doing.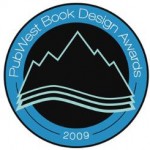 Post-Dated: The Schooling of an Irreverent Bonsai Monk
By Michael Hagedorn
Published by Crataegus Books, Portland Oregon
Distributed by Stone Lantern
Softcover, 216 pages, $14.95