A pretty impressive bonsai with a modified S shape. It's a Miyajima Japanese-Five Needle Pine (also called Japanese white pine – Pinus parviflora 'Miyajima') that was field grown for several years. The artist/owner is Ken Buell. The photo is from the 1st U. S. National Bonsai Exhibition Album.
Here's the text of an email I received from Eric Killian…
I think bonsai bark has a lot of potential, but I'd love to see more on field growing.  I have about 30-40 trees in the ground now but ground growing is completely new to me.  Should I be giving trucks shape now?  Possibly exaggerating it so in later years it will look like a nice flowing curve?  I want to add character at a young age while avoiding the "S" trees that are mass produced.
… and here's my original answer:
I understand your desire to see more on field growing and there will be more, but we are trying to cover a wide range of bonsai practice and appreciation, and field growing is just one piece.
It is good to start shaping trunks early while they are flexible. I sometimes use branch benders and sometimes wire (sometimes both). With wire you need to be careful; trunks grow fast in the ground.
S shaped curves:
As you can see from the two photos in this post, S shaped curves can be very pleasing. Still, there's no doubt that they can also be overused, especially with commercial bonsai.
Exaggerating curves:
Yes. Exaggerate the curves. They will soften as trunks thicken.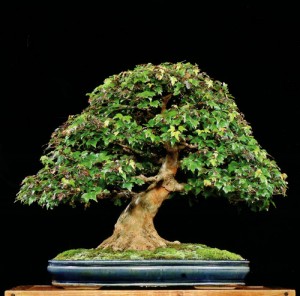 Another example of an S shaped curved, albeit, a very soft one. It started as a stump (I imagine from a field) that was then container grown for twenty years. Like the pine above, it's from the 1st U. S. National Bonsai Exhibition (it won the Yoshi Bonsai Tool Award for the Finest Deciduous Bonsai). The artist/owner is Martin Schmalenberg. The pot is by Nick Lenz. We like this tree so much that this is the second time we've featured it in Bonsai Bark.
Visit Field Growing 1, 2, 3, 4 & 5

Related posts:
Have You Thought About Field Growing?
Field Growing 2: Native soil
Field Growing #7: Clip & Grow Technique
bonsai4me.com on Field Growing
Field Growing 3: Spreading Roots & More