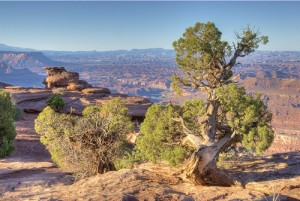 This photo was taken by John Palmer, who is the founder (now retired) of Stone Lantern and Bonsai Today magazine. John and his wife Pat live in New Mexico and spend big hunks of their bountiful time wandering and photographing the glorious Southwest. Our apologies to John for not attributing his photo when we first posted it. To do so might have made the contest moot.
So, without further ado; the winner is (drum roll): Glenn Strong, who wrote: I'll give it a try. I think it is in Canyonlands National Park, near Mesa Arch, looking SE.
Not a bad guess. The photo was taken at Deadhorse State Park (Utah), near Canyonlands. Glenn; we will get in touch to arrange your $25.00 gift certificate.
And thanks to you daring souls who ventured guesses. All of you (with the exception of my impertinent son's Tahiti) were in the right neck.
You can take a look at more of John's photos here.
Related posts:
$100 Bonsai Art Photo Contest
And the winner is…
Revisiting John Romano's Almost Famous Juniper
Photo Art Contest: Entry #4
Photo Art Contest: Entry #5