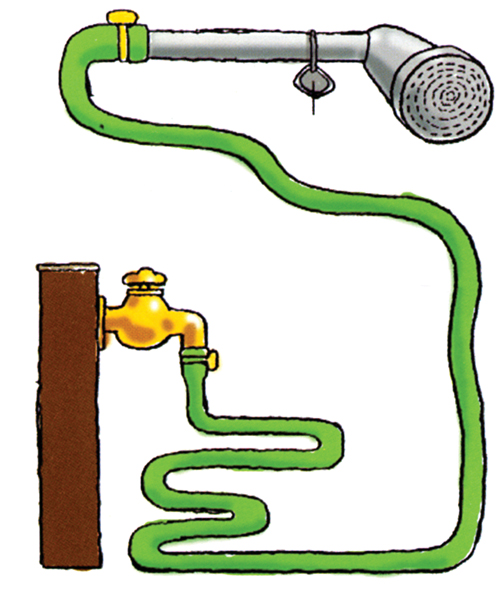 A set up like this will come in handy if you live out west right now. Back here in the northeast, we've barely had to uncoil ours so far this summer. This image is from our Juniper book.

I never miss Michael Hagedorn's posts on Crataegus Bonsai. He's always got something useful to say and he's a natural story teller (check out Post-Dated – The Schooling of an Irreverent Bonsai Monk if you're from Missouri, or just a show-me kind of person).
Michael's last two posts are prompted by the heat wave out west. One is a very timely tip on watering and the other is a story from his time as a bonsai apprentice in Japan.
Here's a little teaser from the latter:
Yesterday's 'HEAT' post made me remember a story from Japan…
My first year as an apprentice in Japan was a record setting heat wave. Temperatures reached into the low 100's for weeks on end, and the humidity was wilting to those watering the trees… (go to Heat Story… for the rest of this post).
Related posts:
A Timely Watering Tip from Michael Hagedorn
Green Workshop: Yet Another Watering Problem
That Nasty Summer Heat Wave
Green Workshop: The Art & Science of Watering
Explore the World of Bonsai, Humidity & Heat, Columbus Is Still in Ohio & A Very Large Bonsai Tree