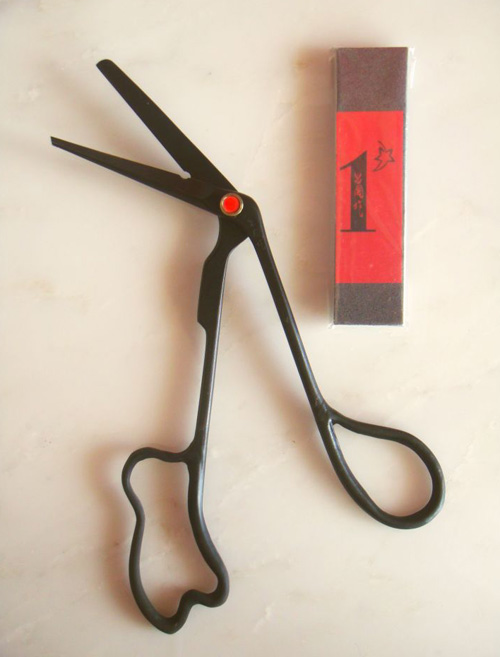 The Ichiban. Designed by Marco Invernizzi and built by Masakuni. As you may know, Marco is a gifted Western bonsai artist, and Masakuni is the benchmark bonsai tool company. Together they have created a  revolutionary new tool for the serious bonsai artist (and the rest of us who practice the art of bonsai). The Ichiban comes in a handsome wood gift box (see below).
If you want one (no discounts though)
In agreement with Marco, Stone Lantern is acting as the Ichiban's U.S. (and beyond) distributor. The one caveat is that this tool cannot be discounted. Your price is $350.00 plus shipping, no matter what discounts Stone Lantern is currently running.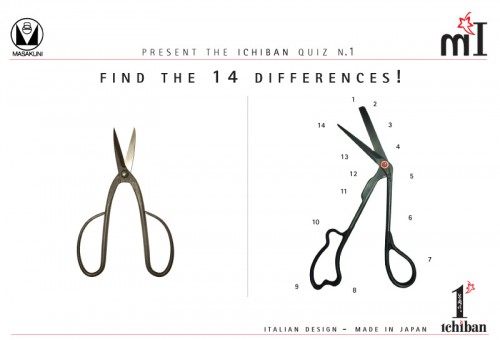 A multiplicity of uses. This illustration and the text below (both provided by Marco), give you a pretty good idea of the Ichiban's versatility.
What Marco Invernizzi has to say about his soon to be famous new tool
The follow text by Marco provides  detailed (and enthusiastic) descriptions of the uses and advantages of the Ichiban.
"ICHIBAN is the new revolutionary bonsai multi-use tool created, designed and tested by Marco Invernizzi and produced by hand by Masakuni in Japan.
Why will the Ichiban soon become one of the most popular bonsai tools in the world?
1) Its innovative ergonomic design helps you to assume a healthier and more comfortable back, shoulder and elbow position enabling you to work longer and with less fatigue.
2) Its effective weight is slightly lower than that of a standard tool on the market but, in your hands, its design makes it seem 50% lighter than any other bonsai tool.
3) 7 tools are united in the ICHIBAN design. This will enable you to work faster and remain concentrated on your bonsai and at the same time have a much lighter toolbox. ICHIBAN is: shears for shoots, shears for small branches, shears for large branches and roots, wire cutter, chisel, hammer and pliers.
4) The two ICHIBAN blades are united by a special rivet of new design, 4 times stronger than a conventional one, enabling you to use its blades to create jin, shari, to bend branches and cut aluminium wire and branches even 4 mm (1/8″) thick.
5) The two ICHIBAN blades are also 20% longer than a normal tool, enabling you to have access only with its point where before you did not manage to arrive, thus helping you to keep your hands far from the most delicate parts of your bonsai. Even with more intensive use, the blades length will make it practically useless to sharpen them for many years.
6) ICHIBAN is forged by hand one by one with the best, most sought-after materials available by these artisan blacksmiths who have made Masakuni world leader in the production of bonsai tools for the last three generations. If maintained in suitable conditions ICHIBAN is guaranteed rustproof. When you purchase ICHIBAN you will receive free of charge a blade cleaner specifically created for ICHIBAN which will be very useful to remove resin residues from the blades.
7) The design of the ICHIBAN grip, together with its special rubber coating, will enable people with large hands, women, nervous people and anyone who cares about the health of his hands to use a bonsai tool without annoying finger pain and without creating hard skin. ICHIBAN is a tool that may be used with the right or left hand and its grip enables you to use it in the opposite direction, with the blades pointing upwards, thus arriving where no other shears have ever arrived before.
8) Bonsai tools of different makes, besides being mostly produced by the same factory, are identical, making it easy to lose or exchange them unintentionally with those of someone else. ICHIBAN has instead a specially created space on which to engrave, write or mark its unmistakeable sign. Therefore, from now on, if someone steals your ICHIBAN it will be because he can't do without it!
9) When normal shears fall, the point often breaks, making them unusable. The same points of the ICHIBAN blades have been designed to make them unbreakable and, if ICHIBAN falls, there is an 80% possibility that, due to its weight, the chisel point touches the ground before the thin point. This point sharpened on one side has been designed to rapidly enable you to use the shears as knife or chisel to cut the bark or scratch undesired residues.
10) ICHIBAN will not tear the pockets of your trousers or the toolbox. Its innovative design will enable you to put it in your pockets even more easily and rapidly than a cowboy's pistol (Marco likes cowboy stuff).
11) To insert the wire and hold the tool in your hand at the same time isn't a problem, with ICHIBAN. You need only raise your forearm and open your hand and in a second ICHIBAN will turn 180°, leaving thumb, forefinger and middle finger free to apply the wire. Its position, limited weight and diagonal non-pointed blade will enable you to take, bend and apply the aluminium or copper wire with full freedom.
12) Its wonderful silk-lined wooden box is hand-made by the same craftsman who created the boxes of the artistic objects of the private collection of the Japanese emperor. ICHIBAN is the ideal gift for anyone who wants to improve the quality and pleasure of his work with bonsai.
13) Purchasing ICHIBAN you can enter the ICHIBAN CLUB, a site created to communicate all the ICHIBAN owners all over the world and receive useful news, updates and advice from Marco Invernizzi in person.
14) ICHIBAN isn't a bonsai tool only for experts. In many years of career Marco Invernizzi has given over one thousand seminars in 5 continents working with bonsaists with the widest range of ability, style, techniques and characteristics. Thinking about all of them, we offer you the greatest, most useful revolution of the world of bonsai in the last 100 years: ICHIBAN. ALL IN ONE, ONE FOR ALL!"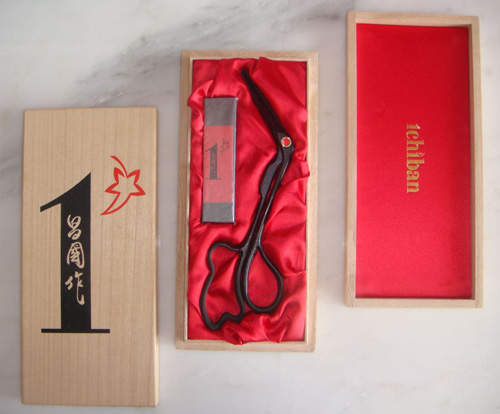 Each Ichiban comes in its own handsome wooden gift box.
If you want your own Ichiban (no discounts though)
In agreement with Marco, Stone Lantern is acting as the Ichiban's U.S. (and beyond) distributor. The one caveat is that this tool cannot be discounted. Your price is $350.00 plus shipping, no matter what discounts Stone Lantern is currently running.
Related posts:
Ichiban #2: Research & Development
Roy, Walter, Shinji, Isao & The Ichiban
Weekly Wire: Marco's Before & After, Our Favorite Book & A Fabulous Fake
Introducing Our Excellent NEW Stone Lantern Bonsai Tools