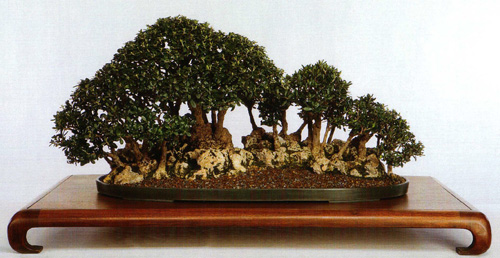 This dramatic European olive forest on a rooted burl is by Melba Tucker. It's borrowed from The National Bonsai Foundation's 2008 calendar.
Though it goes without saying
This old gem looks like a forest growing on a rocky ledge somewhere in Spain (or anywhere else olives grow) and, though it goes without saying, I'll say it anyway: it's one of the most wonderful, natural looking forest plantings anywhere. If you are ever anywhere near Washington DC, check it (and a whole bunch of other world class bonsai) out. It's at the National Bonsai and Penjing Museum.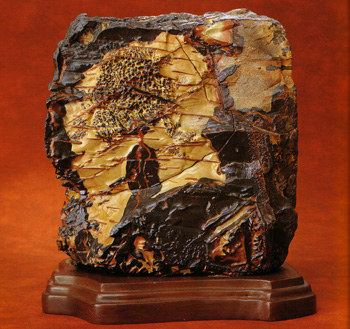 Melba found this distinctive American Pattern Stone in the Mojave Desert. It's from her book, Suiseki & Viewing Stones, An American Perspective. The photos (including this one) are by Peter Bloomer. Peter and his wife, Mary Holmes Bloomer are the editors. Peter and Mary are also responsible for Timeless Trees, The U.S. National Bonsai Collection.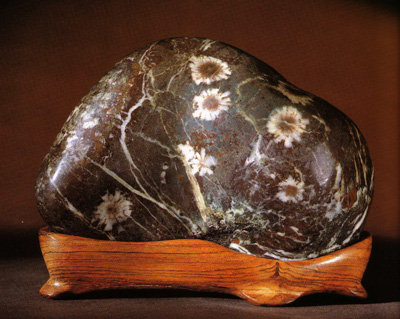 A Chrysanthemum stone from Japan. Also from Melba's book.
About Melba Tucker
This is from the Phoenix Bonsai Society's Book of Days (August 1999): "Teacher, worker and supporter Melba Tucker died in California at the age of 82. She became interested in bonsai in 1956 as a student of Khan Komai, began to teach it a decade later (including to adults in the El Monte and Alhambra, CA schools since 1970), and in 1996 the Suiseki Pavilion in the U.S. National Arboretum was named after her.  That was the same year Melba's book on the American perspective of suiseki was published.  Former president of the Santa Anita Bonsai Society and a member of four other clubs including the California Bonsai Society, she also served as treasurer of Bonsai Clubs International for a total of eighteen years.  She taught bonsai, saikei, and suiseki worldwide and was equally generous in her financial support of many bonsai and suiseki organizations.  A master of saikei plantings, Melba maintained a personal bonsai collection of over one hundred show trees of all styles."