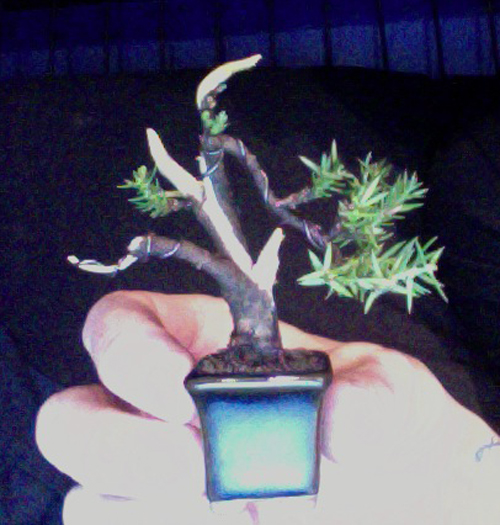 Contest entry number eight by Jonathan Pessin. There's something going on with this little juniper, though I'm not sure where's it's headed. Cascade? In any case, it's potential will have a hard time developing in such a small pot. Most of the best shohin are grown in larger pots (or even in the ground) and then reduced. As it is, unrefined potential is probably the best description. I do like the heavy little trunk and think that over time and with some work the deadwood might add character. Maybe it could go all the way down to the base of the trunk and even be hollowed out some at the bottom. Is it just the photo, or is the wire already digging in?
Once again, let's get this over with
Two more entries and we can award one of you a $100 gift certificate to Stone Lantern. What are you waiting for? Details here.
Related posts:
Contest critique #4: Uncontrived & Natural
Contest Critique #1: Slanting in the Rain
Contest Critique #2: More of a Dream
Contest Critique #5: Bonsai Metaphor
$100 Contest: Seven Down, Three to Go