Though it's not as powerful as many other Kimura trees (see below), nor is it considered one of his classics, still, I can't say enough about this tree, so I won't say much except I apologize that it is a little cramped on the left side and that it's a Yew and it's from The Bonsai Art of Kimura (out of print though occasionally the 'let's reprint' thought flits around).
There are eccentric bonsai and then…
… there are eccentric bonsai. That is, some trees we feature are just eccentric. Others are masterpieces that are also eccentric (unusual in some respect). My guess is that you can tell which category this one falls into.
I won't spell it out…
… but it's the trunk stupid! (just kidding about the stupid part). Magnificent and completely unique. I wonder how he did it? Did he split the original trunk and double it back on itself (he does highly unusual stuff like this sometimes; check our Kimura Flips a Tree Upside Down in our Juniper book). Or what? I await your comments (but won't hold my breath).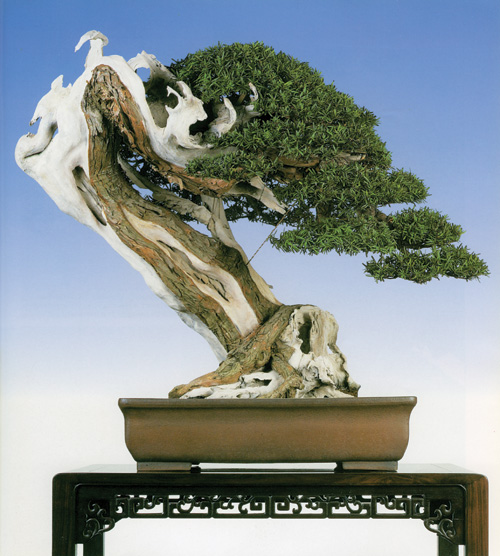 Here's a more classic powerhouse by Master Kimura to feast your eyes. It's from The Magician (Stone Lantern Publishing). It also appears in Bonsai Today issue 56.
Related posts:
Eccentric Bonsai: Kimura Rises to the Challenge
Kimura's Dragon & Old Magazines
Master's Gallery #2: Group Displays
Be a Fearless Bonsai Warrior
Another Fearless Bonsai Warrior