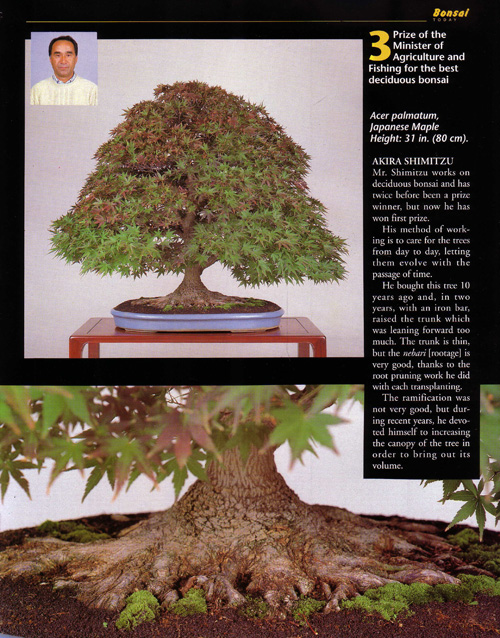 Do you like this nebari, or is it a bit much? If you just look at the bottom photo, does the nebari seem to strong for the trunk? That's the way it strikes me, but when I look at the whole tree, it works just fine. The image is a whole page from Bonsai Today issue 63.
Pirates
At least one blog has been pirating our posts, lock stock and barrel; but without our links and without any attribution to bonsai bark, or Stone Lantern. If you are reading this on any website or blog that is not ours, and is not attributed to us, then it has been pirated. Please visit us at bonsaibark.com. Thank you.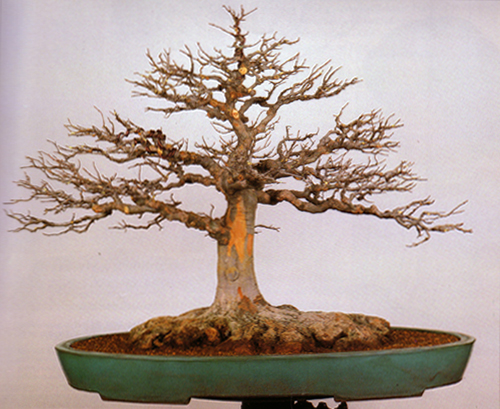 Here's another nebari that we featured in an earlier post (April 2009). This one does seem a bit over the top, though I suspect it will look a little less dominant when the tree is in leaf. What do you think? Trident maple from Bonsai Today issue 70. Both issues in this post are still in print and available at Stone Lantern.
Related posts:
In Search of the Perfect Nebari #7: Root Grafting
In Search of the Perfect Nebari – part two
In Search of the Perfect Nebari – part three
In Search of the Perfect Nebari – part four
In Search of the Perfect Nebari – part five