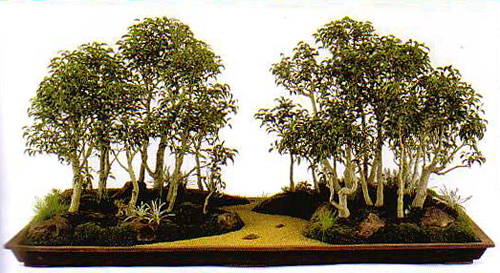 A River in India, by Lew Buller. From his book, Saikei and Art: Minature Landscapes. Now on special at Stone Lantern.
Share your insights and win
Send us a written critique of the planting above and you just might win. Even if you don't, you can share your observations with our readers. Note: Do not put your entry in comments below. Instead email yours to wayne@stonelantern.com; after we have received them all we will post them for judging (see below).
The prizes
The first two place will receive gift certificates to Stone Lantern. $25.00 for first place and $15.00 for second place.
Details
1. Be concise. Entries with more that 250 words will be frowned upon.
2. Email your entry to wayne@stonelantern.com. Do not put it in the comments below!
3. Humor and playfulness are always appreciated, though simple and straightforward will rule the day.
4. By sending an entry, you are giving us permission to reprint it (with attribution of course).
Judging
When we have received enough entries (ten or so), we will post a notice and allow a few more days for stragglers. I will then ask our reader to judge using the same system we used in our last two contests. Enough said for now. Go to it and good luck!
Related posts:
Robert Steven Critiques a Black Pine and Offers Some Insights into the Five Schools of Penjing
$25 Contest: Identify This Tree
$100 Bonsai Art Photo Contest
Photo Art Contest: Entry #5
Contest Winner (Better Late Than Never)