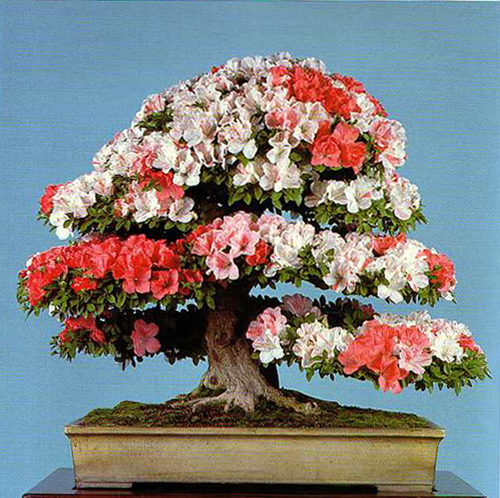 This wildly colorful Satsuki Azalea is from a Flowering Bonsai Gallery in Bonsai Today issue 65. If you take a close look at the flowers, you'll see that there are a number of different shades and patterns. Mother nature needed a little help from her friends to accomplish this kind of striking variation. For the best information on Satsuki Azaleas in print, check out Robert Callaham's Satsuki Azaleas for Bonsai and Azalea Enthusiasts.
Speaking of Bonsai Today
We have finally decided to put up parts of our out-of-stock and now rare Bonsai Today collection of older long gone issues (except for the few we either saved or somehow got our hands on. So far three issues (5, 6 and 7) are up, with more to follow.
Related posts:
Classic Flowering Bonsai of Japan
Flowering Bonsai, Fleeting Bliss
More Flowering Bonsai
Flowering Bonsai #3