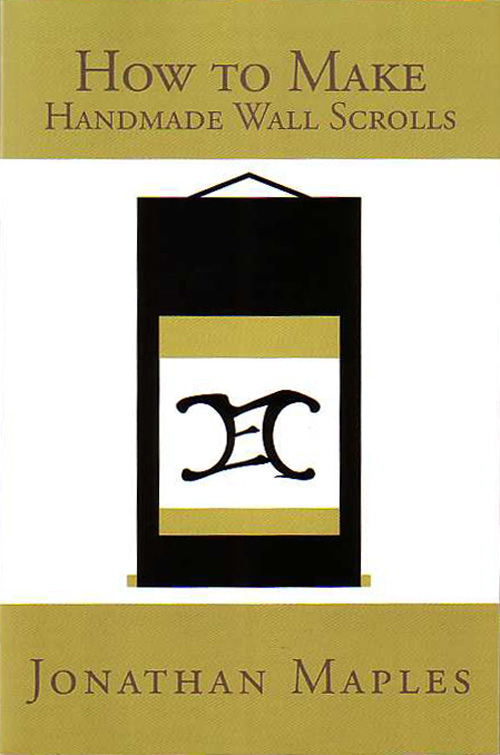 New book. How to Make Handmade Wall Scrolls by Jonathan Maples.
A good scroll can go a long way…
… in enhancing any bonsai display. Though most of us have developed some bonsai appreciation and some skills (rudimentary, at least), few of us have bothered to learn much about bonsai display; both the various pieces (mostly stands, scrolls, companion plants & suiseki) and the overall aesthetics of a display.
Your chance
How to Make Handmade Wall Scrolls will afford you the opportunity to learn about an important display feature, and beyond that, how-to instructions for making your own.
From the publisher
This book shows the entire process from start to finish how to make your very own custom kakejiku, or Japanese scroll. With pictures, graphs and simple to read instructions… using techniques learned in Japan (you can make) these Japanese scrolls that can be used to frame art prints, photographs, Japanese calligraphy, or Sumi… Perfect for any home or office.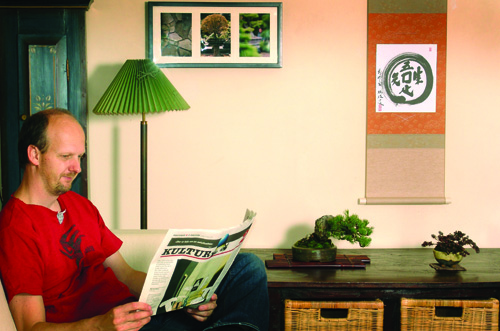 Morten Albek relaxing at home with a simple bonsai display that includes a wall scroll. This photo is one that didn't make it into Morten's Shohin book (on special at Stone Lantern and full of useful information about bonsai display). It's somewhat unique as it shows a scroll in an informal setting. Most appear in more formal tokonamas (especially in Japan).
Related posts:
Of Scrolls & Tokonomas