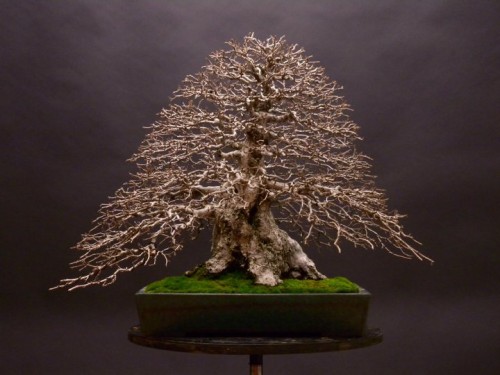 The latest incarnation of Mario Komsta's extraordinary and now somewhat famous Hornbeam.
Balance
Is the balance better now (comparing the photo above with the earlier photo immediately below)? Does the elongated first branch (left) help to counter balance the slight rightward lean of the apex?
The base of the trunk
The base of the trunk appears stronger in the earlier photo below. Is it just the photo, or does the extended branching and the new pot diminish the power of the base?
Ramification
No matter what our thoughts about balance and the base of the trunk, the impeccable patience and masterful technique that is displayed in the ramification is undeniable. Altogether a powerful dynamic tree.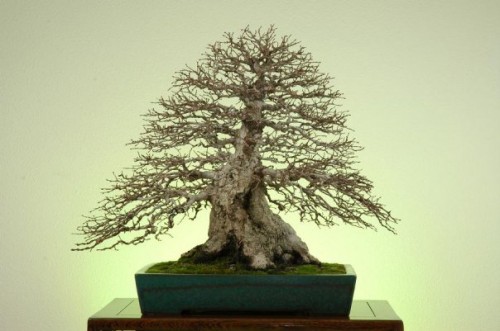 An earlier incarnation. Though the balance may not be perfect and the ramification isn't as developed as in the top photo, I think the base of the trunk appears more powerful in this photo.
A few instructive comments
The comments that follow appeared on facebook in response to the posting of the photo immediately above. I'm not sure how much earlier this photo was taken than the photo at the top of the post.
Mauro Stemberger: very good ramification , pity the top is unbalanced, respect first branch in the left
Mario Komsta: so the apex need to following to direction of the first branch ? is this regulation? something new for me !
Mauro Stemberger: rules are made to be broken but……….this tree seems to me unbalanced …….sorry ;)
Boon Manakitivipart: Mario,very nice tree. and i agree with Mauro.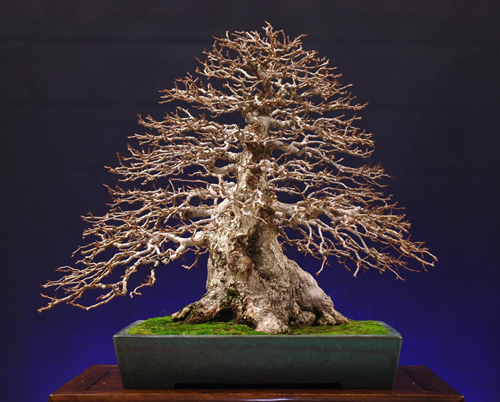 This photo, from an earlier Bonsai Bark post, appears to show the tree sometime between the two photos above.
Related posts:
Revisiting a Famous Old Pine
Revisiting John Romano's Almost Famous Juniper
Bonsai Globetrotting, Make Your Own Rock, A Wild & Wonderful Hornbeam, The World's Most Amazing Garden
Revisiting a Powerful Mugo Pine & Contemplating Two Mysteries
Famous Trees & Famous People