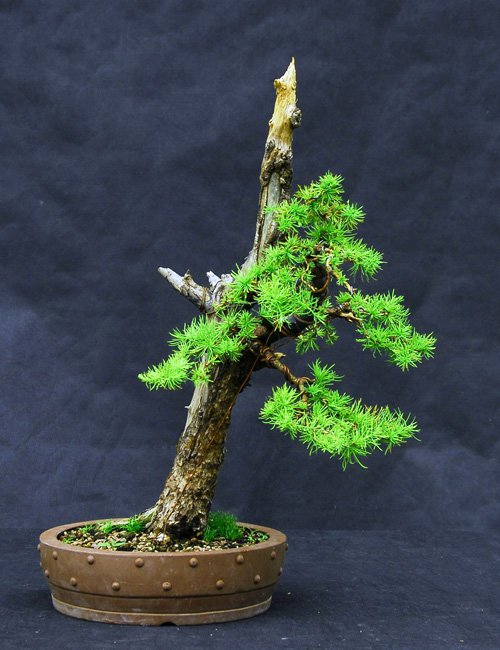 Imperfect, unfinished and unbalanced… yet, still compelling in its naturalness and with its luminous foliage, aged bark and deadwood (if you ignore the unfinished jin at the top). By Andrei Darusenkov.
Just a little luck
This larch is a little different from the one in our last post, which featured a near perfect little collected larch (the kind you could spend a lifetime looking for). This one shows a type tree that us ordinary collectors with our limited experience and just a little luck might find sometime.
Taking a few liberties and indulging in a little imagination
I don't know what this tree looked like when Andrei collected it, but you might imagine that the trunk was quite tall, thus the unfinished jin on the top. You could easily surmise that the older grey jin and shari were there when he found it, as was the aged bark. He probably noticed that the strong second branch would make a good apex and that the smaller branch just below it would make a good first branch. Perhaps he was disappointed with the lack of trunk taper (though the little swell at the bottom helps), but then he probably realized that this is the way of most larches, and that he could correct it a bit with some carving to narrow the top and by lowering a couple branches to soften the lack of taper on the lower trunk.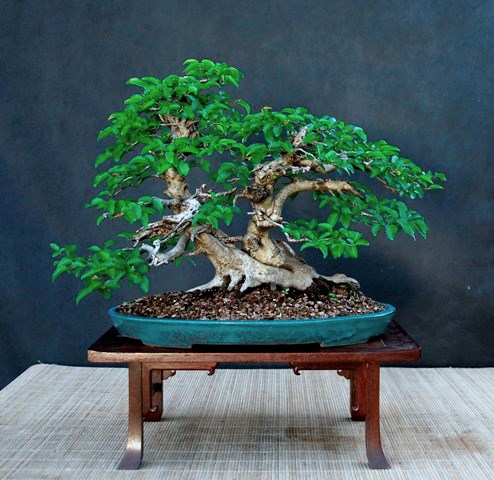 Oriental hornbeam (Carpinus orientalis). Another compelling collected tree by Andrei Darusenkov. Andrei treats us to a progression from collected to what you see in this photo, on Internet Bonsai Club.
Related posts:
A Compelling First Look
Nature, Picasso & the Hand of Man