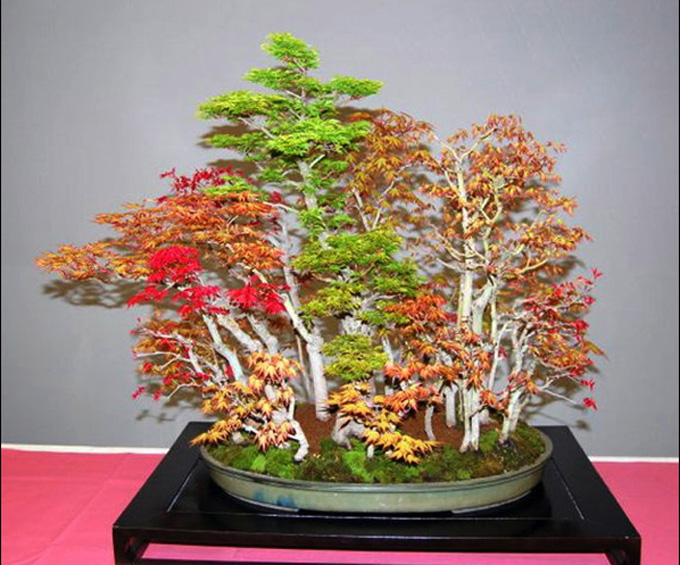 This playful mixed Japanese bonsai forest is by Juan José Bueno Gil.
Rare indeed
You don't see too many mixed bonsai forests, and my guess is that you've never seen one with this many varieties (above). They may all be the same species for sure (Acer palmatum), but they aren't all the same. How many varieties can you count?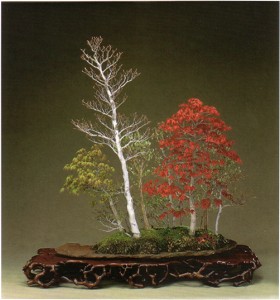 We've shown this mixed forest in Bonsai Bark before. It's one of my favorites (though it would be nice if the photo were larger). It's from Saburo Kato's Forest, Rock Planting & Ezo Spruce Bonsai (published by The National Bonsai Foundation and distributed by Stone Lantern).
A different kind of mix
The planting at the top of this post contains only one species. This one contains five species (six varieties in all) of trees, two of which are Japanese maple varieties. The six are (left to right):  Japanese maple (Acer palmatum), Japanese beech (Fagus crenata), Dwarf stewartia (Stewartia monadelpha), Kyushu azalea (Rhododendron kiusianum), Japanese red-leaf hornbeam (Carpinus laxiflora), and Deshojo Japanese maple (A. palmatum 'Deshojo').
Related posts:
Another Forest, But Mixed This Time
Bonsai Art: Deshojo Japanese Maple
Bonsai & You (tube): Mixed Gallery
The Magician's Formal Forest
Power, Color & A Too Little Forest