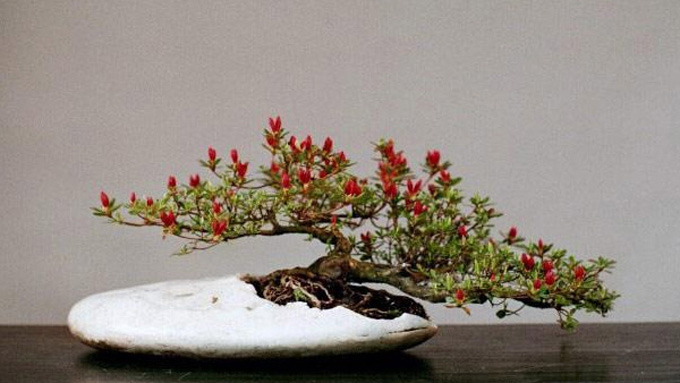 Azalea and pot by Nick Lenz. Photo borrowed from The Art of Bonsai Project.
A unique American bonsai artist
Nick Lenz is an unusual person. On the spectrum from conservative to daring and even outrageous, his bonsai land somewhere beyond the latter. What he says about bonsai (and other things) reveals a unique mind; fascinating, humorous and often quite insightful. Beyond that, you be the judge.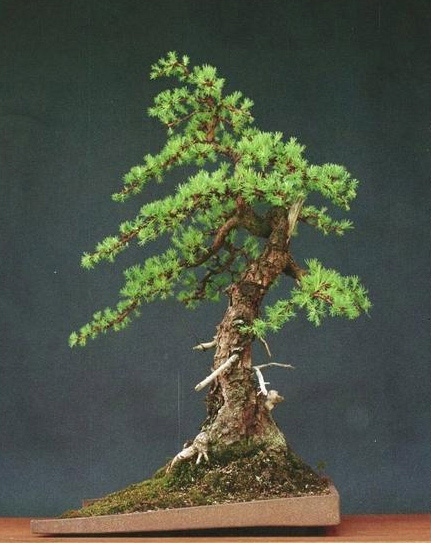 Collected larch (Larix laricina). Tree by Mother Nature and Nick Lenz. Pot by Nick. Larch with decent taper are extremely unusual. Chances are, Nick applied a few tricks to help this one along. Photo from The Art of Bonsai Project.

Nick's classic book
In addition to being a big time bonsai artist, Nick is also a big time bonsai author. His book, Bonsai from the Wild is the classic on collecting bonsai. Though the trees are mostly northeast North American varieties, the techniques and insights apply wherever you happen to be.
Interview with a unique American bonsai artist
The following interview with Nick Lenz was conducted by Andy Rutledge. You can read the whole interview on Andy's The Bonsai Journal.
Andy Rutledge: Why did you first take up bonsai?
Nick Lenz: Because it was natural. It was implanted into my infancy and skirted throughout childhood and adolescence. The Lord waited until I could buy my own beer to slip me a couple of cheap black & white photos of real Japanese bonsai, and said: Do it kid. So I got into my jeep and went to another nursery that sold bonsai pots (I was living in a shack on a nursery run by drunken Germans). I hurried back with two large pots, fed the daily road-kill to the margay [ed. - one of Nick's exotic cats], swiped a couple of plants, and went to work instead of writing a term paper on annual bacterial succession in a dirty pond. I just did it as I eat and excrete and do other things. I was meant to.
For the whole interview visit The Bonsai Journal.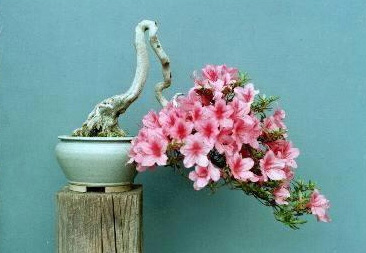 Another azalea by Nick. Photo from The Art of Bonsai Project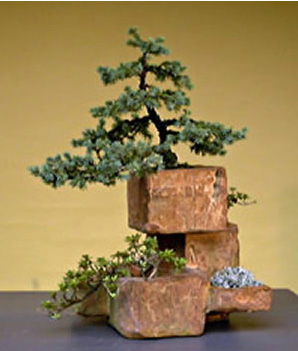 Mt. Washington White spruce. One of Nick's many unusual bonsai creations. Photo from The Art of Bonsai Project.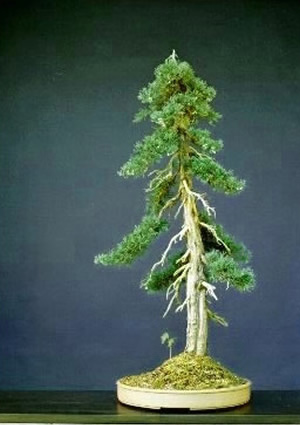 This one is labeled Juniperus chinensis 'Blue Rug' at The Art of Bonsai Project. Rug refers a very low growing ground cover and yet this tree looks completely natural in this upright form; evoking perhaps a towering west coast conifer.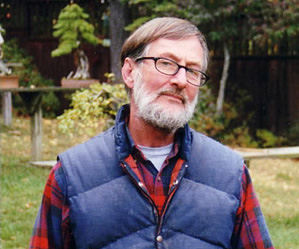 Portrait of an artist. From The Bonsai Journal.
Related posts:
Contest: Unusual Pot, Unusual Tree & Free Shears!
A Not-So-Well-Kept Bonsai Secret
What Happens When an Artist Tries His Hand at Bonsai?
Scots Pine: One Artist, Four Trees
Searching for the Unusual