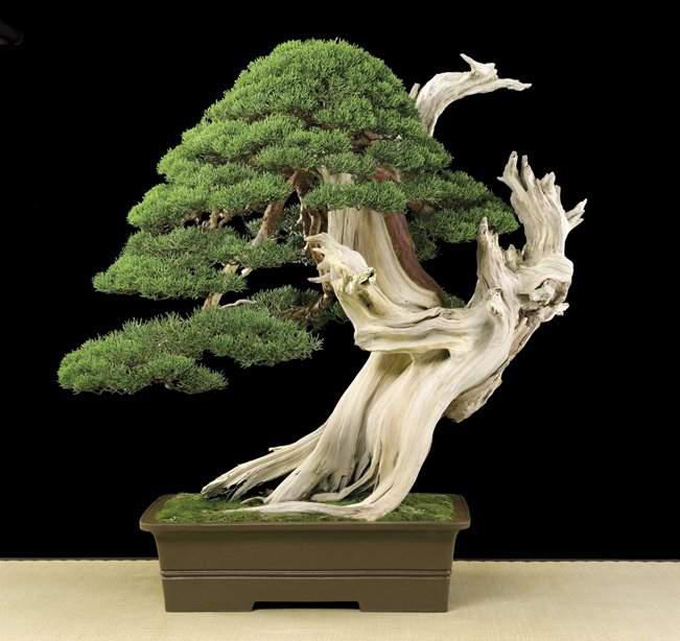 A European bonsai with a Japanese touch. This massive juniper with its wildly sculpted deadwood is reminiscent of bonsai you'd see in Japan in the 80s and 90s. Right down to the quality Japanese pot (unless it's a Chinese knockoff). The artist is Carlos van der Vaart.
Taking the bonsai scene by storm
There was a time not very long ago when bonsai with a heavy reliance on sculpted deadwood took the bonsai scene by storm. Rather than attempting to 'make your bonsai look like a tree' (John Naka's famous dictum) these more abstract trees were the result of a 'bonsai as cutting edge art' attitude: more innovative and less beholden to convention. This approach was pioneered by Masahiko Kimura and was made possible by his introduction of power tools into the world of bonsai.
Rejected, then celebrated
At first Kimura's Japanese contemporaries rejected his work. Too much too fast. But Kimura's creative power won out; his bonsai were just too powerful and daring to ignore. Soon his name was known to bonsai enthusiasts around the world. People started experimenting with power tools and suddenly bonsai with wildly sculpted deadwood was showing up everywhere (continued after photo).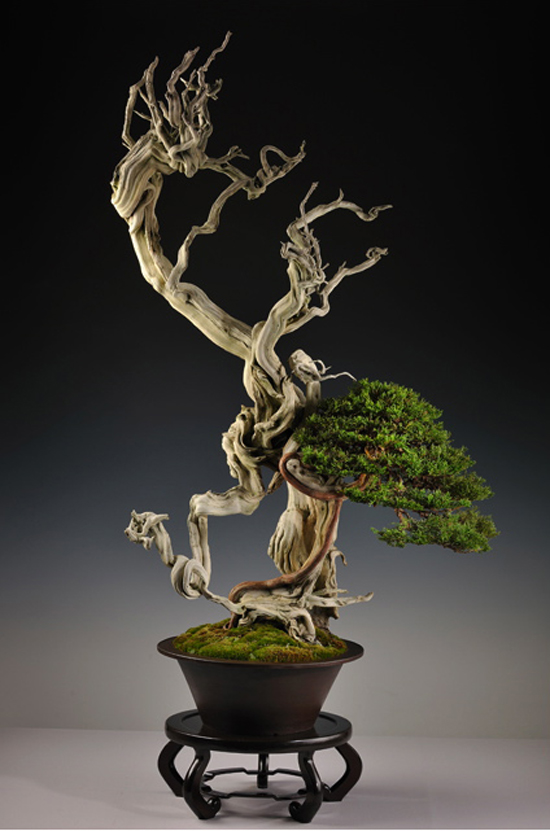 At the risk of overstatement: I'm absolutely floored at the over-the-top insanity of this wild and wonderful, slightly tortured, but stunning bonsai. Where on earth did Carlos van der Vaart find deadwood like this?

The backlash
Inevitably, some people grew tired the Kimura clones. Grumblings were heard that expressed a distaste for such unnatural looking bonsai (in the eyes of some) and a longing for a more naturalistic aesthetic surfaced. Some people even found it necessary to take sides; naturalistic versus abstract or sculptural, as though they somehow couldn't coexist.
Peace in our time
Now the controversy seems to have died down. The more natural look is back in vogue, but it's a natural look that has absorbed the sculptural touch. Carved deadwood abounds, but, in most cases, the desired result is deadwood that looks naturally aged, rather than the highly abstract deadwood that was once so popular. Still, that wildly abstract look pops up now and then. Take Carlos van der Vaart's trees in this post, for example.
An overly simplified view
Of course, the views expressed in this post are overly simplified. It's the nature of the beast. If you tried to write a more detailed and well researched history online, no one would take the time to read it. In fact, you can't really expect anyone to read something the length of this post (if you got this far, you may be the only one).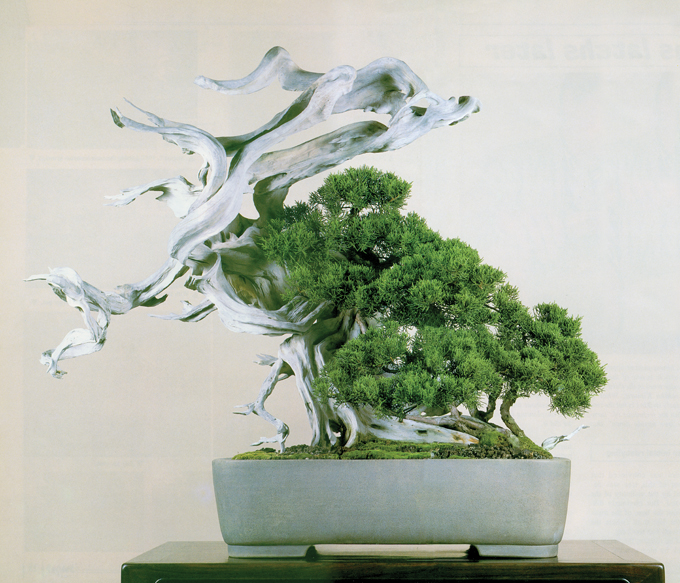 This Shimpaku juniper is one of Masahiko Kimura's signature bonsai. The foliage looks natural enough, but when it comes to the deadwood, it's more about a wild flight of creative fancy than about replicating nature. From the back cover of The Magician (and other places).