Three of the five 2012 bonsai stamps. You'll notice that each one gives the common name of the tree.
Bonsai stamps
For a long time, our (U.S.) stamps were a lot like our money, monochromatic, often difficult to tell apart at a glance, and frankly, a little boring at times. In the last twenty five years or so, all that has changed. Now, just like stamps in most other countries, colorful, sometimes even beautiful US stamps abound. You can even see famous (and not so famous) art celebrated on US postage stamps. Which brings us to the stamps shown here; five U.S. postage stamps that celebrate the art of bonsai. Each one a work of art in itself. They're not out yet, but you can look for them sometime in 2012.
Stone Lantern will resume shipping on the 29th
As always, our website is open for business. Our warehouse however, is closed for vacation until the 29th. Orders received before then will be shipped on a first-come-first-served basis.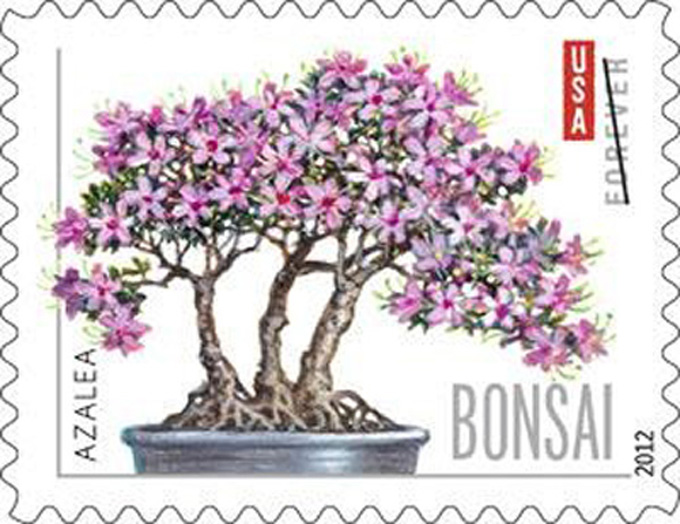 Close up.

All five stamps.
For more…
I first heard about our future bonsai art stamps on Bonsai Mary. You could go there for more, or go this site that features art stamps.
Related posts:
2012 Bonsai Calendars
Thinking Ahead to 2012: The Show & the Books