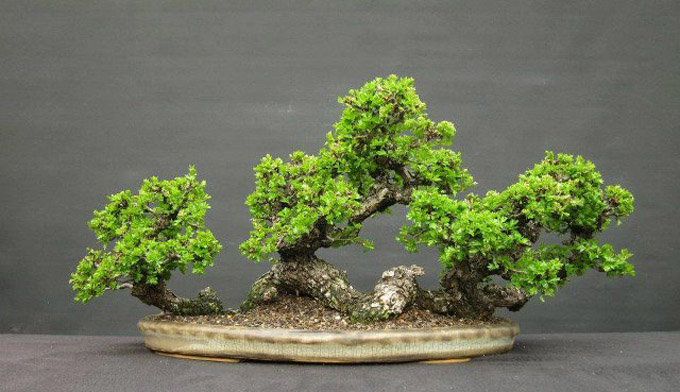 Though a purist might find fault, I love everything about this wonderful raft-style planting: the way the trunks are joined together by the snakelike surface root; the way whole thing undulates across the pot; the aged bark; the lush foliage that imparts a feeling of robust health; its overall shape and the shapes of the individual pieces; and of course the wonderful pot and the unity of the pot and the planting (if you bothered to read this far, you win a prize – see *** below).
Begging the question
I found the photo above (and the one below) at Tae Kukiwon Bonsai on facebook. The caption says John Pitt Bonsai Ceramics – Hawthorn at its best, so I visited John Pitt's website to see if I could find it there, which I couldn't. Then suddenly, a very faint flicker occurred, somewhere in the dark recesses of my aging memory, and I thought to search Bonsai Bark for John Pitt. Sure enough, there it was, almost exactly a year ago to the day, and almost foliage free.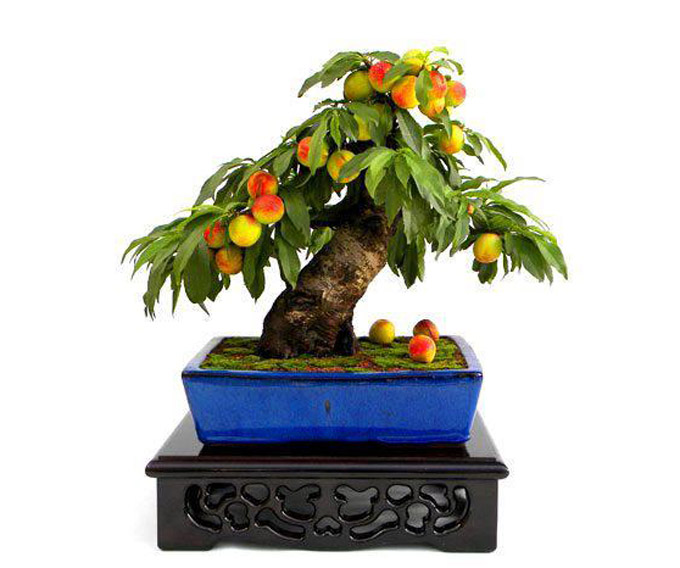 This sweet looking peach bonsai is also from Tae Kukiwon Bonsai. It belong to Ivson R. Filipak, at least that's what the caption says: "Prunus persica – Proprietário Senhor Ivson R. Filipak. Prunus persica var. nucipersica (nectarina anã) que foi adquirida como pré-bonsai no Bonsai do Campo em Porto Amazonas (PR) de propriedade do amigo Carlos Tramujas. Trabalhei nela 4 ano"
*** for those of you who bothered to read this far, you'll receive a free Bonsai Aesthetics scissors with your next Stone Lantern order (provided you order by May 31st, 2012). All you have to do is put the following in the comments box with your order "free scissors from Bonsai Bark" and we'll take care of the rest.