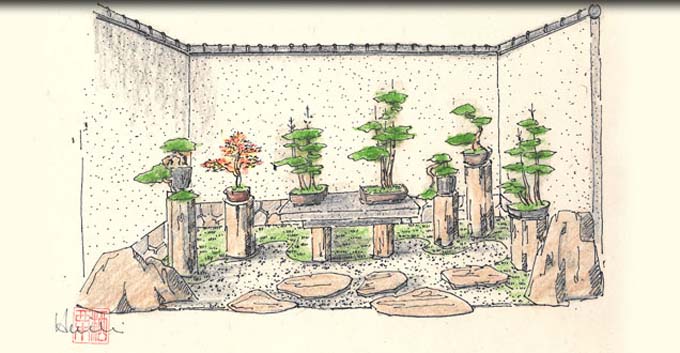 All the drawings in this post are by Hoichi Kurisu, Master Garden Designer and accomplished illustrator.
Thirty years of dedicated service
Hats off to the dedicated folks at the the National Bonsai Foundation on its thirtieth anniversary.  Just in case you haven't been paying attention, the NBF is a nonprofit organization established in 1982 to sustain the U.S. National Bonsai & Penjing Museum.
Did you know that you can join the NBF?
You can help promote, sustain and expand one of our true national treasures (for as little as $35 a year). Go ahead and let us know you did in the comments below. That way you'll be encouraging others to do the same.
You can visit too
You can visit and enjoy the wonders of our world-class bonsai museum any time. You can even combine your visit with one of their on-going special events (scroll down for some details).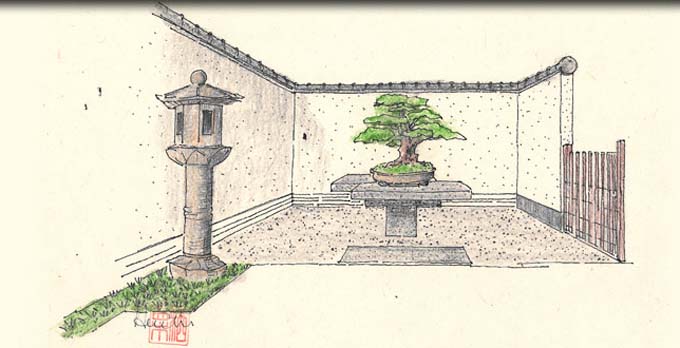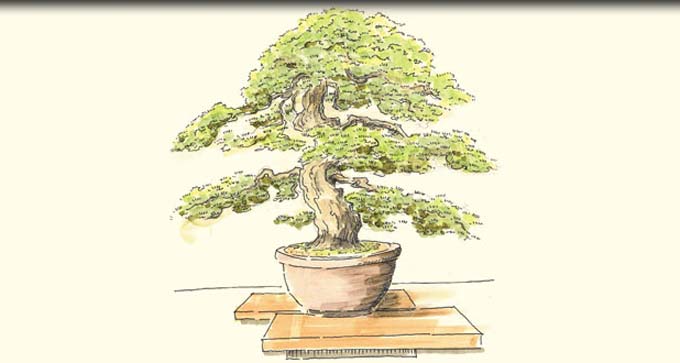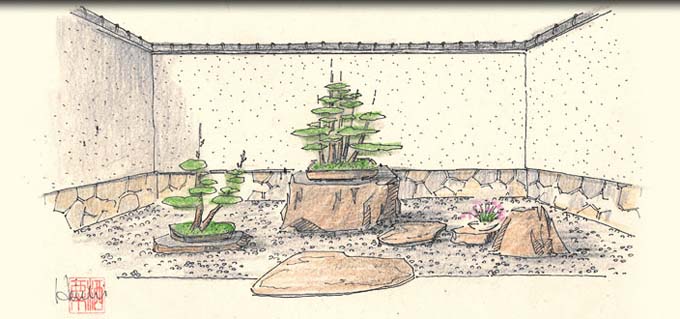 Current and upcoming events from the National Bonsai & Penjing Museum calendar
May 26 – Jun 10
10 – 4
Special Exhibits Wing
Free    Azalea Bonsai Exhibit
Putting on the Glitz
In Japan, it is said that the beauty of an azalea bonsai in bloom is like the beauty of a courtesan dressed in her finest brocade kimono. Breathtaking blossoms cover these late-blooming Satsuki azaleas, miniature in form, but covered with full-sized flowers. This annual spring exhibit showcases the most spectacular examples.
Jun 16 – Oct 14
10 – 4
Special Exhibits Wing
Free    Becoming a Bonsai Exhibit
How do they do that? See the steps involved in creating a bonsai, and witness how a common crape myrtle is transformed into a charming bonsai through pruning, wiring, and repotting. Artifacts from the museum's collection will also be displayed, including tools used by bonsai masters Toshio Kawamoto, John Naka and Yuji Yoshimura.
Oct 20 – Nov 4
10 – 4
Special Exhibits Wing
Free    Autumn Bonsai Exhibit
Beautiful Transitions
This annual show is one of the most popular seasonal exhibits of the year. No need to go all the way to Skyline Drive in Virginia to enjoy beautiful fall colors. See red maples, yellow ginkgos and fruited trees in the Museum's permanent collection pavilions. The Special Exhibits Wing features select trees during their peak colors.
Related posts:
Celebrating Our Bonsai Heritage
Fifty Years of Bonsai By the Bay
Sixty Four Years of Bonsai in Sacramento
Rice for Five Years: The Life of a Bonsai Apprentice
Thinking Ahead Two Years