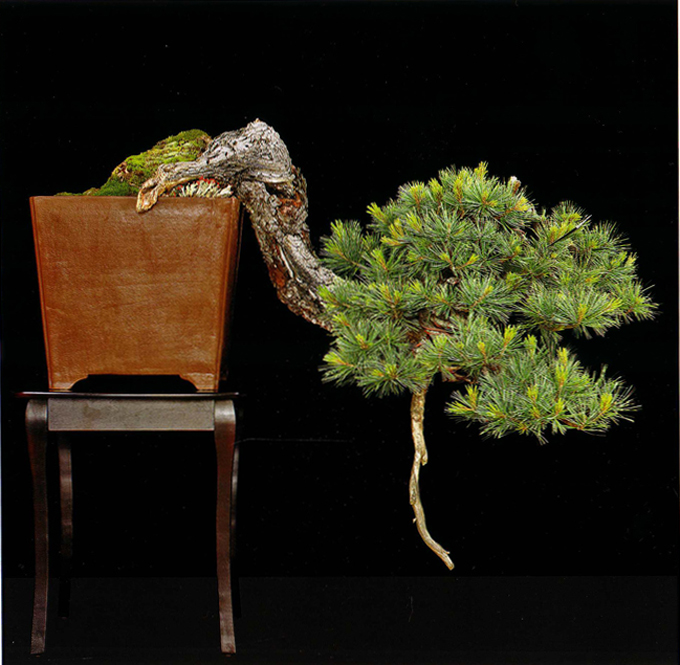 Going down? There's a lot to love about this old tree: that little piece of wood that hangs over the edge of the pot, the remarkable texture and color of the bark and the way the powerful old trunk seems to cling to the pot. There's also the fact that the tree is a Southwestern White Pine (Pinus strobiformis), not your everyday bonsai species. And then there's that remarkable jin that seems to be unconcerned if it fits or doesn't fit with the rest of the tree. The tree belong to Greg Brenden. The photo is from the 2010 2nd U.S. National Exhibition Album.
What they have in common
Aside from their unique jin, what these two trees have in common is; they were both on display at U.S. National Bonsai Exhibitions in Rochester, NY. This is good time to mention this excellent, world-class exhibition, as the 3rd one starts in six day
Stop by and say hello
If you live within a few hundred miles of Rochester (or if you're not put off by last minute long trips) come and enjoy yourself next weekend. You'll be glad you did. While you're at it, drop by and say hello. We'll be offering rare out-of-print (and in-print) bonsai books, our wonderful new Stone Lantern-Corex tools, new copper wire at a big discount (look for it on our website soon), the full line of Ho Yoku bonsai care products and much more.
Here's what you need to know about the Exhibition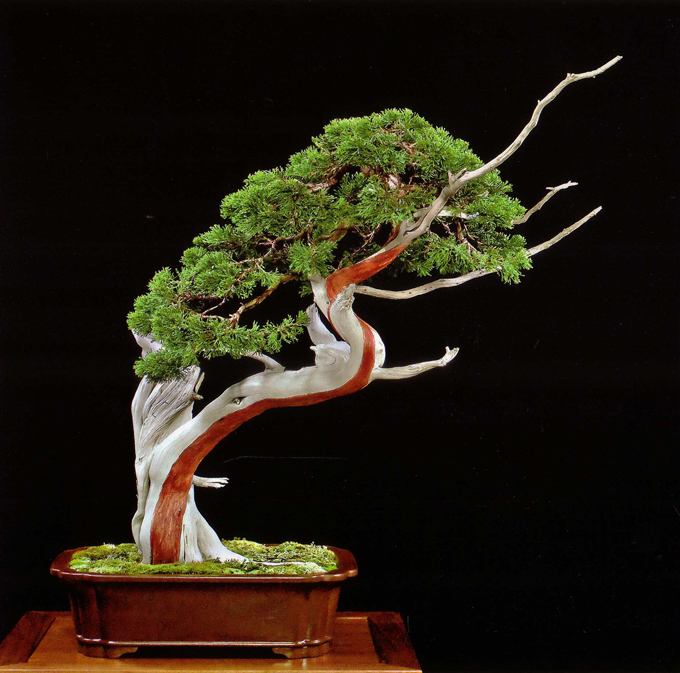 Going up? This complex sculpture/bonsai will no doubt delight the sensibilities of some and offend the sensibilities of others. I'll put myself on the delight side. When I let go of my notions of naturalness and try to look with unprejudiced eyes, I'm struck by the way the whiteness of the deadwood sets off the delicious slick live vein. Then there's the story behind the partially hidden twisted deadwood stump; something strange and wonderful happened to this tree before it was discovered clinging to its little patch of soil somewhere in the eastern part of North America (it's a Juniper (Juniperus virginiana) that's most often called an Eastern red cedar). Oh yeah, and there's the jin. The tree belongs to Juan Calderon. The photo is from the 2008 1st U.S. National Exhibition Album.

Missed the first two Exhibitions? Don't worry, you can enjoy all the marvelous bonsai in the National Exhibition Albums. Now half price for the set at Stone Lantern.
Related posts:
Weekly Wire: Bonsai Train, Deadwood in Deadwood, Russian Bonsai & More
How About Yew (Carving Deadwood)?
Weekly Wire: Bonsai Surperstar, FREE Fertilizer, Making Uro, Spring!
Weekly Wire: Back On His Feet, Nature's Deadwood & Keeping Things Up to Date
Deadwood, More Deadwood & A Beautiful Weekend