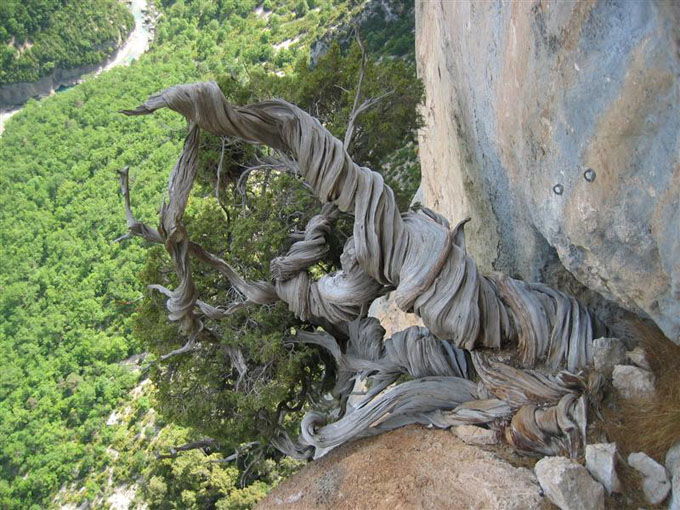 Twisted in the extreme. My guess is that you've never seen a tree as twisted as this one. I'm pretty sure I haven't, though there are some (I think they are Whitebark pines Pinus albicaulis) at the treeline on Mt Lassen in Northern California that come pretty close. This photo is from Carlos van der Vaart on facebook. The caption says: Carlos van der Vaart with Carles Lleonart and Bonsai Eduardo Budes, Medellin, Colombia.
What causes trees to twist?
I've always thought twisting is caused by a combination of persistent strong winds and the way trees grow towards the sun. You might also throw gravity into the mix (many twisted trees grow on sloping ground). To me this seems like common sense. However, I did find at least two other explanations after a quick web search: 1. it's genetics, and 2. no one really knows (I guess this doesn't really qualify as an explanation…)  If you're interested in doing your own research, a couple pretty good places to start are: here and here.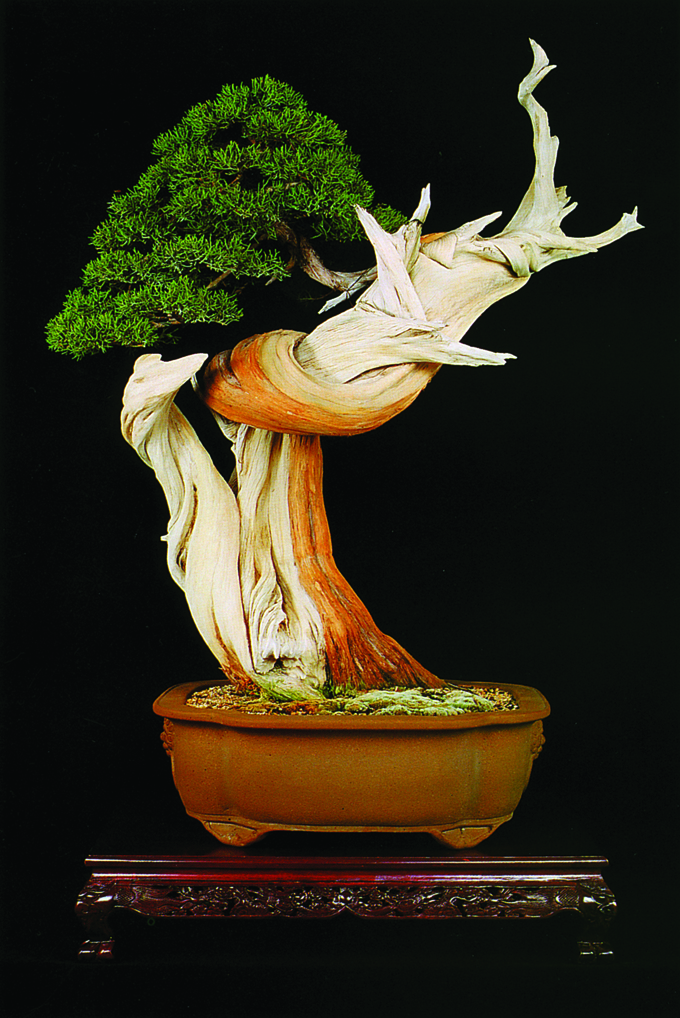 A sudden twist of fate. This powerful California juniper starts out straight and then suddenly there's a change of direction and a big 360 degree twist. You can only guess, but it looks like some powerful event caused this tree to change its angle in relation to the ground. Perhaps it was an earthquake or landslide, or maybe a flash flood. After the change, the forces that cause twisting took over. Of course this is all conjecture on my part and none of it explains the now dead second trunk that begins twisting almost from the ground. The tree was collected and styled by Ernie Kuo. It's from our Masters' Series Juniper book.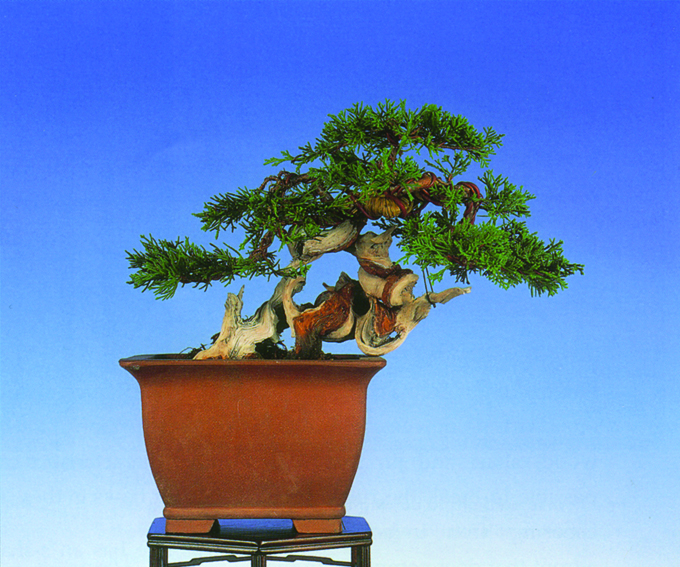 Man made twisting. This little Shimpaku juniper was domestically grown and shaped. Whoever grew it did a great job at creating a natural effect – it's almost impossible to mimic the raw and rugged look that nature sometimes comes up with, after hundreds of years of stressful conditions. The final styling was done by Masahiko Kimura. You can find this photo and the chapter that shows Kimura shaping this tree in The Magician, the Bonsai Art of Kimura 2.
Related posts:
Bunjin Bonsai Bliss
A Bonsai Story
Bringing the Magic Up To Date
Naturalistic? Not Exactly
The Twist & Other Bonsai Eccentricities