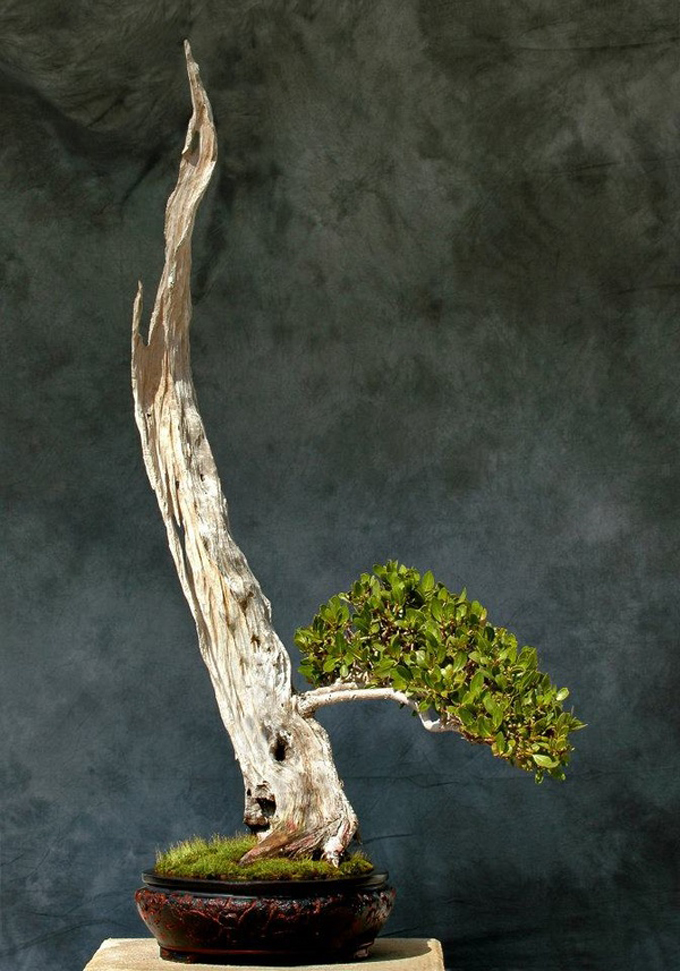 Tree number one (Matthew Logan's comments… Ferry's is too long for this spot; you can find it at the bottom of the post): Eric Wigert- Buttonwood, housed at his nursery, used as the tree on his business cards. Tree was collected in 2002.  Carving work done by Lui Rayon.  48" tall 6" nebari. Tokoname Pot.  Displayed at Epcot in 2005.  Nice tree to look at in person. http://wigertsbonsai.com/. In the gallery 27th tree.
Be careful what you promise
I don't always know how to handle apologies. It's simple when ignorance or unkindness cause harm, but a little murkier when I promise something and don't come through and no one is really harmed. So, rather than apologize I'll confess: I didn't get around to doing what I said I'd do, when I said I'd do it, and now I'm just a tad embarrassed.
A split decision
We have a winner for our $250 Bonsai Detective Contest. Actually, we have two winners (and an excuse). After a long period of indecision (there's the excuse), I've decided to split the winnings between two entries. One for speed and accuracy, the other for accuracy and thoroughness. (never again… here's the link to the original rules for the contest, which might help explain how this happened).
The split
First place is a $140 gift certificate to Stone Lantern and second place is a $70 gift certificate. So each of our two winners will receive a $105 gift certificate.
The winners
First place tie: Matthew Logan (speed) and Ferry Freriks (thoroughness).
Third place: Andre Flores (speed and impressive enough accuracy). Andre wins a $40 gift certificate.
Honorable mention: Candy Shirey and Carolee Bier (who commented on our first Bonsai Bark post way back in January 2009 and is still commenting). Each will receive a $10 gift certificate (this wasn't part of the original agreement, but they deserve it).
Ferry's comments
I've decided to offer Ferry's impressively detailed comments with each tree (with a couple of Matthew's added in to round things out). This takes nothing away from Matthew, whose speed and accuracy remains impressive.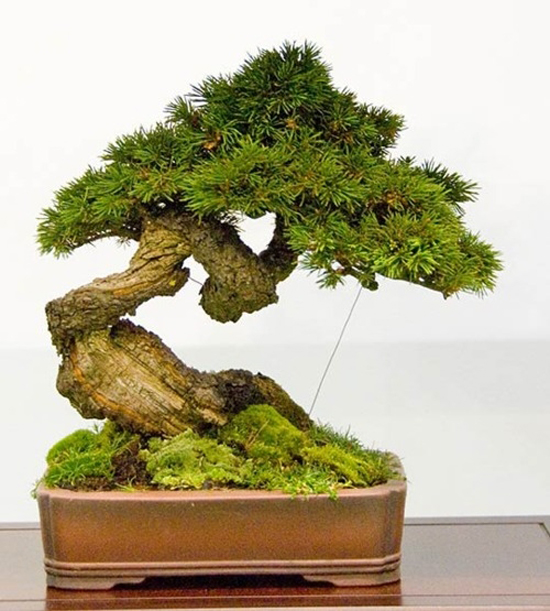 Two  (Ferry Freriks' comments)
A Spruce (Picea abies) shohin in a Tokoname pot (probably Bigei), by Swiss Bonsai artist Michael Rehmann.  Exhibited at (among others) the Ichi-Shun Ten exhibition in 2004  and  the Bonsai Autumn Exhibition 2008 (where it won the prize for best shohin composition in a display with other  yamadori shohin). The tree is developed from yamadori material for at least  14 years and is about less than 20 cm (~8 inch) in height, assuming Mr. Rehmann has normal sized hands.
Sources:
–         http://walter-pall-travelogues.blogspot.com/2008/10/bonsai-autumn-2008-in-olten-ch-1_06.html)
–         funny PDF with progression shots: http://www.zulaufquelle.ch/fileadmin/files4zulauf/Dokumente/Kundenmagazin/Herbst_2011/GrueneQuelle_Bonsai_S.4-7.pdf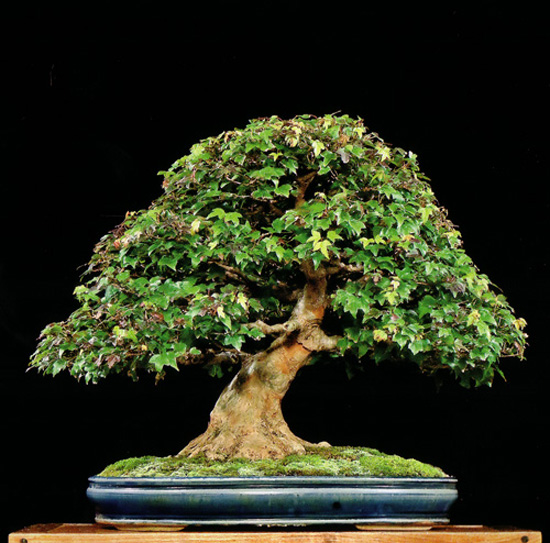 Three (Ferry):
A tree by US Bonsai Artist Martin Schmalenberg (from Stillwater, NJ). It's a Trident Maple, or  Acer buergerianum, with a height of 16' (40cm). It was on display at the First National Bonsai Exhibition (Rochester, NY), where it was the Finest Deciduous Bonsai, winning the 2008 Yoshi Bonsai Tool Award. It took me a while to find out that this tree was already featured on Bonsai Bark.
Sources:
–        http://www.bonsaifocus.com/gallery/6/1st-national-show-usa-2009.html
–        http://web.mac.com/williamnvalavanis/NATIONAL_BONSAI_EXHIBITION/BONSAI_ON_DISPLAY.html
–        http://bonsaibark.com/2009/05/02/commemorative-album-part-two/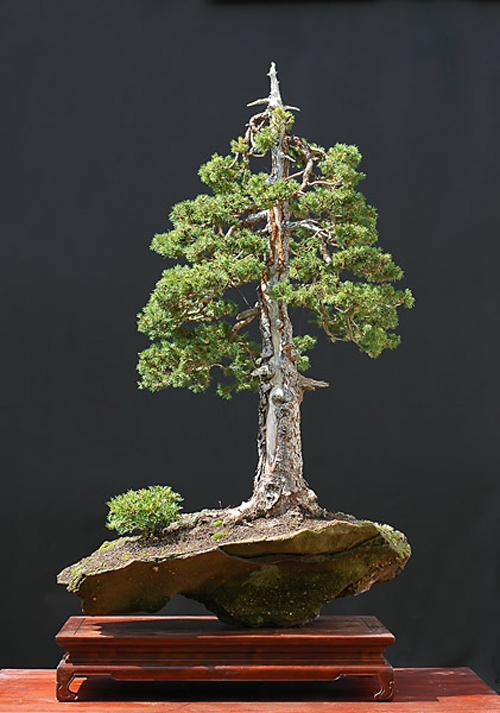 Four (Ferry):
A Norway Spruce (Picea abies) by the famous/notorious Walter Pall (Germany). It's 90 cm high (about 3 feet), about a 100 years old and collected in Germany in 1987, although Pall spotted the tree a year before that. To complete its German background,  it's planted on a natural German stone. Probably purchased from Gunther Mainz from Eiffel Bonsai, but I'm not quite sure. The tree was also on exhibition at the BMW Centre.
Sources:
–        http://walter-pall.de/spruceeuropean_spruce_nr__2.jpg.dir/index.html
–        http://walter-pall-travelogues.blogspot.com/2007/05/visit-to-eiffel-bonsai.html
–        http://3.bp.blogspot.com/_jI07RPVEgbI/TDHKm_7g_FI/AAAAAAAAjzw/nwj-wZyblCs/s1600/ODSC_1008v.jpg (at the BMW exhibition)
–        http://1.bp.blogspot.com/_jI07RPVEgbI/TDSj15m_PhI/AAAAAAAAkDY/lD9U3nDmVlw/s1600/ODSC_1033v.jpg (and yet again at BMW)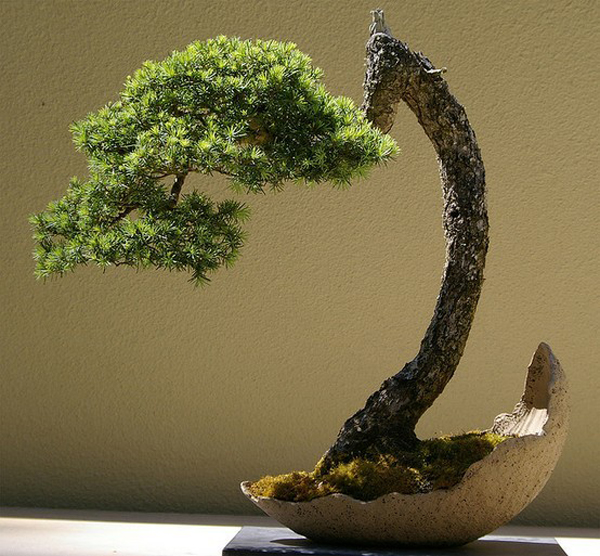 Five (Ferry)
This Mountain Hemlock Bonsai, or Tsuga mertensiana, by Mary Corrington from Eugene, OR is on permanent exhibition at the Pacific Rim Collection. As bonsai it is in training for "2 years" (as of  2006, so this year would be its 8th year in training), although some sources state it's been a bonsai since 1995. This could also mean it was already collected in that year. The bonsai appears to be planted in a handmade crescent pot.
Sources:
–        http://www.flickr.com/photos/8375340@N03/534259907 (original photo)
–        http://journalism.uoregon.edu/~russial/cyberj/theartof/pages/givot/givot1.html
–        http://www.flickr.com/photos/ericinsf/120103420/ (different set-up with suiseki)
–        http://www.flickr.com/photos/33557690@N00/page2/ (the mysterious "since 1995")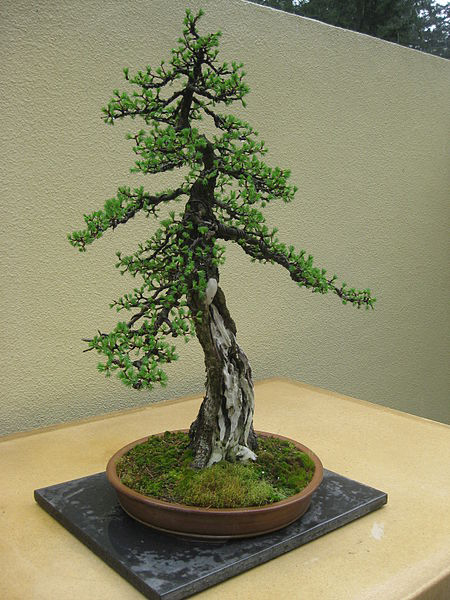 Six (Ferry):
From the same collection: an American Larch bonsai. This Larix laricina (aka. The Demon Larch, because of creepy skull-like jin)  is about 120 years old and in training for 34 years. The artist is the great Massachusetts-based artist  Nick Lenz. The tree is so famous, it even has its place at Wikipedia. Some comments about the tree from the Master Himself:
"This rather tall larch (92 cm) is an example of extreme hack back. It was collected just because it was LARGE. The lowest branch was grown for a couple of years to be a new top and the chainsaw was brought out to make a long, tapered cut down to the ground. This was years before the author discovered the petroleum jelly effect (covering the wounds with petroleum jelly and aluminium foil- FF) The callous thus grew less and less as each year passed. By the time the grease was in use, the callous had become senile and the cut surface soft. It was carved out as a lost cause and shipped to Weyerhaeuser where it continues to haunt people."
Sources:
– http://bonsaijournal.com/larch-with-taper.php
–        http://en.wikipedia.org/wiki/File:Larix_laricina_bonsai_by_Nick_Lenz.jpg
–        http://artofbonsai.org/galleries/images/lenz/large/demon_larch_detail.jpg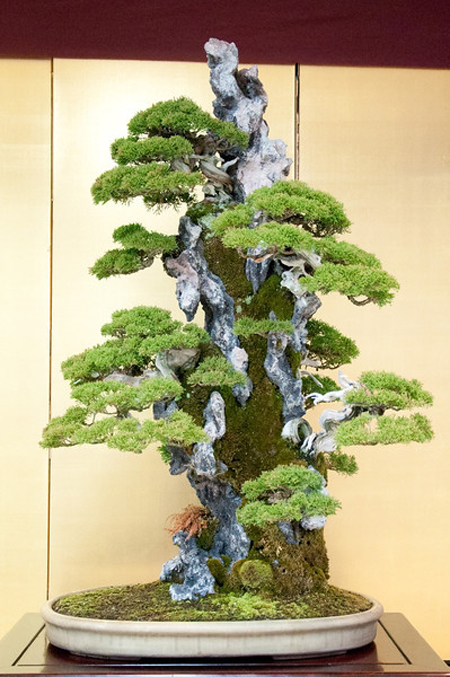 Seven (Ferry):
A pretty famous rock planting composition by the equally famous Masahiko Kimura. "The Magician" created this composition by planting several (probably seven) very high quality, shohin sized Shimpaku junipers (Juniperus chinensis 'Shimpaku') on an artificial cliff-like rock, which consists of several smaller rocks.  One of the latest exhibitions it was shown at was the 2011 Sakufu-ten, where this photo was taken by Jonas Dupuich from BonsaiTonight.com. The composition was also on the cover of a Bonsai Focus issue back in 2007. You can see the trees have grown quite well.
Sources:
–        http://dupuich.smugmug.com/Japan2011/Bonsai-pics/2011-Sakufu-ten/21365379_Z6CCfJ#!i=1704509335&k=DnTrDTg&lb=1&s=A
–        http://www.bonsaifocus.com/img/magazines/fotos/image_190_bonsai-focus-nl-78.jpg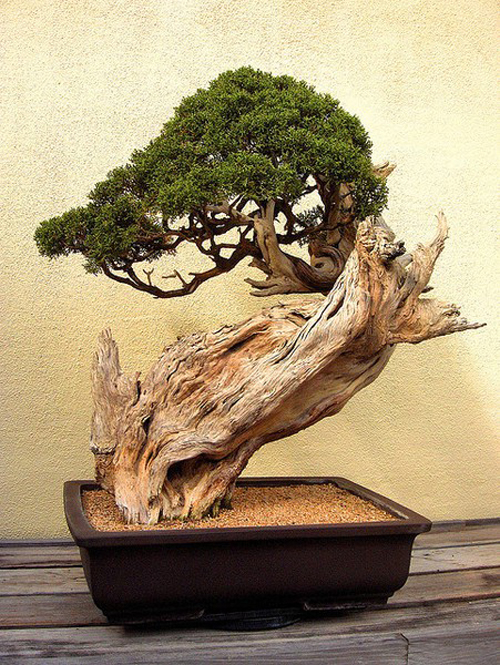 Eight (Ferry):
Again a tree from a permanent collection. This time a Californian juniper, Juniperus californica, donated by living legend Harry Hirao to the National Bonsai and Penjing Museum (Washington, DC). The tree is in training since 1968, when it was collected  by Harry Hirao himself. It seems to be planted in a simple Tokoname pot.
Sources:
–        http://www.flickr.com/photos/bom_mot/106712437/
–        http://dupuich.smugmug.com/Bonsai/Exhibits/National-Bonsai-Museum/14716586_8N5w5#!i=1102896924&k=XmD2F&lb=1&s=A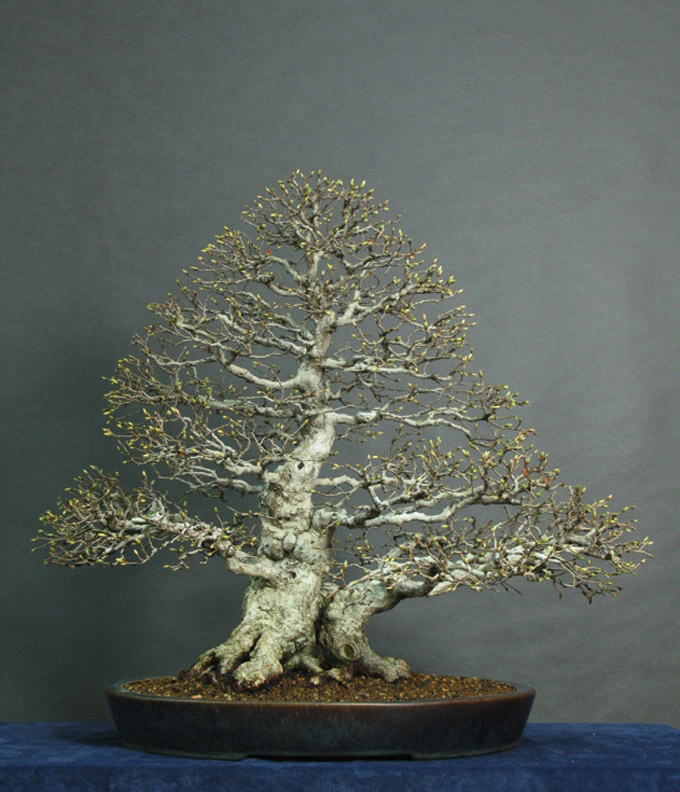 Nine (Ferry):
This is a Korean Hornbeam, or Carpinus turczaninowii by Spanish Bonsai Artist Gérman Gomez (owner of Medi-Bonsai Nursery). It's 60 high and is planted in a Japanese (Tokoname?) pot. It won several prizes since it's been imported  from Japan, including the EBA Award of Merit at the 2012 Noelanders Trophy.
Sources:
–        http://www.medibonsai.com/fotos_galeria/Gale5-Car.JPG (original pic)
–        (http://www.bonsaiassociation.be/nl/gallery.php?gal=trophy (somewhere in the middle)
–        http://www.medibonsai.com/venta_bonsais.php?categoria=Caducos&subcategoria=Carpinus Turczaninowii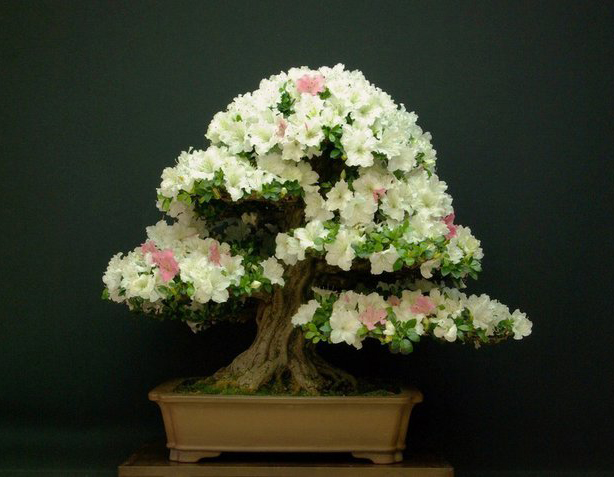 Ten (Ferry):
Again a "Spanish" tree. This time a Satsuki Azalea (Rhododendron indicum var.)by Andres Alvarez.  It's "75 by 70 cm" (about 30' by 27') according to its owner and was originally imported from Japan by David Benavente. The tree was acquired during one of Benavente's 'Fiesta de Importation' (Import Fiesta). This tree was already featured on Bonsai Bark in 2011!
Sources:
–        http://www.andresbonsai.com/images/gallery/azaleaSatsuki.JPG
–        http://andresbonsai.com/trabajos/japonEuropeo.html
–        http://i83.photobucket.com/albums/j299/mmd58/nebari_azalea.jpg (the tree in its earlier state, in a plastic training pot)
–        http://bonsaibark.com/2011/05/28/flowering-bonsai-fleeting-bliss/ (the first encounter with this tree on BB)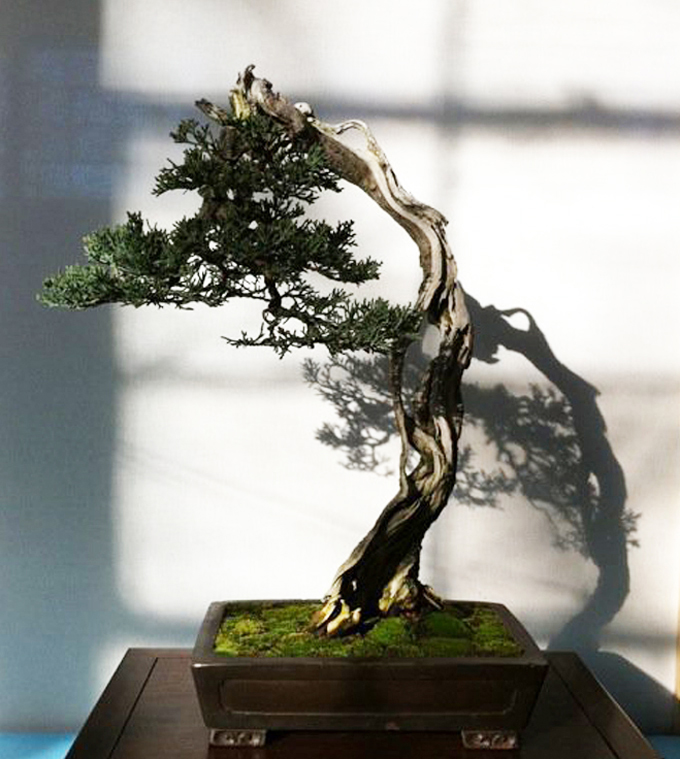 Eleven (Matthew's comment) : Boon  Manakitivipart and Jalaluddin Din: Sierra Juniper, which is a subspecies ofjuniperus occidentalis.  Bonsaibark.com, think the feature was playing with shadows.
(Ferry's comment):
This tree is probably the most mysterious to me.  I know it's a Sierra juniper (Juniperus occidentalis), on exhibit at the 2011 Bay Island Bonsai Exhibition. And I know the picture was taken and posted on Facebook by Manakitivipart. But that's about it. The tree is obviously a mid-size yamadori, planted in an antique Chinese or Japanese pot. But the owner, size or age? I don't know.
Sources:
–        http://www.facebook.com/#!/photo.php?fbid=1566436485793&set=a.1566434605746.2070159.1381837836&type=3&theater)
–        http://bonsaiboon.com/images/photos/bib/2011/bib_exhibit_2011.html (31st pic)
http://dupuich.smugmug.com/Bonsai/Exhibits/BIB-12th-Annual-Exhibit/15495139_QjoZK#!i=1169973541&k=Jkwrm&lb=1&s=A (photo by Jonas Dupuich)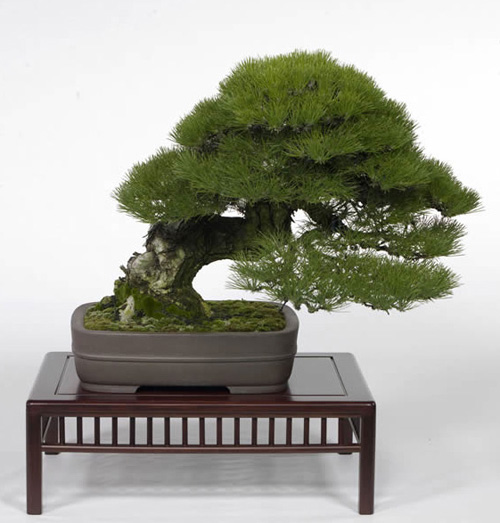 Twelve (Ferry)
This final tree is a majestic Japanese Black Pine (Pinus thunbergii, or kuromatsu).  It won the Environment minister's prize at the 20th Green Festa Kokubunji bonsai fair, which was held at the Tachibana-no-oka sports park in Takamatsu's Kokubunji town from Oct. 26 to 28 in 2009. It is 46 centimeters ?18.1inches) high and about 80 years old. The owner is Michiyo Yano from Onohara in the city of Kanonji, Kagawa Prefecture, Japan. More awesome Engrish info from the same site where I found the original picture: This kuromatsu tree shows a natural style with its twisted root and trunk curves that are peculiar to trees picked from the wild. There are minute patterns on the No. 1 branch. In addition, the trunk curves toward the top are excellent. Trees picked from the wild (yamadori- FF) grow very slowly. So I think this tree must have grown wild for a long time and has been cultivated in a container for at least 35 years. It is interesting that this tree is an aged one but its leaves look fresh. An elegant "nakaobi" pot brings out the graceful figure of the tree. It is well-balanced as a whole as the "seki kazari" supporting plants and ground cover are properly arranged.
Sources:
–        http://bonsai.shikoku-np.co.jp/en/shugi/2009/02/post-6.html
–        http://bonsai-japan.com/kinashi/
Ferry's comments for tree number one:
This first tree is a buttonwood (Conocarpus erectus) from Mike Page. It's pretty big (almost 4 feet!) including the deadwood. Up to the live part it's about 35 cm (14 inch) high. It's planted in an out of production Tokoname pot with an interesting cracked surface. The tree was an entry to the North American vs. European Bonsai Contest by the Art of Bonsai Forum back in 2007. Here's the original entry info and comments and points given by the jury:
NA025 – USA
Buttonwood (Conocarpus erectus)
Height: 45 inches, 114.30 cm
Pot: Tokonome
Categories: Best Overall Bonsai and Best North American Bonsai
_____________________
Artist: Erik Wigert
Judge Min Hsuan Lo Scored 3
Judge Budi Sulistyo Scored 3
Judge Robert Steven Scored 4
Total Points: 10
Comments:
"Too simple" – Budi Sulistyo
"Creative design, but the canopy is too formal to fit the overall idea, and the branch is too flat (horizontal) and looks separated." – Robert Steven
Source:
–        http://artofbonsai.org/forum/viewtopic.php?f=62&t=995&start=15