Snake Dance by Gede Merta of Bonsaibali. It's a Pemphis acidula.
This photo above shows a truly remarkable tree. Enough said. Or…, maybe not. If you look below you'll see the photo as it originally appeared (on facebook). Clearly, the photo above, without the distracting writing, better shows off the tree.
Still, it's hard to fault Mr. Gede Merta for displaying his name so prominently. Otherwise, you'll no doubt find the photo displayed on facebook free from any attribution, and in the worse cases, free from any suggestion that the tree might not belong to the person posting the tree (or at least, might not have been photographed by that person).
But that's facebook, where unattributed photos abound, my opinions be damned. After all, if the poster doesn't really imply that the tree is theirs, or that they photographed the tree, then what harm?
But what if the photo has been lifted from a copyrighted book? And worse, when streams of praise appear in the comments, simple humble sounding thank yous are all that are returned by the person who posted the photo? No, hey, don't thank me, thank the artist or the person who took the photo (the photo in question is from the classic Forest, Rock Planting & Ezo Spruce by Saburo Kato… see below).
I know I'm fighting a losing battle. But still, it's easy to see why Gede Merta, and others, are willing to distract from the simple beauty of their trees by putting their names on their photos.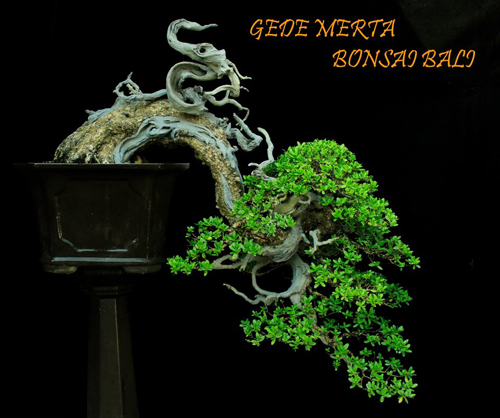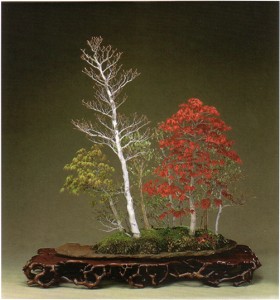 The photo in question. We've shown this mixed forest in Bonsai Bark before. It's from Saburo Kato's classic Forest, Rock Planting & Ezo Spruce Bonsai (published by The National Bonsai Foundation and distributed by Stone Lantern).
Related posts:
Old School? New School? Or Just Lazy?