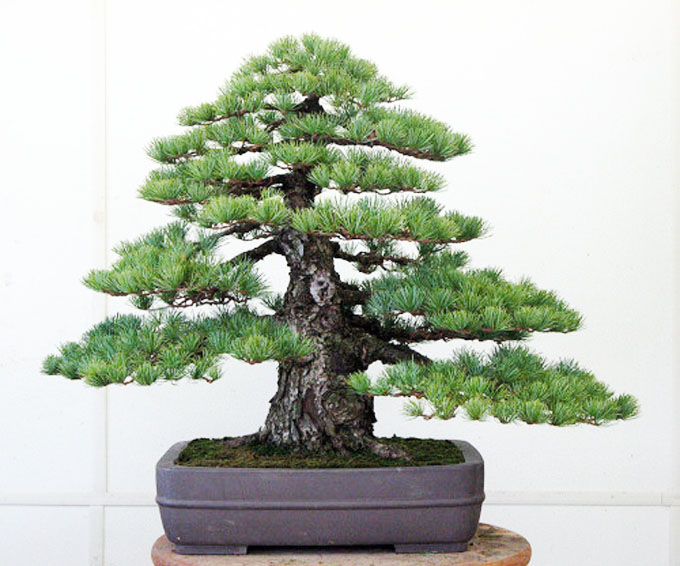 A seedling? Great base, strong taper and nice balanced open branching. An altogether excellent Japanese white pine and it's from a seedling no less! As you may know, most quality Japanese white pine bonsai have been grafted onto Black pine stock (see below). But not this one. It was grown from seed and is, as you can see, quite impressive. It was just wired (in this photo) by Michael Hagedorn (Crataegus Bonsai.) It belongs to a client of Micheal's.
More than just another bonsai in our species specific series. The Japanese white pine (Pinus parviflora) is one of the world's emblematic bonsai. In Japan it is one of the two most famous classical bonsai species (the other is the Japanese black pine) and that fame has spread so much that any serious bonsai display without at least one Japanese white pine might be said to be incomplete (climate permitting, of course).
What's in a name? The Latin name for Japanese white pine (aka Japanese five needle pine) is Pinus parviflora. The Japanese name is Goyo Matsu. Matsu is pine, so you'd think that goyo might mean white or five needles, but my Japanese dictionary says that goyo means 'business matters to attend to.' Perhaps the business matter in this case is grafting onto Japanese black pine stock? Note after the fact: that was an attempt at a bad joke… though true, my grasp of Japanese is very weak and you might expect that I'd have known that  "Goyo" means "five-needle" (see comment below), but…
Borrowed roots. Speaking of grafting, Japanese white pine bonsai, and as we've mentioned, they are usually grafted onto Japanese black pine stock, and though there must be people grafting them elsewhere, it seems that almost all of these grafts come from Japan. The reason for grafting is mostly because black pines are so much more vigorous than the more delicate and finicky Japanese whites. This is especially true of White pine cultivars, many of which simply won't thrive on their own roots (here's more if you are interested).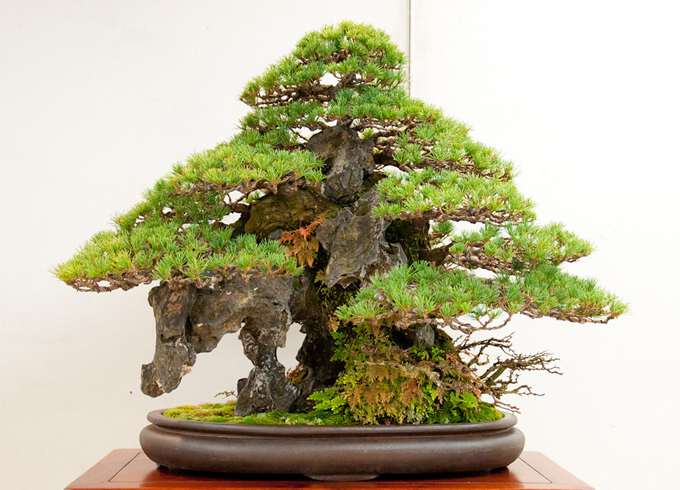 Root-on-rock Japanese white pines are not at all unusual. The more I look at this one, the more I am struck with just how well-balanced and tranquil it seems. This is to take nothing away from its natural and wild side. The photo was taken in Japan at the 2011 Sakufu-ten exhibition by Jonas Dupuich (Bonsai Tonight).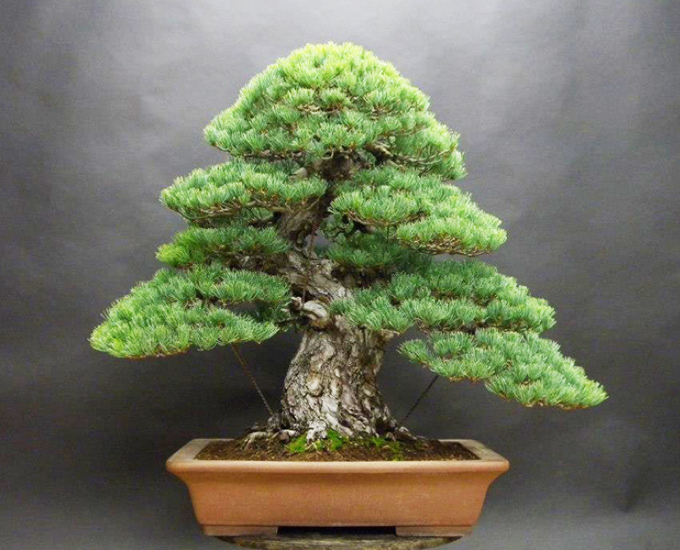 Fluidity and muscle combined make for a very strong bonsai. To my eyes this is a near perfect classical informal upright Japanese white pine bonsai. It's from Mario Komsta's facebook photos. My guess is that it originated in Japan and that Mario has been refining it. He calls it Goyo Kundo and though Goyo matsu is the Japanese name for Japanese white pine (see above), I couldn't find anything about Kundo in my dictionary or online, so your guess is as good as mine. I'm going to assume that this tree, like almost all powerful Japanese white pine bonsai, originated in Japan and is grafted onto Japanese black pine stock.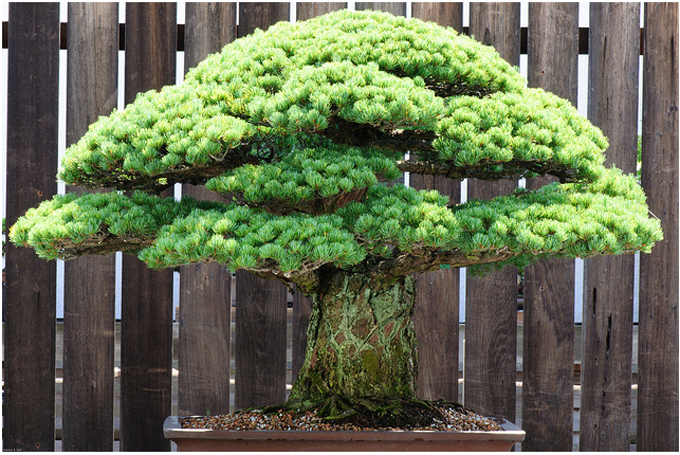 The most famous pine in North America? I like the way this photo captures the lines and color in the bark of this famous tree. That's the upside. The downside is that there's no way to tell just how large and powerful this tree is. In fact, it would be easy to think that it's not very big at all. It resides at the National Bonsai and Penjing Museum and like a couple others trees shown in this post, we've featured it before (actually a couple times). The photo is from Michael Bonsai.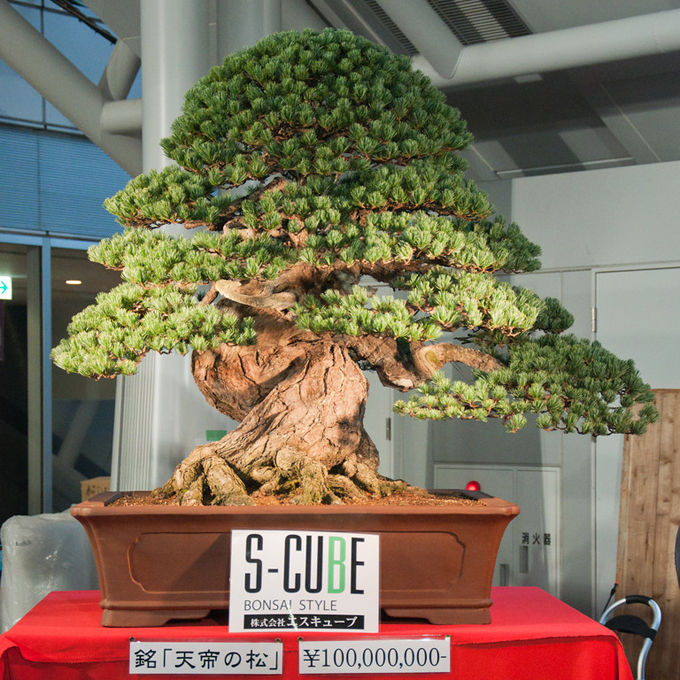 Million dollar bonsai. Here's a mind-bending Japanese white pine that we featured back in 2011 with our original caption: This magnificent White pine was sold at the 11th Asia-Pacific Bonsai and Suiseki Convention & Exhibition in at Takamatsu, Kagawa, Japan, earlier this month. As you can see, the asking price was 100,000,000 yen (that's close to 1.3 million dollars). I don't know what the actual sales price was. Photo borrowed from Bonsai Tonight.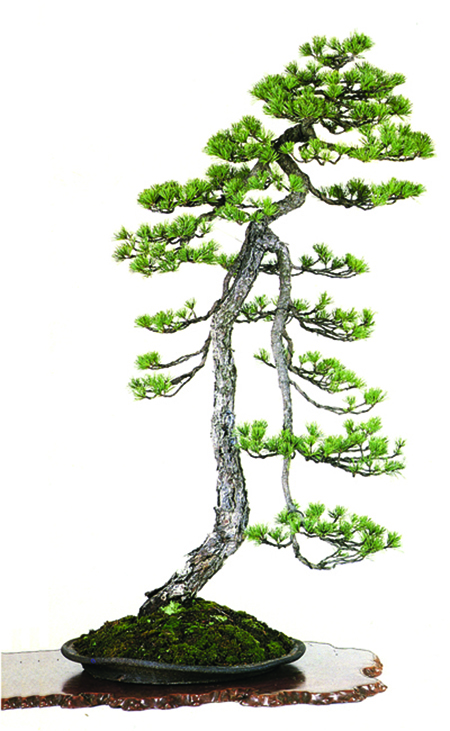 This flowing bunjin Japanese white pine provides a little contrast to the husky fellow immediately above. It's from our Masters' Series Pines: Growing and Styling Japanese Black and White Pines (just below).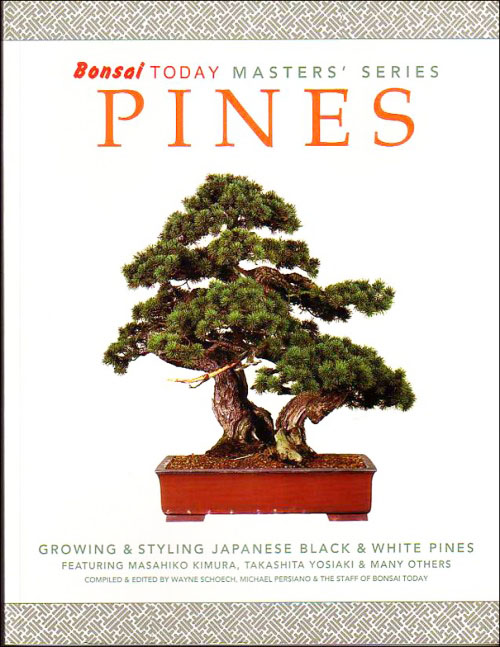 A word from our sponsor. If you'd like to do your own Japanese white pines, you'll do very well to consult with our famous pine book. Among other things, it contains some of the best how-to instruction anywhere. Great photos too.