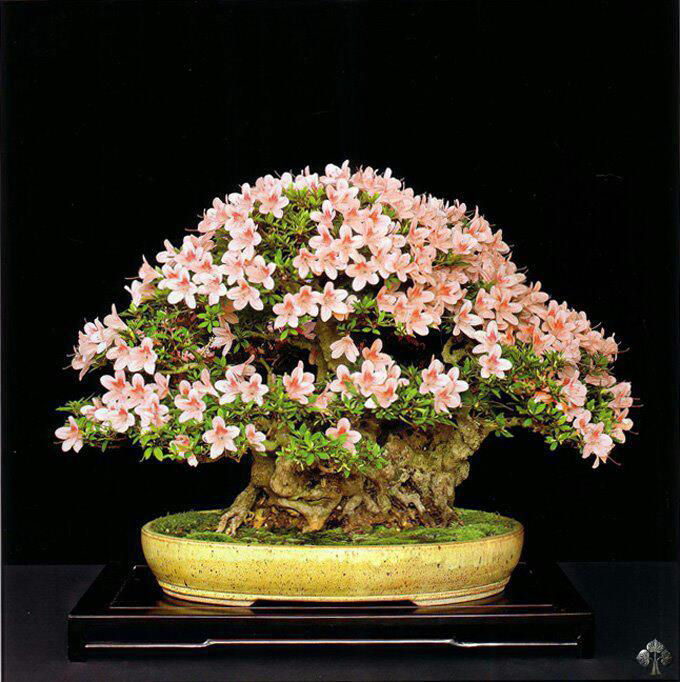 You can tell by the little symbol in lower right corner that this azalea was borrowed from Bonsai Empire. However, when I went back to find it, it seems to have vanished. So, no name, no specs & no attribution (our friend Jose Luis says that it's from the Kennentt Collection and Terry Davis say it's a Nyohozan – see comments below). Just a great Satsuki with a massive gnarly trunk, a colorful display of flowers, two large holes (like dark eyes peering out), and a nice pot.
I'm in Portland studying with Michael Hagedorn (more on this later), so not much time today. Just a couple photos for your enjoyment.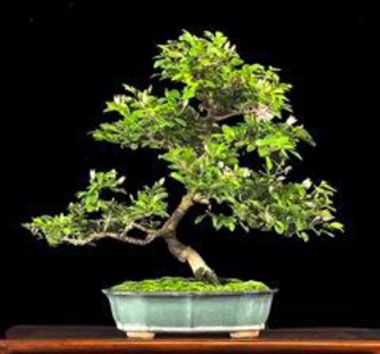 This tree is a Lavender starflower (Grewia occidentalis). It belongs to Ken Schultz (my mistake, owner unknown) of the Columbus Bonsai Society. Grewia are not all that common, in fact, I don't think I've seen one in years. As you can see, they have some bonsai potential, but what really sets them apart are the flowers (below).
Here's some of what Ken has to say about Grewia (taken from the Columbus Bonsai Society newsletter).
"The Grewia genus number about 400 and are found in Africa, Asia, Australia and Florida. Occidentalis is a shrub that in nature may be found in a variety of habitats ranging from arid areas, coastal dune bush, evergreen mountain forest and wooded grasslands, mostly in Zone 9. In Africa on the Highveld, it grows in clumps of bush and rocky places, often in the shade of trees. The natural distribution of the Grewia occidentalis ranges from the Western Cape up to Zimbabwe and Mozambique, and thus often described as a fast-growing, sprawling South African native. Left untrained it grows 6 to 10 ft. tall (sometimes taller) with equal spread…."