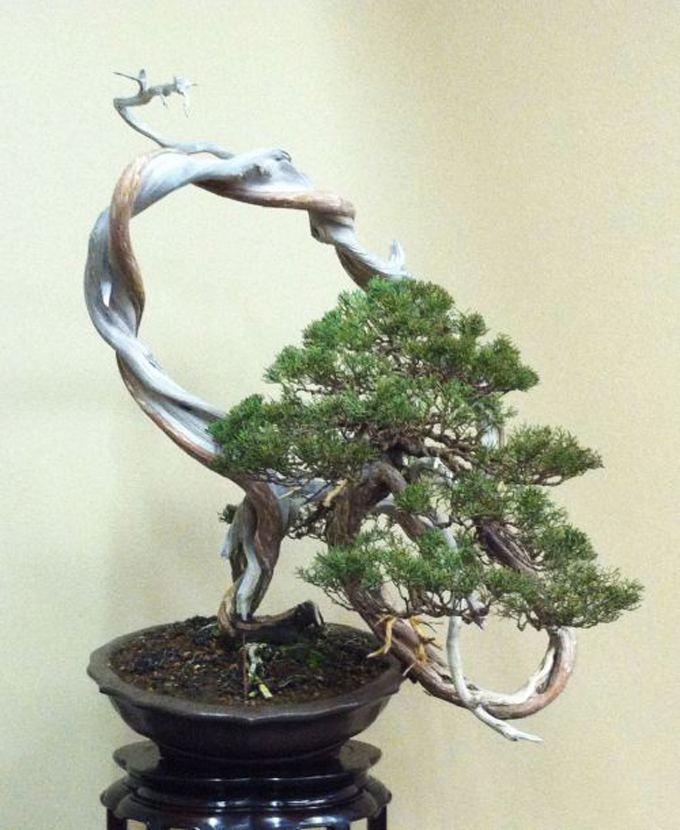 After Michael Hagedorn's expert touch (the before photo is below). This photo is from Michael's latest post which is about his trip to Japan to visit his teacher and the famous Kokufu Bonsai Exhibition.
I've taken the liberty of combining pieces from three of Michael Hagedorn's Crataegus Bonsai posts: His two latest posts from his recent visit to Japan and an an older post about Turface and Bonsai Soil.
One of the many positives about visiting Crataegus Bonsai is that I always learn something. There's more than just learning for sure, including great trees, Michael's personable easy-to-read writing style and his positive attitude about bonsai and life (even when he's slamming Turface). But in this case it's mostly about learning.
First, there are Michael's comments about Turface, a common component in many bonsai soils (he doesn't like it and he carefully explains why). The post is titled Life Without Turface and like pretty much everything on Crataegus, it's worthwhile read (as is Michael's excellent book: Post-Dated – The Schooling of an Irreverent Bonsai Monk).
Second, and still on the topic of soil, there's a great new word that Michael uses. A word that, at least for the moment, added pleasure and even a glimpse of enlightenment to my life. It's Hydrophobia (fear of water). At first I thought it was Michael's clever invention (he's fully capable) but no, it's a real word and it's a good one: "In chemistry, hydrophobicity (from the Attic Greek hydro, meaning water, and phobos, meaning fear) is the physical property of a molecule (known as a hydrophobe) that is repelled from a mass of water" from Wikipedia.
At this point, you may be thinking that this post is another shameless attempt to promote a couple of our products. And you'd be right. However and in spite of perceived motives, there's some very useful information here (courtesy of Michael Hagedorn) and a couple photos of a great tree (also courtesy of Michael Hagedorn). BTW: the use of Michael's photos and writings should not be construed as an endorsement of our Masters Bonsai Soil (though he does love pumice).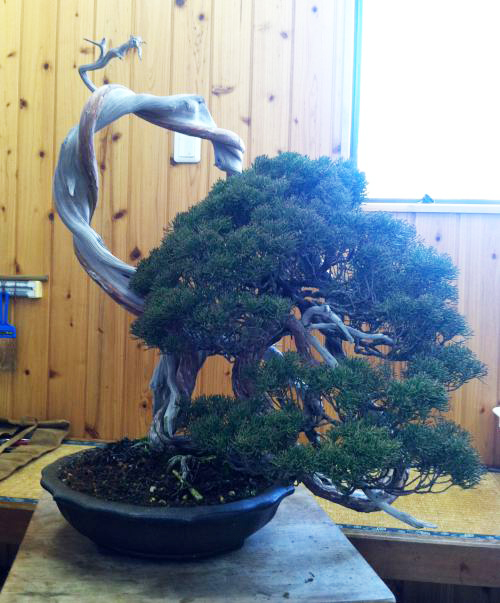 Before. Here's Michael's caption about part of his Japan trip: " I worked on four trees in the five and a half days I was not shoveling… this was the first. I'll post the reworked tree in the next post." (it's at the top of this post).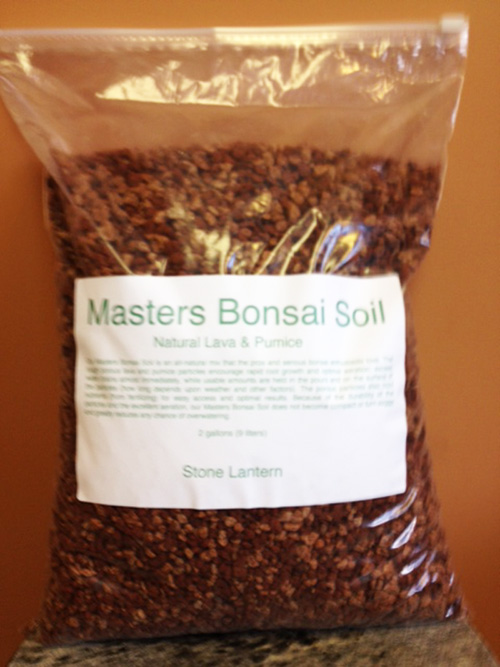 Two gallons worth of our lava and pumice Masters Bonsai Soil (in a 2 1/2 gallon bag). Below is a more or less readable version of the text on the label.