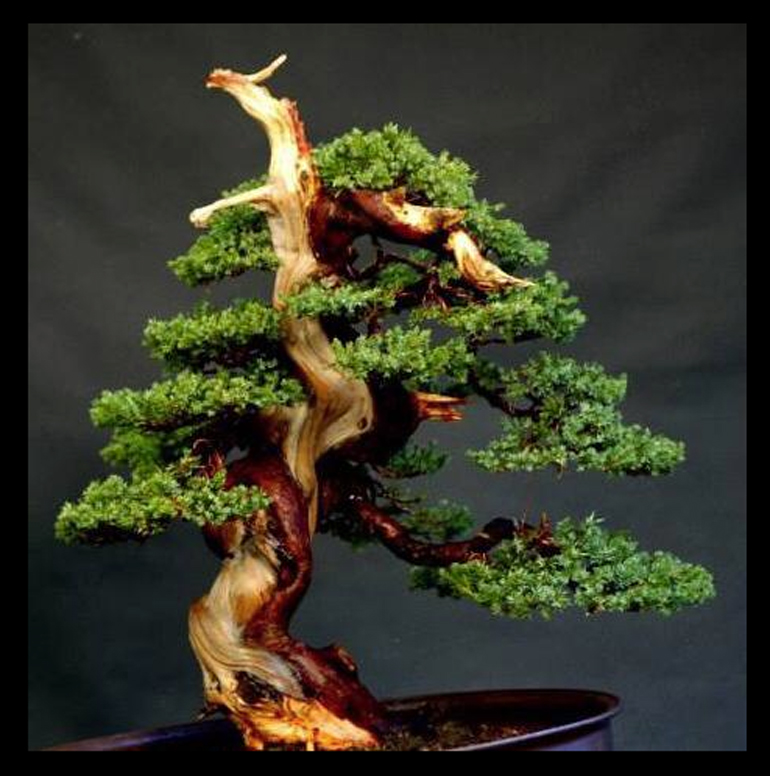 After. By Salatore Liporace. It's not in a bonsai pot yet, but in this case, who cares?
There are at least five things that struck me almost immediately about this tree. First, it's a great example of a before and after bonsai. The before is full of challenges and promise (good stock is half the battle) and when you look at the after, it's obvious that the artist (Salvatore Liporace) has done a masterful job of rising to the challenge.
Second, there's the exceptionally strong and vividly colored living vein and the way it wraps around and contrasts so well with the deadwood. This is the type of distinguishing feature that sets a great bonsai apart from an ordinary bonsai.
Third, in the after photo the tree looks like a Juniper procumbens. The foliage even looks like a Procumbens 'nana.' If you know this type tree you know how rare good Procumbens bonsai are. And you know that such thick trunks are even rarer on Procumbens 'nana.' Was there grafting involved (see below)?
Forth, there's the foliage. In the before photo all of the visible foliage looks mature. In the after photo, all of the visible foliage looks immature, Counter-intuitively, and unlike other junipers, immature foliage is a sign of good health on a Procumbens, while mature foliage is a sign of stress. Was the foliage grafted (and the stock isn't a Procumbens at all*)? Or was it time and good care that caused the reversion to immature foliage?
Finally, if you look at the before photo there are no branches on the left side. If you look at the after photo it looks like there are three branches and part of the apex on the left side. The requires good vision and a bit of wire wizardry. Or, as mentioned above there could be grafting involved. Either way, the technical skills and vision that accomplished all this are undeniable.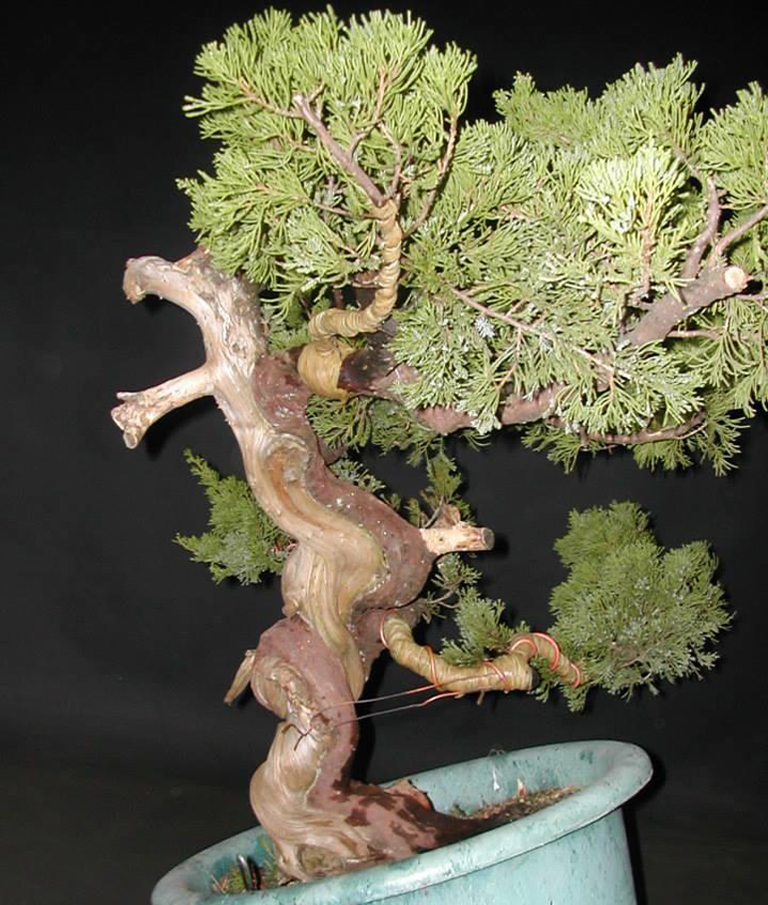 Before. *The more I look at this tree, the more I think it's not a Procumbens at all. There doesn't seem to be even one shoot of immature foliage anywhere, something you would expect on any Procumbens.