This Itoigawa Shimpaku (Juniperus chinensis 'itoigawa') by Dougie Smith qualifies as opulent for sure. Outrageous? Well there is that huge rock jutting up from the skinny little (but very handsome) pot. As for outstanding; that goes without saying. Note: I don't know what the smaller trees down low are. Maybe azaleas? Myrtle? This photo and the others in this post are by Philippe Massard, though I cropped them all to bring the trees closer.
A quick two day vacation and another dip into our archives. This one is from February 2014. I picked it to show a second time, primarily because of the tree above (not to downplay the other great trees). The size of the massive rock and the tree taken together relative to the size of the pot is unusual, to say the least. And it works.

All the photos in this post are from the Noelanders Trophy XV which was recently held last year in Belgium. The photos are all borrowed from Philippe Massard (cropped to bring the trees closer). The five chosen here are a drop in Philippe's photographic bucket. I picked these five mostly because they are unusual. This is not to say that there weren't numerous other unusual trees featured; Europeans seem to be on the cutting of edge of unusual bonsai these days.
Just in case anyone is ready to jump to any misunderstood conclusions, all three words in the title, Opulent, Outrageous and Outstanding, are meant in the positive sense. Opulent as rich rather than ostentatious. Outrageous as unconventional, surprising or even shocking, as opposed to very bad or wrong. Outstanding simply means outstanding, in every sense of the word.
A very uncommon, Common juniper (Juniperus communis) by C.Przybylski. Not very opulent, but outrageous for sure. And undeniably outstanding. Especially considering you almost never see good Common juniper bonsai (American bonsai artist, Nick Lenz provides some exceptions).
This stubby Trident maple (Acer buergerianum) is by John Pitt. I'll guess that the excellent pot is also by John. The nebari most def qualifies as opulent, outrageous and outstanding, though such things are not uncommon on Tridents.
Austrian pine (Pinus nigra) belongs to Mauro Stemberger. This one just might be my favorite. It and its wonderful pot qualify in every sense; particularly opulent and outstanding. We'll leave the outrageous up to you. BTW: great shadow, just in case you missed it.
English yew (Taxus baccata) from the fertile mind and sure hand of Tony Tickle. Outrageous! Outstanding! Not so opulent (well, maybe the books). And then there's that excellent bridge type slab that the tree is clinging to. It's by Erik Križovenský. We've featured his innovative pot art here on Bark.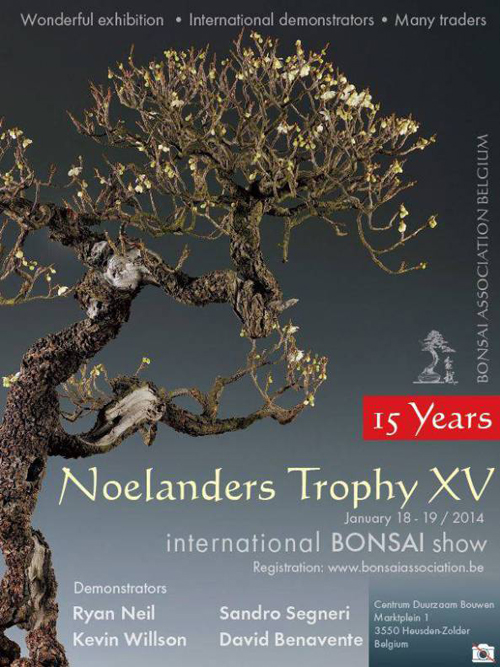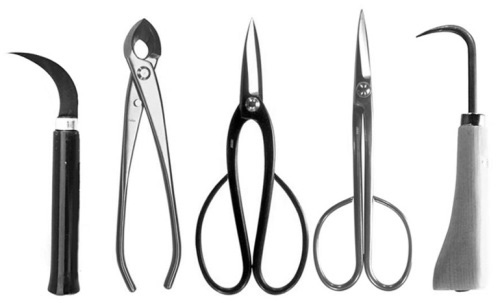 25% off all Bonsai Tools
and Japanese Gardening Tools
Additional 10% off orders 100.00 or more