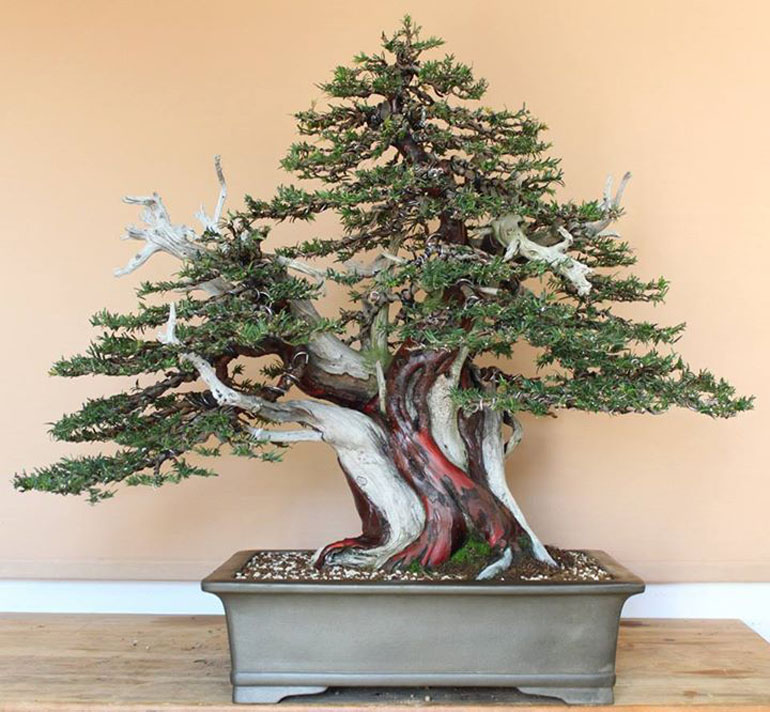 This has to be one of the most compelling bonsai I've seen in a while. It has that wild, not overly refined look and 'just so' deadwood (it's not dominated by deadwood like so many trees). But the real deal is the trunk. When was the last time you saw a trunk with so much power and character?
To save a little time, we'll dig back into our archives today (I'm out west watching the grand kids while mom & dad attend the BookExpo America 2016 in Chicago and lunches still need to be made). BTW: this is one of our all-time favorite bonsai out of the approximately one million trees we've featured here.
This before and after is more about refinement than styling rough stock. Less daunting perhaps, but only someone skilled in the art of bonsai can do what you see here. In this case, that someone is Gabriel Romero Aguade (Bonsai Sant-boi) (this isn't the first time we've featured him on Bark).
Though no name is mentioned, the tree looks like a Yew. You can tell by the foliage and the reddish bark. Yew bonsai are popping up everywhere. Especially in Europe with the English (aka European) yew (Taxus baccata), where there seems to be an abundance of good stock.
Before. Already a very impressive bonsai. Just needs an expert hand to bring out its best.

25% off 500 gram rolls of Bonsai Aesthetics Wire
20% off our Annealed Copper Wire
plus FREE Shipping on U.S. orders 50.00 or more