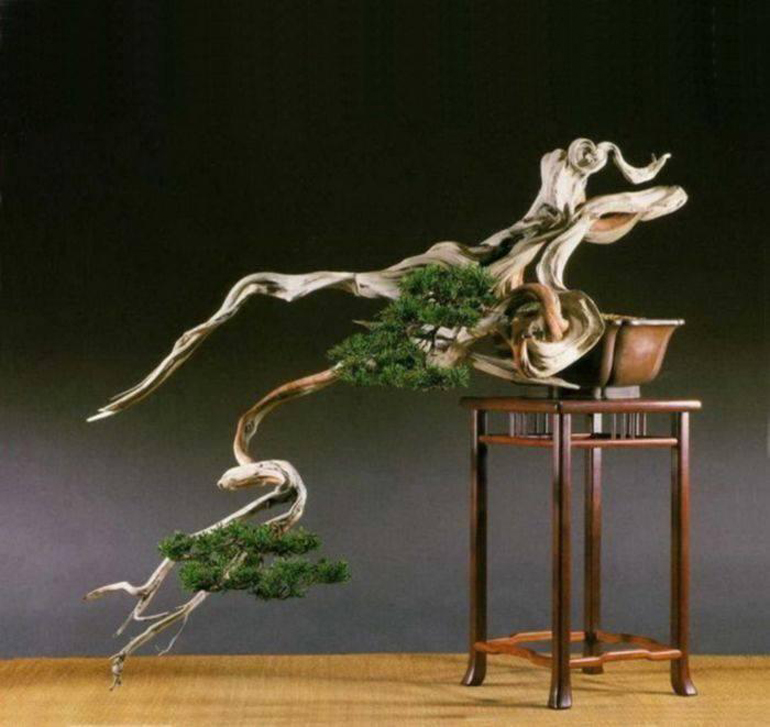 Flowing graceful lines with a minimum amount of foliage and a copious amount of masterfully carved deadwood. And though some people may take issue with this abstract, highly stylized type bonsai, to me this is sheer beauty. A delight to behold.
One misconception about highly stylized bonsai with extensive carved deadwood is that they violate some basic principle of bonsai and nature. The famous John Naka line "The object is not to make the tree look like a bonsai, but to make the bonsai look like a tree" is sometimes used to reinforce this view.
I think Mr Naka's quote works for most people, but for me it might work even better if we took a little liberty and changed the "look like a tree" to "suggest a tree" (in nature). With this view the tree above works to perfection, and if you've ever hiked at high elevations, you just might agree.
There's more to say about this topic but there's no point in beating a dead(wood) horse.
I found the photo above here. No attribution and nothing about the tree either.
This sculpted Shimpaku juniper is by Masahiko Kimura may lack some of the graceful simplicity of the tree above, but there is something outrageous and daring going on. Especially if you consider that at the time (about thirty five years ago) this type bonsai was revolutionary and that Kimura was the original master of the revolution. The photo is from our Masters' Series Juniper book. There are also numerous examples of Kimura's bonsai in The Magician, another Stone Lantern Masters' Series book.
Given that we just mentioned two of our bonsai books, this might be a good time to also mention our Site Wide Sale (15% to 20% off everything) and our Free Shipping on U.S. orders 49.00 or more and reduced shipping on all other orders (more below). Just saying…
John Naka, the dean of American bonsai. Mr. Naka was revered as a great bonsai pioneer and philosopher, and beloved teacher to numerous aspiring bonsai artists. I found this photo the same place as the one above.
Site Wide Sale
15% to 20% off everything
including our large selection
of very reasonably priced Bonsai Wire


our wire selection may be unrivaled here in the U.S.
and our prices are very good, even without our site wide sale
FREE Shipping on U.S. orders of 49.00 or more
low Shipping Rates on Overseas & other orders