This impressive Trident maple's (Acer buergeranum) massive nebari is a dead giveaway that it was field grown. The original article is in Bonsai Today issue 64. I wrote this back in 2009. Though the tree and it's impressive nebari started in the field, much of the development was accomplished in a container (see below).
Enjoying a quick winter vacation in stormy San Francisco. The rain is desperately needed, so I can live with failed expectations of sun and warm breezes. Because this is a vacation, we'll resort to reposting one of our very earliest posts. It's from February 2009. I've done some adding and subtracting based on the questionable assumption that I might have learned something the last eight years.
I once read a report from Cornell University about the advantages of planting trees directly into the native soil, rather than the common practice of digging in soil amendments, a practice that may be good for the garden center's bottom line, but not so good for your plants.
If you think about it, it makes sense; if you create a pocket of richer soil, then the roots tend to stay in that pocket. This causes slower growth and increased susceptibility to drought and winter kill.
Ever since the Cornell report, I've been simply digging a hole and planting. What a relief! No tedious time consuming soil prep. This frees time to plant more and catch up on emails.*
Continued below…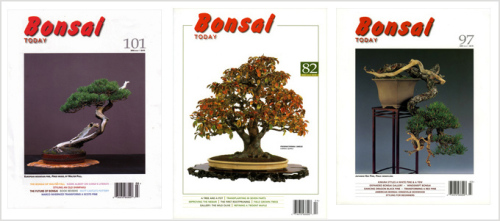 as we run out of issues, the discounts increase
be sure to select Free Shipping when you check out
The same Trident maple fifteen years earlier, right after it was dug from the field. At this point the nebari measure 20" (51cm) at its widest point.
I'm lucky that my soil is sandy so there's no worry about drainage; it can rain as much as it wants. If your soil is heavy and doesn't drain so well, then it's time to think about raised beds, but that's a topic for another post.
Sandy soil also makes fertilizing easier. Basically, you can feed freely. I like organic,* but even if you use chemicals you can fertilize fairly liberally if you have good drainage, because the drainage helps insure that there won't be excessive build up of chemicals around the roots. Reflecting now, I'd say this is intuitive, but intuition isn't always enough, so you might want to do your own research.
be sure to select Free Shipping when you check out
*Most years I put a layer of aged cow manure around each plant and every year I mulch with wood chips. This gradually builds organic matter into the soil.