This shohin Carpinus coreana* (Korean hornbeam) by Mario Komsta has appeared here before. As a companion plant no less (see below). No problem though. Any tree this good deserves to be shown more than once. As a companion or by itself.
A few days ago I mentioned we were starting a series on the Hornbeam genus (Carpinus). There are approximately 40 species of Hornbeams on the planet and many, if not most of them are suitable for bonsai. In this case we're showing just one by Mario Komsta.
Unrelated to Hornbeams, but also by Mario is a piece on the influence of fertilizing on back-budding. The photos and some of the the text here are from a post we did in August 2015.

Continued below…
plus another 5% off orders 100.00 or more
and FREE Shipping on U.S. orders 50.00 or more



all this adds up to great savings
on our already discounted books
This Sale Ends Wednesday, March 1st at 11:59pm EST

If you've been trying to get certain types of trees (especially most conifers) to back-bud with limited or no success, maybe this post will shed some light on the subject.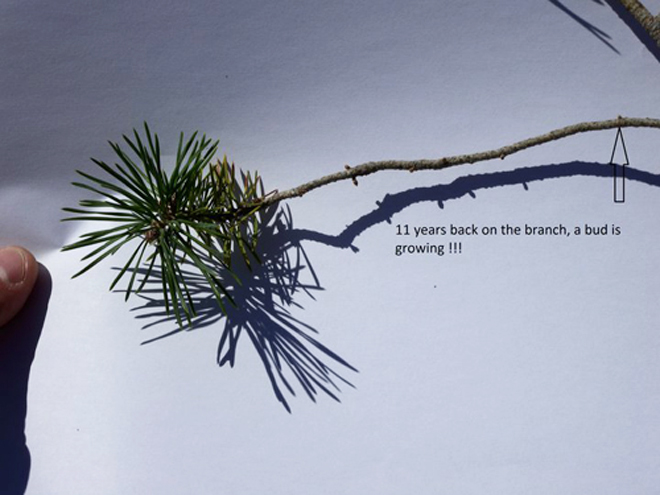 This instructive photo by Mario Komsta on back budding, a lesser known benefit of fertilizing, is something he cooked up. I don't remember where I found it but we originally featured it here on Bark in October, 2010.
Fertilize!
Many, if not most people under fertilize their bonsai. I imagine it's laziness on some people's part and ignorance on others (they're related). There's nothing we can do about the laziness, but, maybe we can help with the ignorance.
First, we'll state the obvious: fertilizing helps keep your bonsai healthy. Plants need a range of nutrients to sustain themselves, stay beautiful, help resist pests and disease and so forth.
Second, you don't starve bonsai to keep them small. Bonsai are kept small by pruning (top and roots) and by growing in small containers.
Third, fertilizing encourages growth and growth is critical in developing quality bonsai. You want trunks to thicken, branches to develop, nebari to develop, and so forth. Unhealthy plants don't grow much, or worse, their growth is leggy and weak.
Fourth, ample fertilizing can encourage back-budding (budding on old wood). Some trees, especially some conifers don't back bud easily (if at all) so they need some encouragement. In the photo above, Mario points out a bud that popped up on eleven-year-old wood (on a pine no less!). He attributes this uncommon occurrence to fertilizing.
For a different view, here's a comment from the original post by someone named Mark: "It doesn't seem like 11 year old wood. And that's exactly why the bud came out. Had the growth been strong, the wood would've mature and those sleeping buds would've had inactivated (for lack of a better word) long ago. Bottom line: it's not an absolute age that's the decisive factor. It's all relative: one has to take other factors (besides age and fertilizing) into account."
A great companion for a famous Red pine. The main tree in this display by Mario Komsta is a Japanese red pine (Pinus densiflora: Akamatsu in Japanese) and the secondary tree is the Korean hornbeam (Carpinus coreana* - Iwashide in Japanese) you see at the top of the post. The photo originally appeared in Bonsai Today issue 105 under the title; Dreams of Kokufu-ten - A Western Bonsai Artist Exhibits at Japan's Most Prestigious Show.

Three of our favorite fertilizers
Green Dream – Bonsai Pro – Maruta Rape Seed Cakes
Here's a very important fertilizing tip from our friend Michael Hagedorn. Feed young trees generously in the spring and through the summer and avoid feeding old well-developed specimen trees until the summer (fertilizing too early on old trees can force rapid growth and cause them to start looking young again).
*Wikipedia and some other sources list Korean hornbeam as Carpinus turczaninowii, rather than C. coreana
You can always use more bonsai wire…
25% off 2-5 rolls (10.12 each)
30% off 6 or more (9.45 each)
plus another 5% off orders 100.00 or more
and FREE Shipping on U.S. orders 50.00 or more