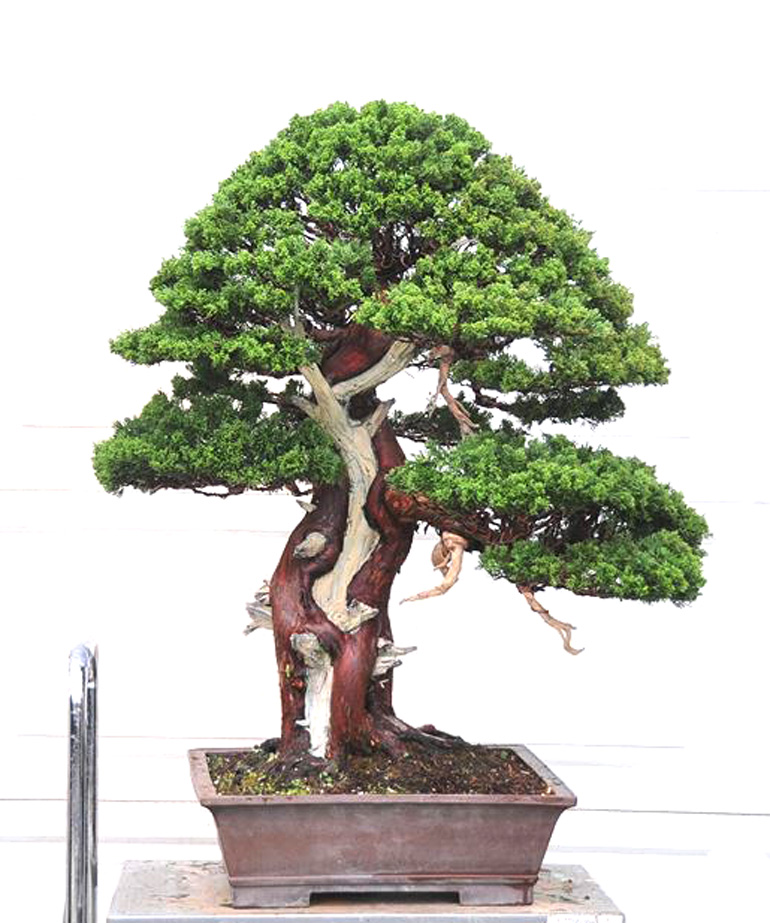 This stately (and sturdy) Shimpaku belongs to Suthin Sukosolvisit. Looks like the lime sulfur is fairly fresh and the bark was recently brushed, so I'm going to guess Suthin was preparing for a show when this picture was taken. He still has to dress up the soil surface and oil the pot, though I'd bet these were next on his list.
It's our old friend Suthin today. I'd feel remiss if we didn't feature his trees every few weeks. There's no particular theme to this collection (a juniper, two pines and an uncommon flowering tree). Except maybe that they are all somewhat unusual trees (each in its own way) and they all belong to Suthin.
two thing to know…
…and don't blink, this special ends tomorrow (Friday) night
I think we might have shown this pine before, but it's worth another shot
I don't think we've ever shown this one. It's bit eccentric with the large gnarled trunk-base. Is its unusual growth a result of damage by insects or fungi (or both)?
How many bonsai with yellow flowers have you seen? This one is a Siberian pea-tree (Caragana arborescens), a type tree we've never shown and that you don't see everyday. 
 
additional 10% off orders 150.00 or more
and FREE Shipping on Continental U.S. orders 75.00 or more
but only if you choose free shipping when you check out
THIS TOOL SALE ENDS FRIDAY AT 11:59pm EDT