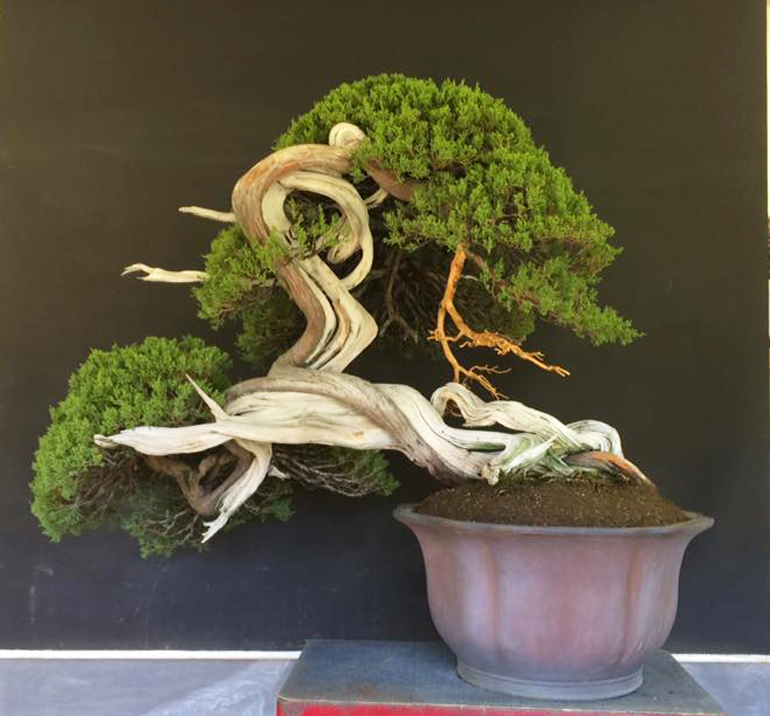 Juan Andrade's caption for this photo is... "Keto, mochi and wet cement. Soft and squishy was today's theme." We'll skip the mochi and wet cement for now, and focus on the Keto. BTW: I don't know if you noticed, but this is a very unusual tree (eccentric works)... one feature that stands out is the trunk's horizontal thrust and then the sudden shift to vertical. This abrupt effect is softened by all the movement. In particular the way the live vein snakes along the deadwood and the curlicue vertical section. There are other striking peculiarities, but we'll leave those to you.
The photo above is from
Juan Andrade's timeline
. What follows is a discussion in the comments on Juan's post and a definition of Keto.
Neil Dellinger…
"
Juan- why the keto over the soil when the tree is in a pot? I know it is necessary for rock plantings- can you explain please. Thanks!"
Juan Andrade…
"
Hi Neil! Oyakata wants this tree growing slow and tight. And it becomes natural looking faster too, if you plant shredded moss on top."
Neil Dellinger…
"
thanks Juan. So does the keto prevents it from needing watered as frequently? Just trying to understand how this technique achieves the result"
See below for a definition of Keto…
this sale ends tomorrow, Saturday at noon EDT
Close up of the deadwood and the keto on the soil surface. BTW...Juan doesn't mention the type Juniper and the foliage is a little fuzzy and my eyes aren't that good, so we'll spare you our guess.
Keto defined by
Kaizen Bonsai
… "
Often called Japanese peat clay or peat muck. This unique product is neither peat or clay. Keto comes from rotting vegetation lying deep in waterlogged ground, typically rice paddies. The material has soft clay like qualities but unlike clay will not cause water to puddle. Use when constructing plantings on slabs or rocks. Use to build a retaining wall to contain standard growing medium and create landscape profiles prior to the application of moss covering. In time the trees roots will grow into the Keto and moss and bind everything together.
"
okatsune…the creme of the creme
don't blink twice!
this sale ends Sunday at noon EDT


–



additional 10% off orders 150.00 or more
FREE Shipping on Continental U.S. orders 75.00 or more
but only if you choose free shipping when you check out