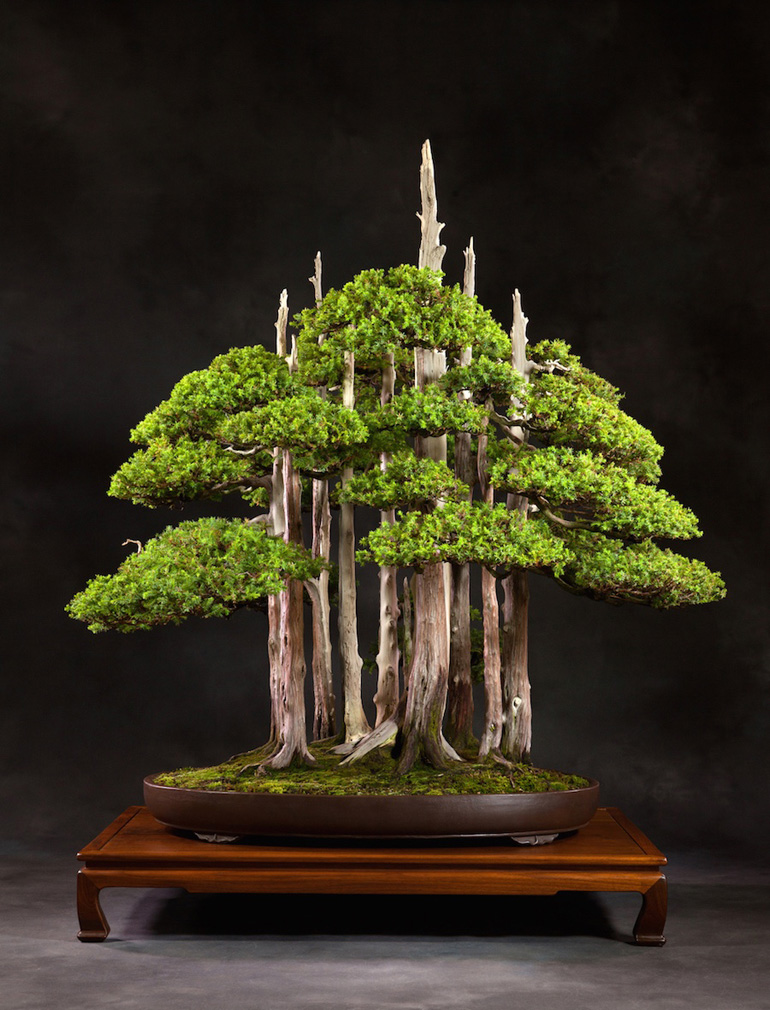 John Naka's famous Goshin, from the cover of Bonsai & Penjing, a book that tells the stories of the trees at the National Arboretum's Bonsai and Penjing Museum in Washington D.C. A must for any red-blooded American bonsai lover and really, any bonsai lover anywhere.
I just spent some time revisiting Bonsai and Penjing, Ambassadors of Peace and Beauty and my enthusiasm for this remarkable book was completely recharged. It is a rare gem that features dazzling photos of dozens of some of the best bonsai in the world. And without getting too wordy, I wish I could express just how engrossing the writing is, with fascinating stories about the individual trees and the collection itself.
Much of this post originally appeared in October, 2016 when we first offered this ground breaking book.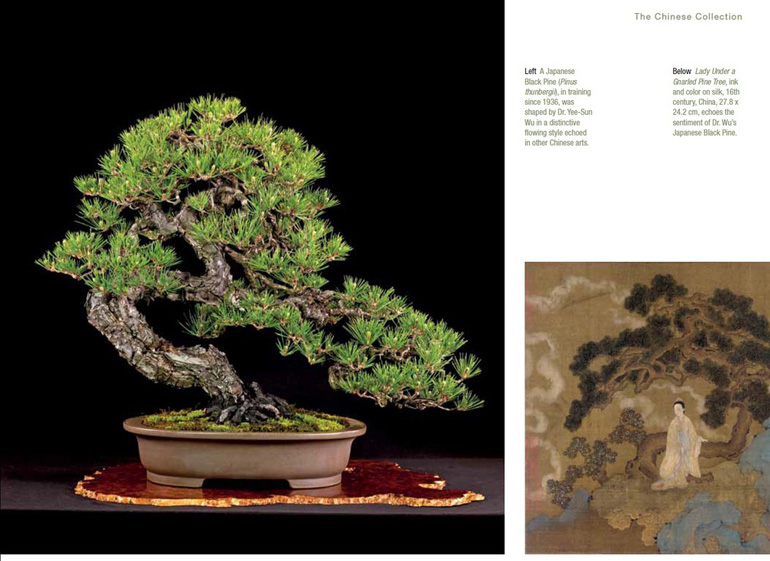 A spread from Bonsai and Penjing.
The following is from the publisher of Bonsai and Penjing
"It details their valuable role in international diplomacy and as instruments of American presidential influence. It also describes their inclusion in world's fair exhibitions, in Asian-inspired gardens around the country, and as a window onto the extensive cultivation of bonsai in North America today. An extensive first-hand account by Dr. John L. Creech is included about the first extraordinary gift of 53 bonsai from Japan to the U.S. in 1976 which prompted the founding of the National Bonsai & Penjing Museum.
Continued below…
I don't have to tell you this Japanese white pine is a great tree.
"Bonsai & Penjing, Ambassadors of Beauty and Peace describes how Chinese penjing and North American bonsai were later added to the Museum, making its collection the most comprehensive in the world. Stories of individual trees and forest plantings are featured, as are the roles played by the skilled and talented creators of these living art forms?people such as John Naka, Saburo Kato, Yuji Yoshimura, Harry Hirao, and Dr. Yee-Sun Wu. Armchair travelers can experience what a visit to the Museum is like, including the discovery of its remarkable viewing stones."
Bonsai & Penjing, Ambassadors of Beauty and Peace will delight anyone intrigued by these living works of art and curious about the stories they bring to life. We are delighted to offer a beautiful new boisai book for all of you who love our wonderful U.S. National Bonsai & Penjing collections (even if you don't know it yet). It's the next best thing to being there and as a bonus you get the awe inspiring stories of the trees, with some international diplomacy thrown in for good measure.