Of the three before and after photos shown here, this is my favorite. The transition from a clunky, overgrown and unbalanced semi cascading bonsai to an elegant fully cascading tree is radical and quite impressive. If you didn't know, you might never guess it's the same tree.
All three before and after shots shown here are by Bonsai Crazy. If you'd like to see transition shots, you can visit Crazy on facebook. If you're curious about just who this person is who calls himself Bonsai Crazy, here's something from his website that will shed some light.
Time to make some room for our next wire shipment…
–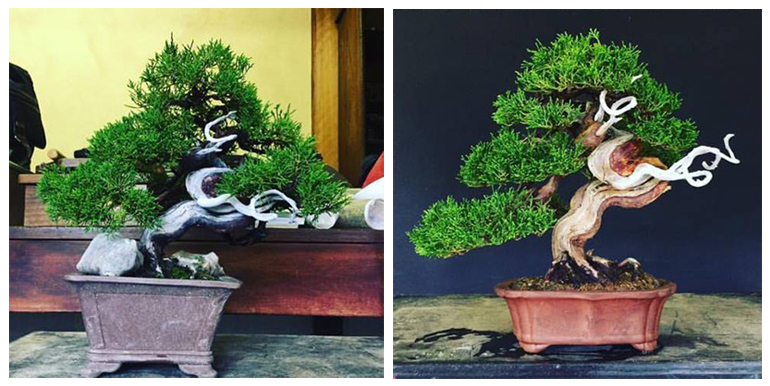 Clearly the same tree but markedly improved. A new pot doesn't hurt, nor does cleaning up the wood. Structurally speaking, changing the planting angle and redesigning the branching and foliage are big improvements.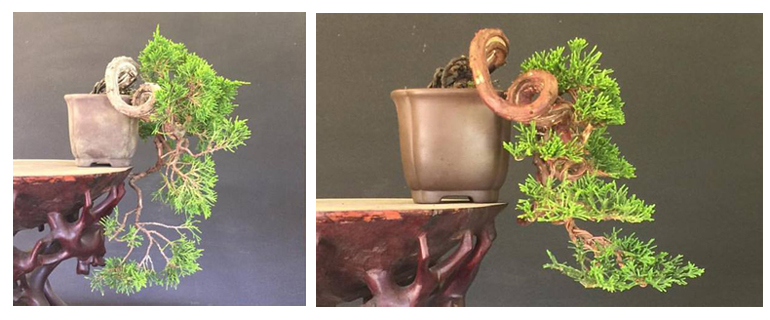 Same pot and the same slinky trunk. Structurally the most significant changes are the shortened and redirected main cascading branch and the reconfigured secondary branching and foliage. But perhaps most obvious is just how much can be accomplished by simply cleaning up.
by far the lowest prices we've ever offered
for our selection of these remarkable bonsai & garden tools
additional 10% off orders 150.00 or more
FREE Shipping on Continental U.S. orders 75.00 or more
but only if you choose free shipping when you check out