I found this Kumquat on Ryan Bell's Japanese Bonsai Pot blog. My apologies for the fuzzy photo. It's cropped from a larger photo that originally came from Bonsai Tonight. The full photo and Ryan's caption are below.
It has been a while since we borrowed from Ryan Bell's Japanese Bonsai Pot blog.  As you might expect, it's a great photo source for some of the best bonsai pots in the world. We'll offer a glimpse of a few here, with and without trees. If you'd like to enjoy a whole lot more, I suggest you pay Ryan a visit.
Continue.d below…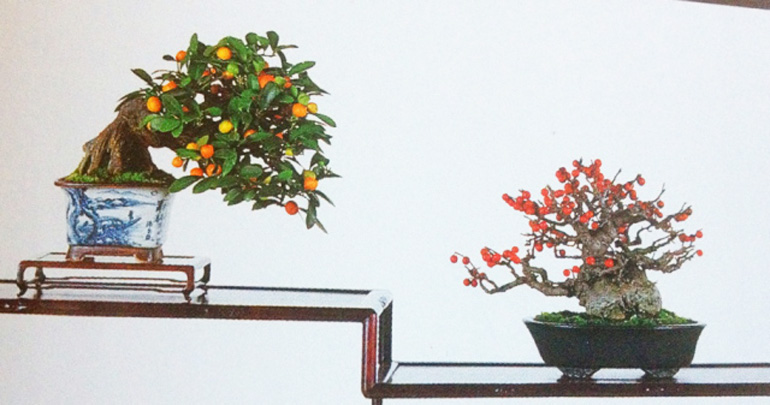 Here's Ryan Bell's caption: "The bonsai on the right is in a Tofukuji pot. The left bonsai is a kinzu(kumquat) and you may recognize it from Bonsai Tonight, Jonas Dupich's wonderful blog." I just searched Kumquat on Bonsai Tonight and though I did find a lot of brilliant photos, this one didn't turn up.
This post originally appeared here on Bark in April, 2016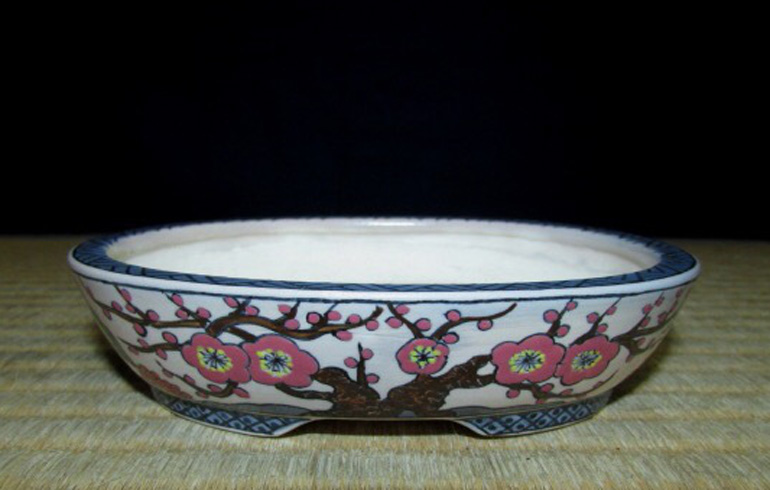 Ryan's caption: "Another traditional style painting, of Ume in bloom.  The single offset bloom to the right of center creates an assymetry that makes the pot stand apart(and gives direction and flow to."
The pot just above and the two below were created by Kiyoumine Ogurayama. Here's a little history courtesy of Ryan Bell: "Karahashi Homiyabi was born September 5, 1920, in Kyoto.  Before bonsai pottery, he helped with the family business making traditional Kyo-yaki ware.  He started his earnest apprenticeship as a potter/painter in 1970 under Heian Matsumoto, and gained his independence in 1975, whereupon he built a hybrid gas/electric kiln and took the potter name "Kiyoumine Ogurayama".  Ogurayama entered his first big bonsai pottery exhibition, the National Masterpiece Kobachi, in 1981, and took the Grand Prize.  Since then, he's won numerous awards and medals for his work.  He is now retired, and his son is the Ogurayama."
*special does not include Hydraulic Green T Turntables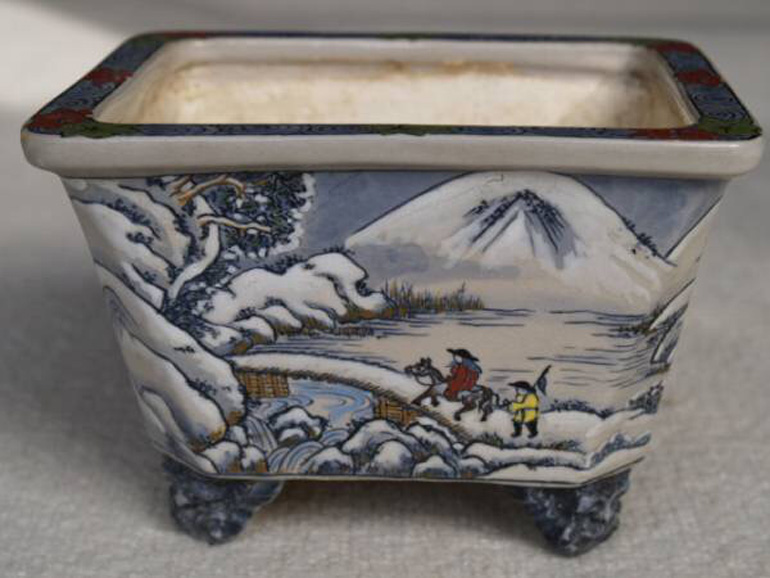 Ryan's caption: "Ogurayama creates some of the best winter scene painted containers I've seen, from any painter.  This piece is sublime, with just enough color to focus the attention on the figures crossing the bridge.  The demon feet are a great touch, and show his carving work in addition to excellent painting."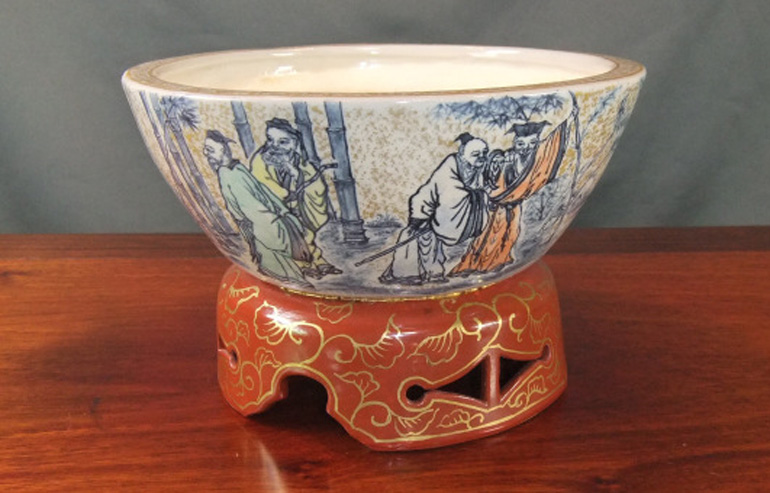 Here's an unusual pot and here's Ryan's caption:  "A really unique piece.  The top a very highly detailed 5 color figure painting, and the base a gold overglaze enamel. Astounding contrast."
All the pots shown here (and many more in Ryan's Ogurayama post) are excellent, but I think this one is my favorite. Here's what Ryan has to say: "This piece throws me for a loop.  Sitting under a tree, we are looking out on a landscape, rather than looking in.  Like the finger crossing the frame in the previous piece, this shows something entirely different and more artistic in meaning and purpose than we see from most painters of bonsai containers.  Very different…. "