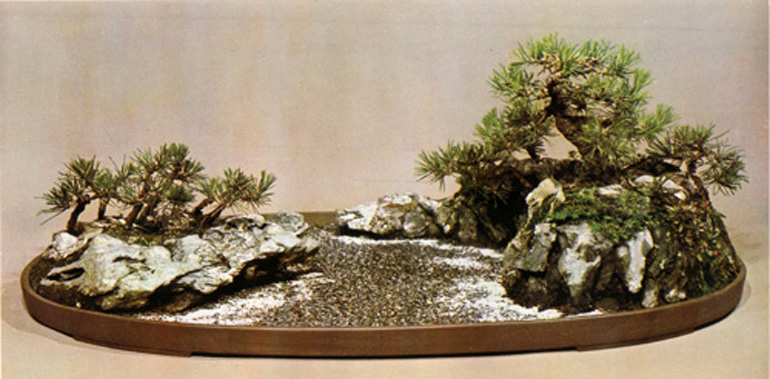 Peaceful Lagoon, our third in a series of plantings from Toshio Kawamoto's Saikei classic. The trees are five to twenty-year-old Japanese black pines. The pot (Tokoname) is similar to the ones in the previous two landscapes, though quite a bit larger.

Traveling again, so it's back to our archives. We've been resurrecting Toshio Kawamoto's brilliant saikei plantings lately, so we might as well stay on theme (we could do a lot worse). This was originally posted almost exactly five years ago. It was titled A Lost Treasure #4: Peaceful Lagoon.
An invitation
The purpose of this section is to show how to create a saikei that depicts a peaceful lagoon just off the ocean. The photo taken together with the drawings (below), create the impression that the author is inviting you to duplicate his work.
Attention to detail
If you look at all the elements: the rocks, the trees, the moss, the gravel (water) and the white sand (foam), you can see that their placement and their relative sizes (scale) creates a near perfect effect. Everything makes sense (except maybe the size of the pine needles, and somehow that's easy to overlook).
A transporting effect
A good saikei almost convinces you that it's a large landscape in nature. It's easy to imagine that you are standing on a large rock on the bank of the lagoon, and that the small gap in the back opens to the ocean. The wind, which blows off the ocean bends all the small trees toward the lagoon. You can almost feel it in your hair and taste the salt air.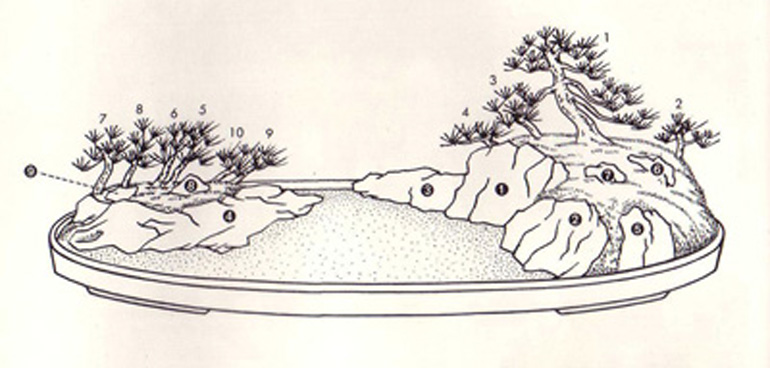 Front schemata. The pot is 37 x 20 inches (94cm x 51cm) unglazed oval by Tokoname. There are 10 Japanese black pines that range from 5 to 8 inches (13cm to 20cm) tall. There are nine river rocks (numbered above and below) that range considerably in size. The soil is regular bonsai soil (he doesn't say which regular bonsai soil, but the Japanese almost always use akadama or an akadama mix for conifers). The other materials are river sand and white sand.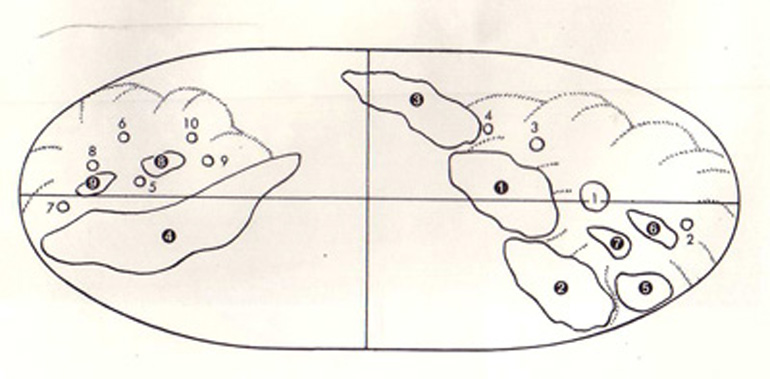 Bird's eye view. In this view it's easy to get the big picture; that's the edge of the ocean in the back, just a hint of something vast. The lagoon is almost centered on the front of the pot, but that's not a problem, as its banks are uneven and the land mass on the right is very strong and dynamic, which prevents the whole planting from becoming too peaceful (ie static).
I'm still waiting…
… for someone out there to attempt one of these plantings (or something influenced by them) and send us a photo. G'wan. It's fun!